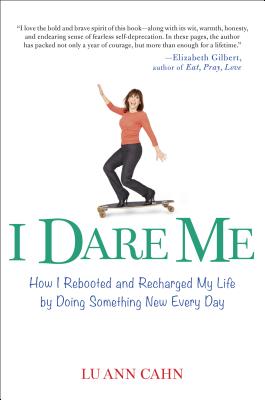 I Dare Me
How I Rebooted and Recharged My Life by Doing Something New Every Day
Hardcover

* Individual store prices may vary.
Other Editions of This Title:
Compact Disc (2/1/2014)
Paperback (11/4/2014)
MP3 CD (2/1/2014)
Description
Feeling stuck?
Veteran journalist and cancer survivor Lu Ann Cahn was feeling angry and frustrated. The economy was tanking. Her job was changing. In a word, she felt stuck.
Something had to change. Her daughter helped convince her to start a Year of Firsts. For the next 365 days, Cahn made a point of doing something she had never done before, every day. Before she knew it, her whole perspective on life had changed. In this inspiring book, Lu Ann recounts how a new first everyday brought excitement and wonder back into her world. And more than that, she helps readers see how they can do it too.
Participate in a Polar Bear Plunge
Speak to a complete stranger on the street
Zip-line across a crocodile-infested Mexican lake
Spend a day in a wheelchair
Learn to Hula Hoop.
Praise For I Dare Me: How I Rebooted and Recharged My Life by Doing Something New Every Day…
"I love the bold and brave spirit of this book — along with its wit, warmth, honesty, and endearing sense of fearless self-deprecation. In these pages, the author has packed not only a year of courage, but more than enough for a lifetime. I think (and hope) that her journey will inspire many others like it!" –Elizabeth Gilbert, author of Eat, Pray, Love and The Signature of All Things
"I loved Lu Ann Cahn's I Dare Me!  This is a book that can change your life—if you let it!  Her Year of Firsts inspired me, as does the story of her life!  A must-read for every woman I know!" –Lisa Scottoline, New York Times bestselling author
 
"Lu Ann Cahn has written a delightful and helpful guide to all the ways large and small to unstick your life.  Even if you don't want to eat a grasshopper."
–Delia Ephron, author of Sister Mother Husband Dog

"Everyone needs a best friend like Lu Ann Cahn - the bold, spontaneous, zany-in-a-good-way friend - who dares you to do what you would never otherwise consider but makes it look so fun you just have to give it a go. You might curse her name while up on that mechanical bull, but you'll end up thanking her for shaking up your life. Packed with laughter, shrieking, and the thrill of the new, I Dare Me is an irresistible guide to making every day an adventure."                                          
–Patty Chang Anker, author of Some Nerve: Lessons Learned While Becoming Brave

"First first? Buy this book. Then take in Cahn's spirit and try out her plan. It can only do you good."  
–Judith Sills, Ph.D., author of The Comfort Trap or, What If You're Riding a Dead Horse
 
"I Dare Me is hilariously inspiring. This book will motivate you step out of your comfort zone and take more life-changing chances to increase your life fulfillment and happiness quotient! You will fall in love with Lu Ann's charm and story-telling style, that is not just entertaining but empowering to say the least!"
–Jen Groover, author of What If & Why Not?

"Lu Ann Cahn has taken the concept of 'falling into a rut' and conquered it in the most humorous and accessible way.  From plunging into the ocean on New Year's Day to eating desserts all day long, she made her year of 'firsts' into a guide for anyone who needs to recharge, reboot and find the joy in the quotidian." 
–Ellen Lubin-Sherman, author of The Essentials of Fabulous

"A fun and accessible read for those looking to add excitement to their lives."
–Library Journal
Tarcherperigee, 9780399161674, 240pp.
Publication Date: November 5, 2013
About the Author
Eight-time Emmy award-winner Lu Ann Cahn is a reporter for Philadelphia s NBC10 News. Cahn often speaks on behalf of the Crohn's and Colitis Foundation of America and Living Beyond Breast Cancer. You can join the I Dare Me Club on Facebook, share your own I Dare Me experiences, or watch the One Year of First Videos at Lu Ann's website. "
or
Not Currently Available for Direct Purchase