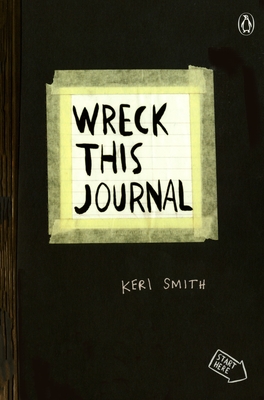 Wreck This Journal (Black) Expanded Ed.
Paperback

* Individual store prices may vary.
Description
"Not gonna lie, this is probably the coolest journal you'll ever see. . . . Wreck This Journal is here to inspire you." —Buzzfeed

The internationally bestselling phenomenon with more than 10 million copies sold—and an excellent holiday gift! Paint, poke, create, destroy, and wreck—to create a journal as unique as you are 

For anyone who's ever had trouble starting, keeping, or finishing a journal or sketchbook comes this expanded edition of Wreck This Journal, a subversive illustrated book that challenges readers to muster up their best mistake- and mess-making abilities to fill the pages of the book—or destroy them.

Through a series of creative and quirky prompts, acclaimed guerilla artist Keri Smith encourages journalers to engage in destructive acts—poking holes through pages, adding photos and defacing them, painting pages with coffee, coloring outside the lines, and more—in order to experience the true creative process. With Smith's unique sensibility, readers are introduced to a new way of art- and journal-making, discovering novel ways to escape the fear of the blank page and fully engage in the creative process.

To create is to destroy. Happy wrecking!
Praise For Wreck This Journal (Black) Expanded Ed.…
Praise for Wreck This Journal

"Not gonna lie, this is probably the coolest journal you'll ever see. . . . Wreck This Journal is here to inspire you." —Buzzfeed

"Wreck This Journal encourages you to stop fretting about quality and start relishing the artistic process." —Oprah.com

"Smith's journal is about destruction, asking readers to poke through pages, submerge them, attach photos and then deface them, and essentially revel in our 'mistakes.' The finished product—crumpled pages and sometimes doubled in size—is itself a masterpiece." —BuzzFeed, Journals That Will Give Your Brain A Workout

"I love this book and the playful way that Keri Smith teaches people the act of creating by putting you right on the spot. Wreck This Journal is a fun, interactive book that you will want to work in every day. To create is to destroy, and this book delivers." —D*I*Y Planner

"No matter where you start or where you end, there's always something interesting to do. . . . The book is an exploration into creativity." —Buffalo News

"The ideal gift for artistic minded people, or not, for that matter, as what I love about this book is that there is no right or wrong. Neat, messy, colorful, dark, you can wreck however you want." —Hawwa, etc.

"I've kept journals before, but have never written in them as frequently as I write in my Wreck This Journal. It is great for inspiration; it gives you tasks that are thought-provoking rather than pages of endless blank lines. It is a great way to pass the time and a great gift for anyone, no matter how young or old." —Teen Ink

"Wreck this Journal makes a great gift for someone who's going through a stressful time, needs a form of release, or anyone who could use a few minutes of fun." —Jactionary

"Wreck This Journal encourages you to experiment and have fun. . . . Flip to any page in the book and you will find a prompt: fun prompts, destructive prompts, creative prompts to help your creative juices flow." —Craft Critique

"Calling all bookworms and creative doodlers, Wreck This Journal is the perfect book to spruce up your summer. . . . It's a wonderful stress reliever and brings out the inner childish behavior we are so often told to get over. You won't be disappointed." —Kristine Marie Babauta, Marianas Variety


Praise for Keri Smith

"Keri Smith may well be the self-help guru this DIY generation deserves." —The Believer

"A conceptual artist and author luring kids into questioning the world and appreciating every smell, texture and mystery in it." —TIME Magazine
Penguin Books, 9780399161940, 224pp.
Publication Date: August 7, 2012
About the Author
Keri Smith is a bestselling author, illustrator, and thinker. Her books include Wreck This Journal, The Wander Society, This is Not a Book, How to Be an Explorer of the World, Mess, Finish This Book, The Pocket Scavenger, Wreck This Journal Everywhere, Everything Is Connected, and The Imaginary World of... as well as Wreck This App, This is Not an App, and the Pocket Scavenger app. She enjoys spending time with her husband, experimental musician Jefferson Pitcher, and two children.
Book Videos