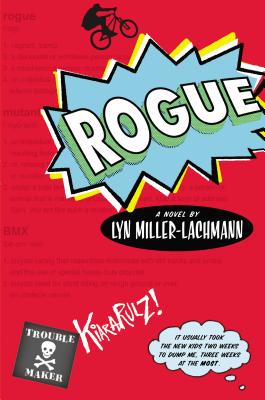 Rogue
Hardcover

* Individual store prices may vary.
Description
Kiara has Asperger's syndrome, and it's hard for her to make friends. So whenever her world doesn't make sense--which is often--she relies on Mr. Internet for answers. But there are some questions he can't answer, like why she always gets into trouble, and how do kids with Asperger's syndrome make friends? Kiara has a difficult time with other kids. They taunt her and she fights back. Now she's been kicked out of school. She wishes she could be like her hero Rogue--a misunderstood X-Men mutant who used to hurt anyone she touched until she learned how to control her special power. When Chad moves in across the street, Kiara hopes that, for once, she'll be able to make friendship stick. When she learns his secret, she's so determined to keep Chad as a friend that she agrees not to tell. But being a true friend is more complicated than Mr. Internet could ever explain, and it might be just the thing that leads Kiara to find her own special power. In Rogue, author Lyn Miller-Lachmann celebrates everyone's ability to discover and use whatever it is that makes them different.
Praise For Rogue…
"The depth of Kiara's loneliness, her capacity for empathy (though she's unsure of when and how to express it), and her persistence in her quest for true friendship make the book a substantive addition to the emerging body of youth literature about Asperger's."
-The Horn Book

"The author does a nice job of relaying the thoughts, feelings, and emotions of a teenager with Asperger's. The characters are realistic, while the text flows easily and leads the reader on a roller coaster ride."
-Library Media Connection
Nancy Paulsen Books, 9780399162251, 240pp.
Publication Date: May 16, 2013
About the Author
Lyn Miller-Lachmann (www.lynmillerlachmann.com) also wrote the ALA Best Book for Young Adults and Bank Street Best Book Gringolandia, and edited Once Upon a Cuento, a short story collection for young readers by established and emerging Latino authors. She is the assistant host of Vientos del Pueblo, a bilingual radio show on WRPI-FM featuring Latin American and Spanish music, poetry, and history. Like Kiara, Lyn Miller-Lachmann has been diagnosed with Asperger's syndrome, giving her writing a unique perspective. She lives in Albany, New York.
or
Not Currently Available for Direct Purchase