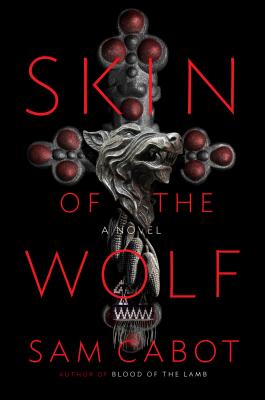 Skin of the Wolf
Hardcover

* Individual store prices may vary.
Other Editions of This Title:
Paperback (8/4/2015)
Description
Sam Cabot is the pseudonym of Carlos Dews and S.J. Rozan. In Sam Cabot's exhilarating new novel, a vicious murder in Sotheby's begins a series of inexplicable events surrounding an Iroquois ritual mask and a secret that could unleash the most terrifying chaos and destruction the world has ever seen.
Months after Father Thomas Kelly, art historian Livia Pietro, and scholar Spencer George found themselves racing through Rome in a desperate effort to locate and preserve an incalculably valuable docu-ment, the three are about to be reunited in New York City. Thomas, still trying to assimilate what he learned that vam-pires exist, and that Livia and Spencer are among them is looking forward to seeing Livia again. Livia is excited to be allowed into the back room of Sotheby's for an exclusive viewing of an ancient Iroquois mask. And Spencer's in love. But before the three can meet, Spencer is badly injured when he's inexplicably attacked in Central Park by a wolf.
That same night, a Sotheby's employee is found brutally murdered. Steps from her body is the mysterious native mask, undamaged amid the wreckage of a strug-gle. As rumors begin to swirl around the sacred object, Thomas, Livia, and Spencer are plunged deep into a world where money, Native American lore, and the history of the Catholic Church collide. They uncover an alarming secret: The wolf is a shapeshifter, and the mask contains a power that, if misused, could destroy millions of lives with the next full moon.
In "Skin of the Wolf, "Sam Cabot masterfully blends historical fact, backroom conspiracy, and all-encompassing alternate reality as the Noantri discover they aren t the only humans set apart by their natures there are Others.
Praise For Skin of the Wolf…
Praise for Blood of the Lamb

"Wow. Blood of the Lamb is totally unlike any novel ever written about vampires or secret societies or Roman art mysteries or Vatican conspiracies. But Sam Cabot has combined all of these, in this refreshing potpourri that provides us surprising and wonderful insights into each—and at the same time, endless fun!" —Katherine Neville, New York Times bestselling author

"You never quite catch your breath as the secrets unfold one at a time, all the while building to a first class conclusion. History, secrets, conspiracies, adventure. What more could you want from a thriller?" —Steve Berry, New York Times bestselling author

"Just when you thought vampires were so last year, Sam Cabot's Blood of the Lamb offers up a fresh, compelling history of the vampire. Like all great works in the genre, this one makes us think deeply about what it really means to be human. Hope there will be more in this vein!" —Leslie S. Klinger, editor of The New Annotated Dracula

"A heady blend of Christian mythology and ecclesiastical reality, Blood of the Lamb is an intricate puzzle of a novel—intensely researched, deeply spiritual, and profoundly sacrilegious. I loved it." —F. Paul Wilson, New York Times bestselling author of the Repairman Jack series

"Audacious." —Publishers Weekly

"Firmly located in Dan Brown territory, this religious-themed thriller combines historical mystery with modern-day intrigue…One thing is crystal clear: [Dews and Rozan have] produced a first-rate thriller." –Booklist
Blue Rider Press, 9780399162961, 367pp.
Publication Date: July 31, 2014
About the Author
Sam Cabot is the pseudonym of Carlos Dews and S.J. Rozan.

Carlos Dews is an Associate Professor and Chair of the Department of English Language and Literature at John Cabot University where he directs the Institute for Creative Writing and Literary Translation. He lives in Rome, Italy.

S.J. Rozan is author of many critically acclaimed novels and short stories which have won crime fiction's greatest honors, including the Edgar, Shamus, Anthony, Macavity, and Nero awards. Born and raised in the Bronx, Rozan now lives in lower Manhattan.
or
Not Currently Available for Direct Purchase