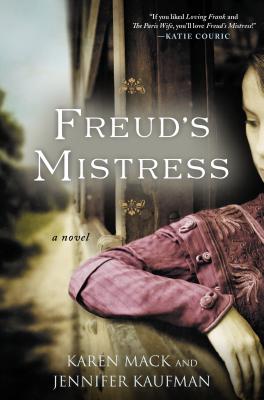 Freud's Mistress (Hardcover)
Amy Einhorn Books, 9780399163074, 357pp.
Publication Date: July 9, 2013
Other Editions of This Title:
Digital Audiobook (7/8/2013)
Paperback (6/3/2014)
Hardcover, Large Print (9/25/2013)
* Individual store prices may vary.
Description
His theories would change the world--and tear hers apart.

A page-turning novel inspired by the true-life love affair between Sigmund Freud and his sister-in-law.

It is fin-de-siecle Vienna and Minna Bernays, an overeducated lady's companion with a sharp, wry wit, is abruptly fired, yet again, from her position. She finds herself out on the street and out of options. In 1895, the city may be aswirl with avant-garde artists and revolutionary ideas, yet a woman's only hope for security is still marriage. But Minna is unwilling to settle. Out of desperation, she turns to her sister, Martha, for help.
Martha has her own problems--six young children and an absent, disinterested husband who happens to be Sigmund Freud. At this time, Freud is a struggling professor, all but shunned by his peers and under attack for his theories, most of which center around sexual impulses. And while Martha is shocked and repulsed by her husband's "pornographic" work, Minna is fascinated.
Minna is everything Martha is not--intellectually curious, engaging, and passionate. She and Freud embark on what is at first simply an intellectual courtship, yet something deeper is brewing beneath the surface, something Minna cannot escape.

In this sweeping tale of love, loyalty, and betrayal--between a husband and a wife, between sisters--fact and fiction seamlessly blend together, creating a compelling portrait of an unforgettable woman and her struggle to reconcile her love for her sister with her obsessive desire for her sister's husband, the mythic father of psychoanalysis.
About the Author
Karen Mack, a former attorney, is a Golden Globe award-winning film and television producer. Jennifer Kaufman is a former staff writer for the "Los Angeles Times" and a two-time winner of the national Penney-Missouri Journalism Award. They both reside in Los Angeles and this is their third novel. Their first novel, "Literacy and Longing in L.A." was on the "Los Angeles Times" bestseller list for 15 weeks reaching #1 and won the Best Fiction Award from the Southern California Bookseller s Association. Their second novel, "A Version of the Truth," was also on the "L.A. Times "bestseller list."
Praise For Freud's Mistress…
Praise for Freud's Mistress:

"[D]elicious ... will enthrall readers." —People, 4 stars

"A titillating tale." —USA Today

"Historical romance fans will speed through the pages and find fodder for book club discussions." —Library Journal, starred review

"A thrilling story of seduction, betrayal, and loss, Freud's Mistress will titillate fans of Memoirs of a Geisha and The Other Boleyn Girl." —Booklist

"If you liked Loving Frank and The Paris Wife, you'll love Freud's Mistress!" —Katie Couric

"Absorbing and provocative . . . a great read . . . I've been recommending it to friends." —Erica Jong, #1 New York Times bestselling author   "A fascinating read." —Norah O'Donnell, CBS This Morning   "[W]hat a wow of a novel . . . irresistable." —Liz Smith

"In Freud's Mistress, Karen Mack and Jennifer Kaufman succeed where so many historical novels flounder: They weave an unexpected tale of human desire and the bonds of love, based firmly in the rich and relevant source material they've scoured for details of the daily lives of fin-de-siècle Viennese, and—fascinatingly—the inner life of Dr. Sigmund Freud." —Lisa See, New York Times–bestselling author

"It's a fascinating story told in an utterly compelling fashion. While reading it, I felt as if I were a part of the world of these people—which is at once frightening and exhilarating. Freud's Mistress is a wonderful, engaging, and bittersweet novel. I absolutely loved it." —Garth Stein, New York Times–bestselling author of The Art of Racing in the Rain


"...[A]n intriguing, illuminating, and wholly engrossing account of the affair between Sigmund Freud and his headstrong, intelligent sister-in-law, Minna Bernays. Karen Mack and Jennifer Kaufman render fin-de-siècle Vienna and the Freud household so vividly one can almost smell the coal fires and cigar smoke." —Jennifer Chiaverini, author of Mrs. Lincoln's Dressmaker

"Book groups looking for a great selection? Look no more! This is Sigmund Freud like we've never known him. Insecure, passionate, even sexy. Who knew?" —Esmeralda Santiago, New York Times–bestselling author of Conquistadora

"If you want to understand the obsessive pull of the human heart, you could spend a lifetime on the couch, or you could read this dazzling novel about Minna Bernays's love affair with her brother-in-law, Sigmund Freud. . . . [T]his is a book to savor." —Sheri Holman, author of Witches on the Road Tonight and The Dress Lodger

"It is almost impossible to pass up a novel inspired by Sigmund Freud's rumored affair with his sister-in-law. This is a story that will appeal to the Pleasure Principle of many a reader." —Whitney Otto, author of Eight Girls Taking Pictures and How to Make an American Quilt

Praise for previous books by Karen Mack and Jennifer Kaufman:

"I almost cried when this book ended…. It is simply fabulous …will make a terrific movie." —Liz Smith

"I'm absolutely crazy about [this] book … absolutely astonishing…." —Carolyn See, author of Making a Literary Life   "Brilliant…." —Karen Quinn, author of The Ivy Chronicles
or
Not Currently Available for Direct Purchase