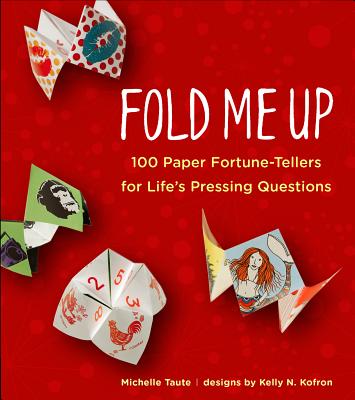 Fold Me Up
100 Paper Fortune-Tellers for Life's Pressing Questions
Paperback

* Individual store prices may vary.
Description
Cut them out. Fold them up. Have fun. A grown-up twist on a childhood classic exquisitely designed paper fortune-tellers.
Cootie catchers aren't just for kids anymore These 100 paper fortune tellers provide a fresh take on a childhood favorite with answers/strategies for handling tough adult situations and answering important life dilemmas like:
Should you have another cocktail?
What Jane Austen heroine are you?
Your '80s movie alter ego I'm breaking up with you (with this cootie catcher)
What would Mr. T do?
The hipster wedding decoration
Important messages from cute puppies
Emergency excuse generator
Each fortune teller features a unique and colorful design created specifically for this collection, including contributions from such design luminaries as Noah Scalin (creator of the Skull-a-Day project), Stefan Bucher (creator of dailymonster.com), textile designer Jessica Jones, and more. (There are even a few blank ones so readers can get out what's on their minds.)
Perigee Books, 9780399163302, 224pp.
Publication Date: November 5, 2013
About the Author
Michelle Taute is a writer and content strategist. She creates compelling copy for magazines, blogs, websites, scrappy entrepreneurs and really big brands. Michelle s articles have appeared everywhere from Better Homes and Gardens and Woman s Day specials to Metropolis, Communication Arts and USA Weekend. She s also the co-author of "The Design Activist s Handbook "with Noah Scalin.

Kelly N. Kofron is a graphic designer. Specializing in print publication design, she worked as an award-winning art director for I.D. Magazine before starting her freelance business as provider of book and magazine design and production, magazine redesign, publishing consulting, and illustration. She has worked for such clients as Coffee House Press, Writer s Digest Books, Emmis Publications, St. Mary s Press, Writer s Digest Magazine, HOW Magazine, Package Design, print, Horticulture, Hospitality Style, and VMSD.."
or
Not Currently Available for Direct Purchase