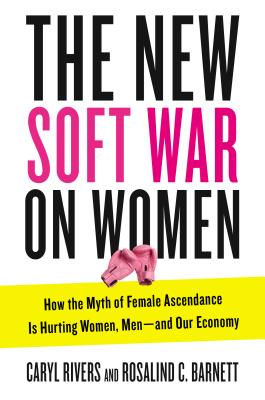 The New Soft War on Women (Hardcover)
How the Myth of Female Ascendance Is Hurting Women, Men--And Our Economy
Tarcher, 9780399163333, 288pp.
Publication Date: October 17, 2013
Other Editions of This Title:
Paperback (9/1/2015)
* Individual store prices may vary.
Description
For the first time in history, women make up halfthe educated labor force and are earning the majority of advanced degrees.It should be the best time ever for women, and yet... it's not. Storm clouds are gathering, and the worst thing is that most women don t have a clue what could be coming. In large part this is because the message they re being fed is that they now have it made. But do they?
In "The New Soft War on Women," respected experts on gender issues and the psychology of women Caryl Rivers and Rosalind C. Barnett argue that an insidious war of subtle biases and barriers is being waged that continues to marginalize women. Although women have made huge strides in recent years, these gains have not translated into money and influence. Consider the following:
- Women with MBAs earn, on average, $4,600 less than their male counterparts in their first job out of business school.
- Female physicians earn, on average, 39 percentless than male physicians.
-Female financial analysts take in 35 percentless, and female chief executives one quarter less than men in similar positions.
In this eye-opening book, Rivers and Barnett offer women the real facts as well as tools for combating the soft war tactics that prevent them from advancing in their careers. With women now central to the economy, determining to a large degree whether it thrives or stagnates, this is one war no one can afford for them to lose.
About the Author
Caryl Rivers is a professor of journalism at the College of Communication at Boston University. A nationally known author and journalist, she received the Helen Thomas Award for Lifetime Achievement from the Society of Professional Journalists.

Rosalind C. Barnett is a senior scientist at the Women s Studies Research Center at Brandeis University. Her pioneering research on workplace issues and family life in America has been sponsored by federal grants, and she is often invited to lecture at majorvenues in the United States and abroad. Dr. Barnett has a private clinical psychology practice and is the author of scholarly and popular books and articles.

"
Praise For The New Soft War on Women: How the Myth of Female Ascendance Is Hurting Women, Men--And Our Economy…
"[A] vital study of the state of women in the labor force... It's hard to ignore overwhelming evidence that shows the undesirable and unsustainable conditions women face in the 21st century. This book will move readers."
—Publishers Weekly


"In page after page, these authors catalog the barriers that women still confront…[and] support their argument with solid data and illuminating anecdotes."
—Library Journal

"This is the book you have been waiting for. In meticulous and maddening detail, the authors lay out the studies and statistics that show how women are getting overlooked and underpaid in the workplace. And by showing that the gender wage gap typically begins right out of school, they blow a million sorry excuses for the pay differential right out of the water. It's not business. It's bias."
—Carolyn Maloney, U.S. Representative for New York's 12th Congressional District



"The New Soft War on Women is myth-shattering, disturbing, persuasive, and hopeful all at once. The authors argue that discrimination isn't gone, it's gone underground, and they show what to do about it to ensure that women's talent isn't lost. Anyone who cares about a thriving economy—and her own career—should grab this powerful book."
—Rosabeth Moss Kanter, Harvard Business School professor and bestselling author of Confidence and SuperCorp: How Vanguard Companies Create Innovation, Profits, Growth, and Social Good



"While the rest of the punditocracy either proclaims or bemoans the 'end of men,' veteran observers Caryl Rivers and Rosalind Barnett say 'not so fast.' This bracing, clear-sighted, and well-researched book cautions against such premature self-congratulation and reminds us of the startling inequalities yet to be righted."
 —Michael Kimmel, author of Guyland and SUNY Distinguished Professor of Sociology and Gender Studies



"Finally, finally, finally—a book that pulls together and makes sense of the most credible research on women in the workforce. If you have been confused by the media hype, if you are a woman, if you manage women, or if you are a business decision maker, this is a must-have book for you!"
—Ellen Galinsky, President, Families and Work Institute
or
Not Currently Available for Direct Purchase