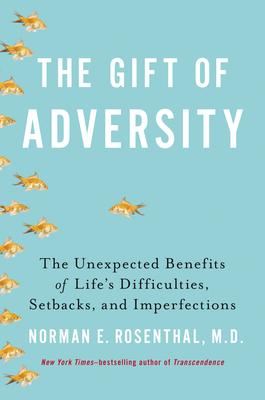 The Gift of Adversity (Hardcover)
The Unexpected Benefits of Life's Difficulties, Setbacks, and Imperfections
Tarcher, 9780399163715, 352pp.
Publication Date: August 29, 2013
Other Editions of This Title:
Paperback (9/4/2014)
Compact Disc (8/29/2013)
* Individual store prices may vary.
Description
The noted research psychiatrist explores how life's disappointments and difficulties provide us with the lessons we need to become better, bigger, and more resilient human beings.
Adversity is an irreducible fact of life. Although we can and should learn from all experiences, both positive and negative, bestselling author Dr. Norman E. Rosenthal, believes that adversity is by far the best teacher most of us will ever encounter.
Whether the adversity one experiences is the result of poor decision-making, a desire to test one's mettle, or plain bad luck, Rosenthal believes life's most important lessons from the value of family to the importance of occasionally cutting corners can be best learned from it.
Running counter to society's current prevailing message that excellence must always be aspired to, and failure or mistakes of any sort are to be avoided at all costs, Rosenthal shows that engaging with our own failures and defeats is one of the only ways we are able to live authentic and meaningful lives, and that each different type of adversity carries its own challenges and has the potential to yield its own form of wisdom.
Using stories from his own life including his childhood in apartheid-era South Africa, his years after suffering a violent attack from a stranger, and his career as a psychiatrist as well as case studies and discussions with well-known figures like Viktor Frankl and David Lynch, Rosenthal shows that true innovation, emotional resilience, wisdom, and dignity can only come from confronting and understanding the adversity we have experienced. Even when life is hardest, there are meanings to be found, riches to be harvested, and gifts that can last a lifetime.
Rosenthal illustrates his message through a series of compact, memorable chapters, each one drawn from episodes in the lives of his patients, colleagues, or himself, and concluded with a take-away maxim on the lesson learned.
About the Author
The "New York Times"-bestselling author of "Transcendence," Norman E. Rosenthal, M.D., attended the University of the Witwatersrand in his native South Africa. He moved to the United States and was resident and chief resident at Columbia Presbyterian Hospital and the New York Psychiatric Institute. He has conducted research at the National Institute of Mental Health for over twenty years. It was there that he first described and diagnosed Seasonal Affective Disorder (SAD). Dr. Rosenthal is a clinical professor of psychiatry at Georgetown Medical School and has maintained a private practice in the Washington, DC metropolitan area for the past thirty years. Rosenthal is the author or co-author of over 200 professional articles and several popular books, including "Winter Blues," the classic work on SAD. He currently serves as medical director and CEO of Capital Clinical Research Associates in Rockville, Maryland, where he directs clinical trials in both pharmaceuticals and complementary and alternative medicine.
Praise For The Gift of Adversity: The Unexpected Benefits of Life's Difficulties, Setbacks, and Imperfections…
"Dr. Rosenthal catalyzes conversations around adversity with tales of wisdom and survival that we can all treasure."
–Mehmet C. Oz, M.D.

 "Insightful . . . could help many of us cope with life's inevitable obstacles . . . The book's titular message—that adversity can be a gift—is especially relevant now."
—Jane Brody, The New York Times

"Will help you see the value in your struggles...Arguing that personal growth can't happen without setbacks, Norman Rosenthal challenges readers to re-interpret adversity as a key element of empathy, maturity, and success."
—New York Daily News

"Rosenthal captures both the complexity of our emotions and the pragmatics needed to harness them."
—Andrew Solomon

"I really loved Dr Rosenthal's book… adversity can be a great teacher"
—David Lynch

"Norman Rosenthal is a psychiatrist with a special talent for turning research evidence into practical advice."
—Peter D. Kramer, M.D, Bestselling author of Listening to Prozac

"Dr. Norm is cosmonaut of consciousness, launching into the the murky abyss and returning with meteoric treasures for us all. His writing on the value of adversity may come to be regarded by Alien archeologists as a Rosetta Stone in understanding how we advance as individuals and as a culture."
—Russell Brand

"In addition to being one of our nation's more respected psychiatrists, Dr. Norman Rosenthal has a wonderful ability to translate complex scientific information into language that is clear, concise, and practical."
—Jerilyn Ross, Founder of  the Anxiety Disorders Association of America and author of Triumph Over Fear

"In this timely and beautifully written work, renowned psychiatrist and best-selling author, Norman Rosenthal, tells intriguing stories that converge on an important theme -- that many of life's greatest lessons and joys are not the products of perfection, but the gifts of adversity."
—Marci Shimoff, New York Times bestselling author of Happy for No Reason
 
"If you've ever wondered what a world-class psychiatrist really thinks when pondering his life journey, then read The Gift of Adversity."
—Pam Peeke M.D., WebMD Chief Lifestyle Expert

"Rosenthal's story is an interesting one: from growing up Jewish in apartheid-era Johannesburg to struggling through med school, surviving a brutal stabbing, serving as a medical officer in the South African Army, getting caught up in a Ponzi scheme, and navigating the politics of Columbia University and the National Institute of Mental Health, his exploits are consistently engaging."
—Publishers Weekly

"Rosenthal is best known for having defined "the syndrome of seasonal affective disorder," a winter depression caused by diminished daylight, and pioneering the use of artificial bright light to ameliorate its effect. Rosenthal makes a convincing connection between lessons learned from his personal experiences and contemplation of the lives of heroic figures." —Kirkus Reviews
or
Not Currently Available for Direct Purchase