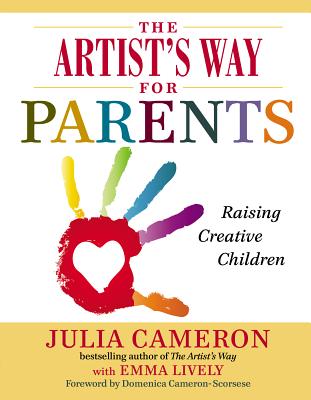 The Artist's Way for Parents
Raising Creative Children
Hardcover

* Individual store prices may vary.
Other Editions of This Title:
Paperback (8/14/2014)
Description
For decades, people have been asking me to write this book. "The Artist's Way "focuses on a creative recovery. We re-cover the ground we have traveled in our past. "The Artist's Way for Parents "focuses on creative cultivation, where we consciously and playfully put our children on a healthy creative path toward the future. Julia Cameron
Winner of the 2014 Nautilus Award represents Better Books for a Better World the Gold Award (Best Book of the Year) in the category of Parenting/Family.
From the bestselling author of "The Artist's Way "comes the most highly requested addition to Julia Cameron's canon of work on the creative process. "The Artist's Way for Parents "provides an ongoing spiritual toolkit that parents can enter and re-enter at any pace and at any point in their child's early years.
According to Cameron: " Every child is creative and every parent is creative. Your child requires joy, and exercising creativity, both independently and together, makes for a happy and fulfilling family life. "Focusing on parents and their children from birth to age twelve, "The Artist's Way for Parents" builds on the foundation of "The Artist's Way "and shares it with the next generation. Using spiritual concepts and practical tools, this book will assist parents as they guide their children to greater creativity.
Praise For The Artist's Way for Parents: Raising Creative Children…
"Using checklists and personal exercises, the book focuses on empowering parents to be creative under the premise that children will model their behavior on that of their parents. The reminders to look for joy and wonder may be revelatory for Cameron's readers and their kids."
—Publishers Weekly

"While Cameron's methods have plenty of applications for children, her experience lies in the effects of childhood on creativity, which applies to adults too. The book is as much about examining what sort of parent you are (and how creativity was – or wasn't – encouraged in your own childhood) as it is about providing ideas. I'm not sure this book is so much for parents as for anyone who has been a child."
—Vic Groskop, The Guardian (UK)

"Use this great guide to increase creativity for your children–and for you, too."
—Kristen Kemp, Parents.com

"This book spoke to me as if its author was an old friend—one who saw me through obsessive, self-neglecting new parenthood, and now knows me as a more well-rounded person with happy children. And that distinction is just the point. As parents, we care for our children as best as we know how, but we must also take time (even tiny moments) to care for ourselves and nurture our own creative needs and desires. In doing so, we cultivate joy in our lives, which we can then share with—and model for—our children. The chapters are chock-full of practical advice, delightful activities, and playful exercises that get your and your child's creative juices flowing."
—Redbook

"In The Artist's Way for Parents, Cameron helps parents unleash their children's creativity and sense of wonder. he beauty of Cameron's advice is that she offers very specific, undaunting exercises for the, shall we say, less artistically inclined among us. There is definitely a spiritual bent to Cameron's work—readers of her memoirs know she is a Christian. But hers is a gentle, ecumenical approach, and she is never off-putting. Rather, her interest is in supporting calm, loving environments where children are free to explore and express themselves."
—Book Page

Praise for THE ARTIST'S WAY.....

"THE ARTIST'S WAY by Julia Cameron is not exclusively about writing—it is about discovering and developing the artist within whether a painter, poet, screenwriter or musician—but it is a lot about writing. If you have always wanted to pursue a creative dream, have always wanted to play and create with words or paints, this book will gently get you started and help you learn all kinds of paying-attention techniques; and that, after all, is what being an artist is all about. It's about learning to pay attention."
--Anne Lamott, Mademoiselle
 
"The premise of the book is that creativity and spirituality are the same thing, they come from the same place. And we were created to use this life to express our individuality, and that over the course of a lifetime that gets beaten out of us. [THE ARTIST'S WAY] helped me put aside my fear and not worry about whether the record would be commercial."
--Grammy award-winning singer Kathy Mattea
 
"Julia Cameron brings creativity and spirituality together with the same kind of step-by-step wisdom that Edgar Cayce encouraged. The result is spiritual creativity as a consistent and nourishing part of daily life."
--Venture Inward
 
"I never knew I was a visual artist until I read Julia Cameron's THE ARTIST'S WAY."
--Jannene Behl in Artist's Magazine
 
"Julia Cameron's landmark book THE ARTIST'S WAY helped me figure out who I really was as an adult, not so much as an artist but as a person. And award-winning journalist and poet, Cameron's genius is that she doesn't tell readers what they should do to achieve or who they should be—instead she creates a map for readers to start exploring these questions themselves."
--Michael F. Melcher, Law Practice magazine
 
"This is not a self-help book in the normative sense. It is simply a powerful book that can challenge one to move into an entirely different state of personal expression and growth."
--Nick Maddox, Deland Beacon
 
"THE ARTIST'S WAY (with its companion volume THE ARTIST'S WAY MORNING PAGES JOURNAL) becomes a friend over time, not just a journal. Like a journal, it provokes spontaneous insights and solutions; beyond journaling, it establishes a process that is interactive and dynamic."
--Theresa L. Crenshaw, M.D., San Diego Union-Tribune
 
 "If you really want to supercharge your writing, I recommend that you get a copy of Julia Cameron's book THE ARTIST'S WAY. I'm not a big fan of self-help books, but this book has changed my life for the better and restored my previously lagging creativity."
--Jeffrey Bairstow, Laser Focus World
 
"Working with the principle that creative expression is the natural direction of life, Cameron developed a three month program to recover creativity. THE ARTIST'S WAY shows how to tap into the higher power that connects human creativity and the creative energies of the universe."
--Mike Gossie, Scottsdale Tribune
 
"THE ARTIST'S WAY is the seminal book on the subject of creativity and an invaluable guide to living the artistic life. Still as vital today—or perhaps even more so—than it was when it was first published in 1992, it is a provocative and inspiring work. Updated and expanded, it reframes THE ARTIST'S WAY for a new century."
--Branches of Light
 
"THE ARTIST'S WAY has sold over 3 million copies since its publication in 1992. Cameron still teaches it because there is sustained demand for its thoughtful, spiritual approach to unblocking and nurturing creativity. It is, dare we say, timeless."
--Nancy Colasurdo, FOXBusiness

Praise for VEIN OF GOLD, the second volume in the ARTIST'S WAY trilogy
 
"For those seeking the wellspring of creativity, this book, like its predecessor, is a solid gold diving rod."
--PUBLISHERS WEEKLY
Tarcher, 9780399163722, 270pp.
Publication Date: August 15, 2013
About the Author
Julia Cameron has been an active artist for more than three decades. She is the author of more than thirty books, including bestselling works on the creative process: "The Artist s Way," "Walking in This World," and "Finding Water." Also a novelist, playwright, songwriter, and poet, she has multiple credits in theater, film, and television.

Emma Lively is a classical violist turned musical theater writer, composer, and lyricist. She is the president of LivelyWorks, a production company, and owner of Bunny s Bakery, a custom catering business. She has served as Julia Cameron s business manager for a decade, and has contributed music and lyrics to Cameron s musical works.

"
or
Not Currently Available for Direct Purchase