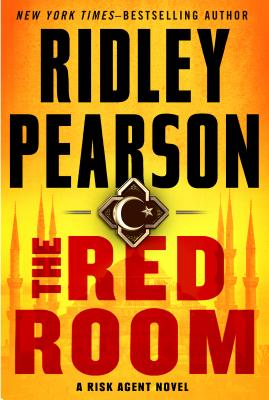 The Red Room
Hardcover

* Individual store prices may vary.
Other Editions of This Title:
Paperback (5/26/2015)
Compact Disc (5/26/2015)
MP3 CD (5/26/2015)
Hardcover, Large Print (6/17/2014)
Compact Disc (6/17/2014)
MP3 CD (6/17/2014)
Compact Disc (6/17/2014)
Description
This installment is all about impossible escapes and elusive spycraft .Another hit in this knockout thriller series featuring nonstop danger, casually clever descriptions of exotic locales, evolving characterization, and evenhanded sociopolitical commentary. Recommended for every beach bag. Booklist
In the newest international thrill ride fromNew York Times-bestselling author Ridley Pearson, John Knox and Grace Chu, the incomparable and often incompatible duo, team up again, this time in the exotic city between two worlds, Istanbul.
What's it like to see yourself in a picture you never knew was taken?
John Knox is an expert at surveillance and delicate, international dealings. So he is understandably thrown when David Sarge Dulwich, his contact at Rutherford Risk, hands him a photo of a transaction he recently facilitated in the Middle East. More curious to him, he's shown that photo while in the Red Room, the private security company's highly secure underground bunker, where eavesdropping is impossible and privacy ensured. Why all the cloak-and-dagger?
Knox is pressured into accepting a job as an art broker in the mysterious Istanbul, a city situated on two continents where East meets West and Islam meets Christianity. It is a melting pot of spies, terrorists, and conflicting interests.
Teamed with smart, quick, and fearless Grace Chu, Knox must navigate a murky operation, the only goal of which is to spend five minutes in the proximity of a man they ve never met. Why? What can it possibly matter? And why are so many others bound and determined to see it never happens at any cost?
Praise For The Red Room…
Praise for CHOKEPOINT

"John Knox and Grace Chu (The Risk Agent) return in another high-stakes international thriller set this time in Amsterdam…. Pearson has written another compelling thriller. Knox and Chu are protagonists who engage the reader…. A winner."— Library Journal

"[Chu and Knox] make a good team, with his brawn and her brains, as they fight and kill their way to the top of the child-abuse cabal. Plenty of action and some steamy sex help make the pages fly by."  —Publishers Weekly 

"It's obvious why Pearson has earned praise as thriller grand master; the pacing is flawlessly anxiety ridden, and the investigative elements are richly layered."—Booklist

"Readers who like crime novels that teem with violence and provide more than a touch of sex will give Choke Point high ratings. So will readers who enjoy prose with a sharp edge."— St. Louis Today
 
 
Praise for THE RISK AGENT

"Rich with the atmosphere of Shanghai…and filled with breathtaking suspense. …Famous for his plotting and attention to details, Pearson is off to a great start with his compelling and multilayered new protagonists."—Library Journal (starred) 

"A cunning thriller worthy of the promised series… Exotic locale. Credible heroics. Vicarious thrills. Fans will want more, and soon."
—Kirkus Reviews

"Pearson, who lived with his family in Shanghai for a year, has created an intense and realistic thriller. The atmosphere and culture of China draw readers into a new world.... With "The Risk Agent," he has a great start to what appears to be a new series."—Associated Press

"Forensic accountant Grace Chu is a cool, whip-smart beauty trained in the Chinese military. John Knox is a combat veteran with focus and ferocity in equal measure....Pearson renders steady suspense and a vibrant portrait of a city that blends history, mystery, and a remarkably resilient citizenry."—Booklist 
Putnam Adult, 9780399163746, 399pp.
Publication Date: June 17, 2014
About the Author
Ridley Pearsonis theNew York Times-bestselling author of more than two dozen novels, includingThe Risk AgentandChoke Point, featuring John Knox and Grace Chu; the Walt Fleming novels; the Lou Boldt crime series; and many books for young readers. He lives with his wife and two daughters in Saint Louis, Missouri, and Hailey, Idaho."
or
Not Currently Available for Direct Purchase