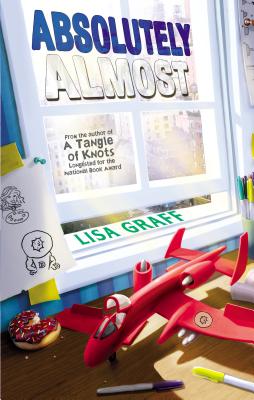 Absolutely Almost (Hardcover)
Philomel Books, 9780399164057, 304pp.
Publication Date: June 12, 2014
Other Editions of This Title:
Digital Audiobook (6/11/2014)
Prebound (5/5/2015)
Paperback (5/5/2015)
* Individual store prices may vary.
Description
From the author of the National Book Award nominee A Tangle of Knots comes an inspiring novel about figuring out who you are and doing what you love.

Albie has never been the smartest kid in his class. He has never been the tallest. Or the best at gym. Or the greatest artist. Or the most musical. In fact, Albie has a long list of the things he's not very good at. But then Albie gets a new babysitter, Calista, who helps him figure out all of the things he is good at and how he can take pride in himself.

A perfect companion to Lisa Graff's National Book Award-nominated A Tangle of Knots, this novel explores a similar theme in a realistic contemporary world where kids will easily be able to relate their own struggles to Albie's. Great for fans of Rebecca Stead's Liar and Spy, RJ Palacio's Wonder and Cynthia Lord's Rules.

Praise for ABSOLUTELY ALMOST 
 
* "Albie comes through significant emotional hardship to a genuine sense of self-worth."--School Library Journal, starred review
 
* "A perfect book to share with struggling readers."--Booklist, starred review
 
* "Achingly superb, Albie's story shines."--Kirkus Reviews, starred review
 
* "Graff's...gentle story invokes evergreen themes of coming to appreciate one's strengths (and weaknesses), and stands out for its thoughtful, moving portrait of a boy who learns to keep moving forward, taking on the world at his own speed."--Publishers Weekly, starred review
 
"Lately the patrons of my school library have been asking, 'Do you have any books like Wonder by R.J. Palacio?' and now I have the perfect offering."--BookPage 

"Maybe the wonder of Absolutely Almost is that it's willing to give us an almost unheard of hero."--Betsy Bird, Fuse #8 Blog

"Graff...again draws on her ability to create rich lifeworlds for her characters to present a boy who is gifted in many ways....[T]his is a sharp portrait of an outsider's inner perspective, and Albie's coming to terms with himself will be cheered by many."--BCCB Reviews
About the Author
Lisa Graff (lisagraff.com) is the critically acclaimed and award-winning author of Far Away, The Great Treehouse War, A Clatter of Jars, Lost in the Sun, Absolutely Almost, A Tangle of Knots, Double Dog Dare, Sophie Simon Solves Them All, Umbrella Summer, The Life and Crimes of Bernetta Wallflower, and The Thing About Georgie. Lisa Graff's books have been named to more than seventy state award lists and have been touted as best books of the year by booksellers, teachers, and librarians. A Tangle of Knots was long-listed for the National Book Award in 2013. Lisa Graff lives with her family just outside of Philadelphia. Follow her on Twitter @LisaGraff.
Praise For Absolutely Almost…
Praise for ABSOLUTELY ALMOST 
 
* "Albie comes through significant emotional hardship to a genuine sense of self-worth."--School Library Journal, starred review
 
* "A perfect book to share with struggling readers."--Booklist, starred review
 
* "Achingly superb, Albie's story shines."--Kirkus Reviews, starred review
 
* "Graff's...gentle story invokes evergreen themes of coming to appreciate one's strengths (and weaknesses), and stands out for its thoughtful, moving portrait of a boy who learns to keep moving forward, taking on the world at his own speed."--Publishers Weekly, starred review
 
"Lately the patrons of my school library have been asking, "Do you have any books like Wonder by R.J. Palacio?" and now I have the perfect offering."--BookPage 

"Maybe the wonder of Absolutely Almost is that it's willing to give us an almost unheard of hero."--Betsy Bird, Fuse #8 Blog

"Graff...again draws on her ability to create rich lifeworlds for her characters to present a boy who is gifted in many ways....[T]his is a sharp portrait of an outsider's inner perspective, and Albie's coming to terms with himself will be cheered by many."--BCCB Reviews
or
Not Currently Available for Direct Purchase