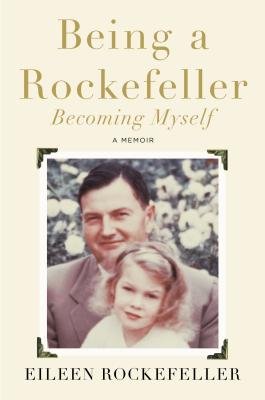 Being a Rockefeller, Becoming Myself (Hardcover)
Blue Rider Press, 9780399164088, 319pp.
Publication Date: September 12, 2013
Other Editions of This Title:
Digital Audiobook (9/11/2013)
Paperback (8/26/2014)
* Individual store prices may vary.
Description
The daughter of David and Peggy Rockefeller and a great-granddaughter of John D. Rockefeller, Eileen Rockefeller understood at an early age that her name was synonymous with American royalty. She learned in childhood that wealth and fame could open any door; but as the youngest of six children and one of twenty-two cousins in one of the world's most famous families, she began to realize that they could not buy a sense of personal worth.

Growing up with servants in lavish homes did little to compensate for the absence of parental attention resulting from continual cocktail and dinner parties, meetings, and foreign travel. Her mother's dark depressions and mercurial moods, plus intense competition from her siblings, and the myriad feelings others harbored about her Rockefeller name adulation, judgment, envy, and endless curiosity contributed to Eileen's sense of isolation and loneliness as well as to her drive for connection with others. In adulthood, she has become not an icon, but an accomplished woman and mother. Like all of us, she learned to find her own way.

Through her intimate stories she shows us her philosophy: that power and richness come not from material goods, but from personal relationships and co-creation. This belief has strengthened her dedication to family and friends, and catalyzed her leadership in philanthropy and service. A pioneer in mind/body practices and social and emotional learning, and an active proponent of environmental sustainability, Eileen has forged a singular path even as she remains dedicated to her family's legacy, finding her own balance and peace of mind. Being a Rockefeller, Becoming Myself is a universal affirmation of how identity is shaped and how we can contribute to the larger family of life, regardless of our origins.
About the Author
Eileen Rockefeller is the youngest daughter of David and Peggy Rockefeller, and a great-granddaughter of John D. Rockefeller. She is the founding chair of the Rockefeller Philanthropy Advisers and the Growald Family Fund. She lives in Vermont with her husband.
Praise For Being a Rockefeller, Becoming Myself…
"Eileen Rockefeller has always sought the true, the real, the authentic. To read her beautiful book is to join her in a journey toward your own truth, your own real self, your own authenticity. What could be more important?"
—Timothy Shriver, Chairman and CEO of Special Olympics, and Chair of Collaborative for Academic, Social, and Emotional Learning
 
"Weaving together a lifetime of navigating her own family bonds and traveling among diverse people throughout the world, Eileen Rockefeller explores the common threads of human pain and joy in this lyrical memoir, proving that no one is immune from suffering and doubt, and that no one finds happiness without ingenuity and effort. An inspiring, fascinating, heartening read."
—Martha Beck, author of Finding Your Own North Star and Expecting Adam
 
"A beautifully written book that will touch many people in a very personal way. In Eileen Rockefeller's stories we learn not only that love heals but that only love heals, and that being fortunate in life has nothing to do with material goods but lies in being truly loved for yourself, exactly as you are."
—Rachel Naomi Remen, author of Kitchen Table Wisdom and My Grandfather's Blessings

"Eileen Rockefeller shares a fascinating, moving, and revealing tale of growing up in the midst of power and wealth, and moving on to find a True North star in life. Any one of us, no matter our roots, will learn much about living with authenticity and compassion, and becoming the person we want to be."
—Daniel Goleman, author Emotional Intelligence

"Eileen Rockfeller shows us that life's many projections—internal and external—ultimately do not show us who we truly are. Regardless of what comes with a name, the soul still has to find its unique expression in the world. This engaging book is an extremely detailed and honest look at one woman's search for safety of place and nuance of meaning in a world that often prefers boxes and labels."
—Peter Buffett, musician, philanthropist, and author of Life is What You Make It

"This beautifully written memoir is deeply moving. It inspires self-reflection and a passion for human connection. Being a Rockefeller, Becoming Myself models honest communication and the benefits of sharing feelings in constructive and loving ways. Readers will enjoy learning about the Rockefeller family, and more importantly learn valuable ways to relate compassionately to family members, friends, and themselves."
—Roger P. Weissberg, PhD, President and CEO, Collaborative for Academic, Social, and Emotional Learning (CASEL)
 
"Eileen Rockefeller has written a thoroughly engaging, perceptive, and warm-hearted memoir, deftly weaving together the threads of family history and personal journey in the story of her own coming of age. There is beautiful writing here, along with a fresh and energetic voice and a narrative that goes far beyond the inevitable resonances of fame and fortune and into a complex family landscape where, luckily, our guide not only is familiar with the territory, but is also compassionate, loving, and very wise."
—Reeve Lindbergh, author of No More Words and Under a Wing
 
"While few of us grew up in a famous family, most of us have experienced a struggle to find our own way, one that could include mutual acceptance and loving understanding. In this wise, sometimes humorous and remarkably candid memoir Eileen manages to share fascinating stories that make her personal journey reflect lessons in our universal longing for meaning, giving to the greater good and belonging."
—Kare Anderson, author of Moving From Me to We
 
"In this poetic memoir, Being a Rockefeller, Becoming Myself, Eileen Rockefeller courageously shares what it was like to grow up the youngest child of six in one of America's most storied families. 'Do I have value beyond my last name?' she asks. As Rockefeller leads us on her life journey -- from early academic challenges, to finding her voice inside her family, to youthful environmental advocacy, to pioneering work in the field of emotional intelligence, to finding her husband and soul mate -- she finds her lights, and resolutely puts her singular gifts to work in making the world a better place. Her challenges are very specific; her quest for selfhood universal."
—Wanda Urbanska, author of The Heart of Simple Living
 
"Being a Rockefeller, Becoming Myself is everything a memoir should be: endowed with engaging characters, rich in detail, enlivened with episodes and stories, and above all, intensely personal.  And add one other thing: courageous.  Eileen Rockefeller has not held back in describing her family dynamics or her own feelings, thus has shared with us fascinating and utterly honest insights into her sometimes perilous journey toward unconditional love and acceptance."
—James A. Autry, author of Love & Profit and The Servant Leader
 
"Eileen Rockefeller's exquisitely written, compelling memoir takes the reader on a deeply moving, inspiring journey of self-discovery.  Beyond the details of her fascinating life as a member of a world-renowned family, she courageously reveals her inner self, her struggles and her triumphs.  In so doing, she beckons us all to understand ourselves and our lives more fully and to remember, once again, the power of love."
—Julie Kidd, President of Christian A. Johnson Endeavor Foundation
 
"Eileen Rockefeller played a seminal, creative, and catalytic role in two as yet little known but revolutionary emergences in our culture: 1) the rise and mainstreaming of mind/body medicine and 2), the development and dissemination of Social Emotional Learning (SEL) in schools. Both are based on robust scientific evidence that her efforts contributed to significantly. Both deserve major kudos. In this memoir, Eileen now reveals the human being behind these accomplishments, Her story is unusual, since she was born into a family dynasty that brought with it a karmic load that encompassed nothing short of the good, the bad, and the ugly, all of which she experienced from a very early age. The result: a compelling "inside story" of the developmental trajectory of a young girl born into an extraordinary and complex family, compelled to find a way to ultimately become herself and contribute in her own unique and meaningful ways to the larger world."
—Jon Kabat-Zinn, author of Full Catastrophe Living and Wherever You Go, There You Are

"A fascinating and frank look at the world of privilege and power by one to the manner born, who nevertheless strikes out to discover the power and privilege of being her own person.  Engagingly written, honest, intimate, we follow a journey, not only of self discovery, but a journey of the heart from a woman committed to use her power and privilege to serve and help others.  And this Rockefeller has her own additional legacy to gift us, her readers, this inviting memoir."
—Julia Alvarez, author of A Wedding in Haiti and In the Time of the Butterflies

"Being a Rockefeller, Becoming Myself is an extraordinary book about a most remarkable woman who transformed her life and the lives of those around her.  Insightful and inspiring!"—Dean Ornish, M.D.


"[A] surprisingly candid and insightful account of an emotionally wounded girl...Throughout the story [Eileen Rockefeller] deals with her deep sense of isolation and her search for recognition and self worth beyond her wealth and iconic name. As the daughter of David and Peggy Rockefeller, and the great-granddaughter of John D. Rockefeller, founder of Standard Oil, she struggled to establish her own identity and confidence. But she succeeded through mind/body therapy, social and emotional learning, and a love of nature and the outdoors."
—Sandra McElwaine, The Daily Beast
or
Not Currently Available for Direct Purchase