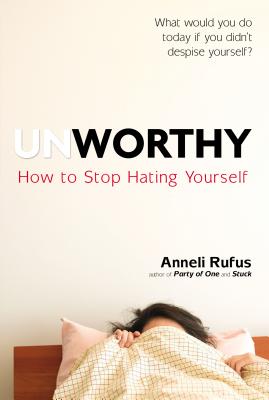 Unworthy (Hardcover)
How to Stop Hating Yourself
TarcherPerigee, 9780399164217, 288pp.
Publication Date: May 15, 2014
Other Editions of This Title:
Digital Audiobook (5/31/2014)
Paperback (5/19/2015)
* Individual store prices may vary.
Description
"Anneli Rufus has an incredible insight into the human condition. Through observation and anecdote, she shows us that no matter what was said or done to us, self-loathing does not have to be our fate. Hers is a strong, sympathetic and encouraging voice.
"
—Henry Rollins
"This book should be required reading for anyone suffering from low self-esteem, and while it will likely cause readers to tear up repeatedly, the empathy and grounded advice is sure to help inspire healing."
—Publishers Weekly
"Self-loathing is a dark land studded with booby-traps. Fumbling through its dark underbrush, we cannot see what our trouble actually is: that we are mistaken about ourselves. That we were told lies long ago which we, in love and loyalty and fear, believed.  Will we believe ourselves to death?"
—from Unworthy
. As someone who has struggled with low self-esteem her entire life, Anneli Rufus knows only too well how the world looks through the eyes of those who are not comfortable in their own skin. In
Unworthy
, Rufus boldly explores how a lack of faith in ourselves can turn us into our own worst enemies.
Drawing on extensive research, enlightening interviews, and her own poignant experiences, Rufus considers the question: What personal, societal, biological, and historical factors coalesced to spark this secret epidemic, and what can be done to put a stop to it? She reveals the underlying sources of low self-esteem and leads us through strategies for positive change.
About the Author
Anneli Rufus is an award-winning journalist and author of Stuck: Why We Can't (or Won't) Move On and Party of One: The Loner's Manifesto. She has written for many publications, including The Boston Globe, San Francisco Chronicle, The Huffington Post, and Salon.com.
Praise For Unworthy: How to Stop Hating Yourself…
Praise for Unworthy

"Anneli Rufus has an incredible insight into the human condition. She understands and applauds our desire to be normal as we navigate our complex fragility and ability to detest ourselves. Through observation and anecdote, she shows us that no matter what was said or done to us, self-loathing does not have to be our fate. Hers is a strong, sympathetic and encouraging voice."
—Henry Rollins
 
"This book should be required reading for anyone suffering from low self-esteem, and while it will likely cause readers to tear up repeatedly, the empathy and grounded advice is sure to help inspire healing."
—Publishers Weekly

"An essential title on the topic of low self-esteem."
—Library Journal

"Whatever the state of your self-esteem, Unworthy is a worthwhile read--a marvelous blend of scientific research and personal stories."
—Monica Wesolowka, author of Holding Silvan
 
"Anneli Rufus illuminates a problem many have witnessed but few have publicly acknowledged: The world is full of good, honest, hardworking people who nevertheless hate themselves; it is also full of cruel and petty scoundrels with sky-high self-regard. Unlike most books on self-esteem (written from the lofty perches of confident experts), Unworthy tackles the problem of self-loathing from an insider's perspective. As Rufus unflinchingly tells her own story, elegantly weaving it with current research, she provides a light to guide fellow sufferers out of the dark."
—Sara Eckel, author of It's Not You: 27 (Wrong) Reasons You're Single

"I loved this book. Anneli Rufus has done the impossible: made it thoroughly enjoyable to read about the exquisite ways we make ourselves miserable.  And we all do. With uncanny precision and wit, she has wiret-apped us in our most private self-loathing moments and written so expertly about them, that she is the only voice we can truly trust to convince us to leave those moments and spells behind and be the hero in our own lives. Whether you are estranged from yourself or on decent speaking terms, Anneli Rufus tells us exactly how to befriend and outsmart our demons and let the self-recrimination go. I found this book to be irresistible. Anneli Rufus has somehow seen us, warts and all, loves us anyway, and will teach us to do the same. You will feel better every time you pick up this book; I know I did! Anneli Rufus will be everyone's new best friend."
—Tamar Chansky, Ph.D., author of Freeing Yourself From Anxiety

Praise for Party of One:

"A founding manifesto for an organization of self-contained people.... A clever and spirited defense." —Kirkus Reviews
Praise for Stuck:

"The brilliant mind behind Party of One examines the striking social trend: people are stuck and they want to change, but..."—San Francisco Chronicle

"Astonishingly insightful book. This thought-provoking paperback of cultural criticism covers a lot of territory as Rufus probes the unhappiness of many American citizens who feel trapped, bored, and in a rut. She also takes a look at some of the self-imposed obstacles which keep us imprisoned: denial, fear, obsession, confusion, and delusion."
—Spirituality & Practice
or
Not Currently Available for Direct Purchase