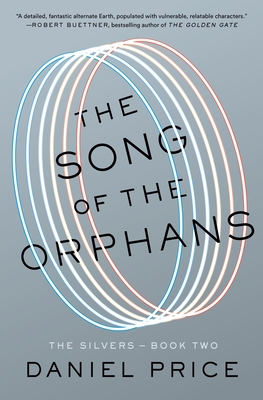 The Song of the Orphans (The Silvers Series #2)
Hardcover

* Individual store prices may vary.
Other Editions of This Title:
Digital Audiobook (7/3/2017)
Description
The thrilling second novel in the category-defying Silvers trilogy—melding X-Men and the novels of Blake Crouch—about six extraordinary people who become unwitting refugees on an unfamiliar Earth, and their epic quest to find out why.

The end of the world was just the beginning for Hannah and Amanda Given. Saved from apocalypse by three mysterious beings, the sisters, along with four other refugees from their world, were each marked with a silver bracelet and transported to an entirely different Earth: a place where restaurants move through the air like flying saucers and the fabric of time is manipulated by common household appliances, as well as by their very own hands—and a place where terrifying new adversaries seem to be around every corner.

Now, after six months in this alt-America and a tumultuous cross-country journey that landed them in New York City, the Silvers find themselves in more trouble than ever. Their new world is dying, and a clan of powerful time benders believes that killing them is the only way to stop it. To make matters worse, the U.S. government has sent its most ruthless covert spy agency to track and capture them. But the biggest threat of all comes from the three god-like beings who first saved them. They had a reason for bringing the Givens and their friends to this world. And when the Silvers learn the awful truth, nothing will ever be the same.
Praise For The Song of the Orphans (The Silvers Series #2)…
Praise for The Song of the Orphans
A Kirkus Pick for Best Science Fiction and Fantasy Books of 2017

"As intriguing as The Flight of the Silvers was, this follow-up is even more mind-bending...and the relationships between the characters (who are now more like a family than a group of strangers thrown together) are richer and more intricate. A brilliantly imagined fantasy."—David Pitt, Booklist (starred review)

"The action is unrelenting, the body count and the emotional toll are high, the revelations are twisty and brutal, and allegiances shift constantly; as in the previous installment, you may need a score card to keep up. A worthy and thrilling follow-up to The Flight of the Silvers; the wait for Book 3 will be tough to bear."—Kirkus Reviews (starred review)

"A King-sized doorstopper epic of superhuman proportions. This sucker is jam-packed with X-Men by way of Fringe action scenes, each one carefully crafted and massive in scope....Hugely cinematic, and packed to the rafters with fight scenes and conflict galore, The Song of the Orphans was well worth the wait. Fans will be pleased to take another trip to AltAmerica, but now begins the wait for book three. I shall wait patiently, or at least try to."—Michael Patrick Hicks, author of Convergence

"Conjures a detailed, fantastic alternate Earth, populated with vulnerable, relatable characters from this Earth who readers will enthusiastically follow anywhere. Speculative fiction writers wear imagination like a suit of clothes, and Daniel Price has a closetful."—Robert Buettner, bestselling author of The Golden Gate

"Daniel Price bends genres like his characters bend time and matter, layering sci-fi, fantasy, and mystery in a story that will swallow you whole. The Song of the Orphans is entertaining, poignant, visceral, and above all, smart. One can only hope that the third installment of Price's trilogy arrives as soon as possible."—Lily Brooks-Dalton, author of Good Morning, Midnight

"Dazzlingly original and nimbly told, Daniel Price's Silvers series brims with mind-bending fun."—Brendan Duffy, author of House of Echoes

"A sharp, smart piece of science-fiction. Price has not only recaptured the grand scale of Book One, but expanded upon it. It's a narrative that unspools cinematically in the mind's eye; there's a visual acuity at work here that is wonderful and rare. Here's hoping that the wait for Book Three will be a short one. After all, the world is running out of time."—Allen Adams, The Maine Edge
 
"Amazing."—Casey Rose Frank, The Joyful Pen

Praise for The Flight of the Silvers
Nominated for a Goodreads Choice Award for Best Science Fiction Novel
An io9 "Can't Miss" Science Fiction Pick

"VERDICT: This first volume in a planned trilogy is fascinating sf; Price's strong, engaging characters and fast-moving plot will keep readers on their toes. Highly recommended for fans of apocalyptic and dystopian fiction."—Library Journal (starred review)

"An absorbing adventure with a fresh take on both the parallel-universe and the paranormal subgenres. You'll get pulled in."—Kirkus Reviews (starred review)

"The cast is engaging (it includes a 16-year-old Australian boy, a girl who's been separated from her entire family, and an affable cartoonist), and the author has created an alternate-reality world that is both bewilderingly different and reassuringly familiar....A highly imaginative exercise in world building that also features characters it's very easy to care about."—Booklist

"A mind-bending work of science fiction, Flight of the Silvers pairs an excellently paced plot with well-written and fully realized characters. If you're new to the science fiction world, Daniel Price's chunkster might just be the book to draw you into the genre."—S. Krishna's Books blog

"Daniel Price has given readers the first installment of what promises to be a well-wrought sci-fi saga, colored by intriguing ideas and complex characters adrift in a wonderfully weird world. The Flight of the Silvers is thought-provoking, cinematic in scope…and very, very good."—The Maine Edge

"Price deserves credit for creating immediately relatable characters whose motivations are understandable even when not so commendable. But he deserves out-and-out praise for doing so while constantly upping the temporal ante....Any hours spent reading The Flight of the Silvers will be time well spent."—BookPage

"In The Flight of the Silvers, Daniel Price's time-bending X-Men travel through an alternative America that is both alien and disturbingly familiar. Fast-paced, poignant, and absorbing."—Emily Croy Barker, author of The Thinking Woman's Guide to Real Magic
Blue Rider Press, 9780399164996, 752pp.
Publication Date: July 4, 2017
About the Author
Daniel Price is the author of Slick, The Flight of the Silvers, The Song of the Orphans, and The War of the Givens. He lives in Gilbert, Arizona, with his partner Nancy. He cannot actually manipulate time.
or
Not Currently Available for Direct Purchase