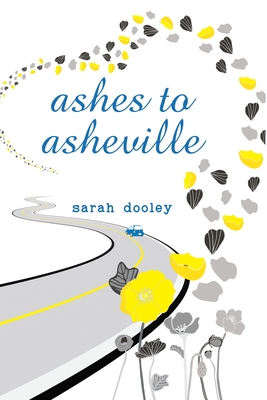 Ashes to Asheville
Hardcover

* Individual store prices may vary.
Description
Two sisters take off on a wild road trip in this poignant tale for fans of Counting by 7s and Fish in a Tree

After Mama Lacy's death, Fella was forced to move in with her grandmother, Mrs. Madison. The move brought Fella all sorts of comforts she wasn't used to at home, but it also meant saying goodbye to her sister Zoey (a.k.a. Zany) and her other mother, Mama Shannon. Though Mama Shannon fought hard to keep Fella, it was no use. The marriage act is still a few years away and the courts thought Fella would be better off with a blood relation. Already heartbroken, Fella soon finds herself alone in Mrs. Madison's house, grieving both the death of her mother and the loss of her entire family. 
    
Then one night, Zany shows up at Mrs. Madison's house determined to fulfill Mama Lacy's dying wish: to have her ashes spread over the lawn of the last place they were all happy as a family. Of course, this means stealing Mama Lacy's ashes and driving hundreds of miles in the middle of night to Asheville, North Carolina. Their adventure takes one disastrous turn after another, but their impulsive journey helps them rediscover the bonds that truly make them sisters.

A heartrending story of family torn apart and put back together again, Ashes to Asheville is an important, timely tale.
Praise For Ashes to Asheville…

Praise for Ashes to Asheville:

A School Library Journal Best Book of 2017
A 2018 ALSC Children's Notable
2018 Rainbow List Book
A 2019 Intermediate Sequoya Master List Pick



★ "Dooley's portrait of two sisters still struggling with grief and huge life changes makes for a powerful, absorbing read. . . . A tender, touching, and timely read."—Booklist, starred review

★  "Dooley (Free Verse) skillfully balances the troubling story of a family torn apart with Fella's lively, humorous narrative . . . in this moving, entertaining, and thought-provoking tale."—Publishers Weekly, starred review

★  "Poignantly told with verve and a splash of humor, this novel explores sensitive topics with care and belongs in all middle grade collections."—School Library Journal, starred review
 
"Dooley packs plenty of emotion into this eventful road trip . . . Breathless and engaging, Fella's distinctive voice is convincingly childlike."—Kirkus Reviews 

"A warm tale of family possibilities after bereavement."—BCCB 

"Some books can sweep you away in the first sentence."—NPR 

"In her exquisite, poignant novel, Sarah Dooley (Free Verse; Body of Water) explores the strange places grief takes people."—Shelf Awareness

"[A] believable, touching story of loss and healing."—VOYA


Praise for Free Verse:

★  "Dooley subtly exposes readers to poetic forms that invite engagement, understanding, and expression, while Sasha and her extended family are depicted with a sweetness reminiscent of Cynthia Rylant—a southern soulfulness that is warm even as it reveals the downtrodden struggles of a mining community."—Booklist, starred review
 
★  "The changes in [Sasha's] life, the anguish she feels, and her journey forward are expertly portrayed through Dooley's use of first-person narration, which is sensitive and gentle without being soft or sentimental. The poetry is wonderful and feels authentic to Sasha's years…"—School Library Journal, starred review 

★  "In this gripping story, Dooley balances a clear-eyed depiction of families wrestling with addiction, financial stress, and trauma with the astonishing resilience of children and the human capacity for love."—Publishers Weekly, starred review 

"Sarah Dooley mixes poetry and prose to powerful, poignant effect in her novel Free Verse... This story brims with hard-won insight into the travails and small joys of life."—The Washington Post 

"Sasha is a natural with words. They bubble out of her, spilling emotions onto paper that she couldn't otherwise articulate. And as she experiments with different forms, Sasha discovers poetry's double blessing: The structure stabilizes her, while the creativity sets her free."—The Christian Science Monitor 

"The story mounts a quiet defense of the nobility of broken people… who hold on when all seems lost and sacrifice much out of love for their children. Sasha's quietly moving poems… trace the evolution of her appreciation for what she has and her understanding that one must find one's own way to wholeness after loss."—The Bulletin of the Center for Children's Books 

"Dooley cleverly weaves into her novel different verse forms… giving her protagonist poet… the courage to stay put long enough to let the strength of her emotions settle inside. Dooley winningly combines engaging plot twists and rich character development with the introspective and thematic power of poetry: not to be missed."—Kirkus Reviews 

"Dooley shows readers the richness of small-town life… Tween fans of realistic fiction will find depth in this novel."—VOYA 
 
"Sasha lives in a tough coal mining world, and the hurts of her losses are deep. But her ability to see the beautiful and the lovely and the goodness of the world around her is equally deep, and her skill in expressing that depth is one of the things that will save her.  This novel is a triumph of art over loss, a story that will make you believe in the capacities of poetry."—Gary Schmidt, author of Newbery Honor-winning The Wednesday Wars
 
"Free Verse is exactly the sort of thing that we wish we saw more of in young people's literature, and Sarah Dooley is exactly the sort of author who needs and deserves this fellowship. It is a startling book, surprising at every turn, and its exploration of poverty, trauma, and loss deserves to be read by as wide an audience as possible."—Daniel Handler, Lyn Miller-Lachmann, Neal Shusterman, and Susanna Reich, judges for the 2012 PEN/Phyllis Naylor fellowship
G.P. Putnam's Sons Books for Young Readers, 9780399165047, 256pp.
Publication Date: April 4, 2017
About the Author
Sarah Dooley is the critically acclaimed author of Free Verse. She has lived in an assortment of small West Virginia towns, each of which she grew to love. Winner of the 2012 PEN/Phyllis Naylor Working Writer Fellowship, she has written two additional novels for middle-grade readers, Body of Water and Livvie Owen Lived Here. Sarah is a former special education teacher who now provides treatment to children with autism. She lives in Huntington, West Virginia, where she inadvertently collects cats. She's a 2006 graduate of Marshall University.