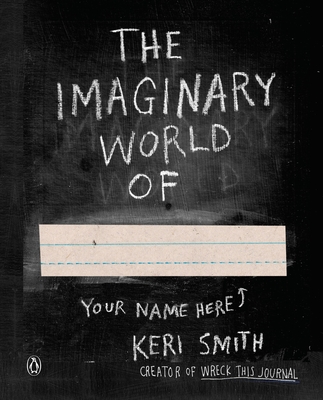 The Imaginary World Of... (Paperback)
Penguin Books, 9780399165252, 192pp.
Publication Date: September 2, 2014
* Individual store prices may vary.
Description
From the internationally bestselling creator of Wreck This Journal, a guide to building your own perfect world.

In The Imaginary World of…, Keri Smith asks readers to imagine something new: a unique world of their own making.

Readers start by creating a list of everything to which they're drawn: things they love and collect, colors, shapes, ideas, people, and creatures that fascinate them. The items in the list will become the building blocks for their imaginary worlds, used to create texture and establish a foundation for the new place they'll begin to inhabit. Readers will then be prompted to think about landscape, place names, maps, currency, residents, logos, foods, histories, and more for their world.

An indispensable guide for artists, dreamers, activists, and explorers of all ages, The Imaginary World of… will encourage readers to become revolutionaries of everyday life, chronicling the possibilities in the brave new worlds they envision.
About the Author
Keri Smith is a bestselling author, illustrator, and thinker. Her books include Wreck This Journal, The Wander Society, This is Not a Book, How to Be an Explorer of the World, Mess, Finish This Book, The Pocket Scavenger, Wreck This Journal Everywhere, Everything Is Connected, and The Imaginary World of... as well as Wreck This App, This is Not an App, and the Pocket Scavenger app. She enjoys spending time with her husband, experimental musician Jefferson Pitcher, and two children.
Praise For The Imaginary World Of...…
Praise for The Imaginary World Of...

"[Smith's] unspoken message may be discovered along the way, if kids or adults notice their utopia didn't include a Target parking lot or seven hours of media use per day. A conceptual artist and author luring kids into questioning the world and appreciating every smell, texture and mystery in it." —TIME Magazine

"Thought-provoking. . . . The Imaginary World Of… breaks up the creative log jam by asking readers to focus on only one task at a time, page by page." —Suvudu

"Take on the challenge of imagining something new with The Imaginary World Of… by Keri Smith. Push the boundaries of the existing world we live in and encourage yourself to innovate." —How Design

Praise for Keri Smith

"Keri Smith may well be the self-help guru this DIY generation deserves." —The Believer