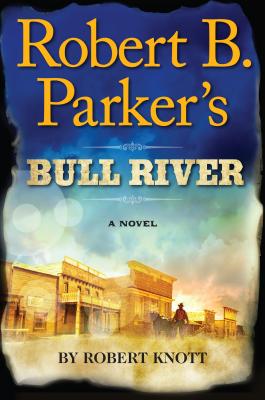 Robert B. Parker's Bull River (Hardcover)
G. P. Putnam's Sons, 9780399165269, 342pp.
Publication Date: January 7, 2014
* Individual store prices may vary.
or
Not Currently Available for Direct Purchase
Description
Clever detective work and considerable shooting. It reads lightning fast...Suspenseful.
Booklist
Itinerant lawmen Virgil Cole and Everett Hitch are back in the saddle with guns blazing in this gritty, intense addition to theNew York Times bestselling series.
After hunting down the notorious desperado Alejandro Vasquez, Territorial Marshal Virgil Cole and Deputy Everett Hitch return him to San Cristobal tostand trial. No sooner do they remand him into custody than a major bankrobbery occurs and the lawmen find themselves tasked with another job: investigating the robbery of the Comstock Bank, recovering the loot, and bringing thecriminals to justice.
But when their primary suspect is found severely beatenoutside a high-class brothel and turns out to be using a falseidentity to escape a torrid past, it is Alejandro who becomes the key to theirinvestigation. Cole and Hitch are soon on the trail of the money, twocalculating brothers, and the daughter of St. Louis's most prominentmillionaire in a Cain and Abel story that brings revenge to a whole new level.
About the Author
Robert B. Parker was the author of seventy books, including the legendary Spenser detective series, the novels featuring Police Chief Jesse Stone, and the acclaimed Virgil Cole Everett Hitch westerns, as well as the Sunny Randall novels. Winner of the Mystery Writers of America Grand Master Award and long considered the undisputed dean of American crime fiction, he died in January 2010.Robert Knott is an actor, writer, and producer, as well as the author of Robert B. Parker s Ironhorse, which made the New York Times extended list. His extensive list of stage, television, and film credits include the feature film Appaloosa based on the Robert B. Parker novel, which he adapted and produced with actor and producer Ed Harris."
Praise For Robert B. Parker's Bull River…
Praise for the Cole-Hitch Series "Clever detective work and considerable shooting...it reads lightning fast...suspenseful."
—Booklist on Robert B. Parker's Bull River 
  "Robert B. Parker's legion of fans will be thrilled with Ironhorse.  Robert Knott, co-writer of the screenplay for Appaloosa - Bob's remarkable western- has penned the next great saga featuring itinerant lawmen Everett Hitch and Virgil Cole.   Knott's new novel reads just like vintage Parker and the storyline crackles with all the excitement and humor of what is a perfect continuation of the Hitch/Cole series. Parker fans are going to love it!"                                                                                 —Ed Harris, Academy Award-nominated actor  
"A welcome second edition to the return of these delightful western characters."
—The Oklahoman on Robert B. Parker's Bull River 

"Hitch and Cole, reminiscent of the steely eyed, soft-spoken lawmen Randolph Scott played in the movies, speak volumes to one another with a few words and a nod of the head."                                                             —Associated Press
   "Parker's rightly known best for his mysteries.  That'll happen when you create one of mystery fiction's most indelible characters – the Boston private detective Spenser….You read Parker because he could tell a story and make you care about his characters. Blue-Eyed Devil only hones Parker's legacy as an ace storyteller, in any genre, to the end."                         — The Chicago Sun Times 
  "Add Virgil Cole and Everett Hitch to all the great characters that Robert B. Parker created over the decades to give us enjoyment and entertainment."                                                 —BookReporter.com
  "Blue-Eyed Devil shines.…a page-turner of the first order, and updated western that feels as fresh as anything out there….Virgil Cole never misses, not when it matters. Parker didn't either."                                                 —The Boston Globe   "Ironhorse hits with the intensity of an eight-gauge shotgun blast… A rip-snorting tale full of sparse dialogue seasoned with wit as dry as an Oklahoma prairie wind and enough flying bullets and buckshot to fill a caboose... Virgil and Everett's fates are in excellent hands."
—Tulsa World on on Robert B. Parker's Ironhorse
Advertisement