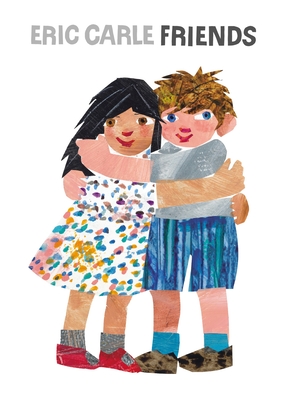 Friends (Hardcover)
Philomel Books, 9780399165337, 32pp.
Publication Date: November 19, 2013
Other Editions of This Title:
Board book (2/24/2015)
* Individual store prices may vary.
Description
From the creator of the all-time classic VERY HUNGRY CATERPILLAR comes a sweetly resonant story about the power of friendship.

When a best friend moves away, it can be painful for the child who is left behind. But the spunky boy in this upbeat story makes up his mind to find his missing playmate. Young readers will cheer on the boy as he braves currents, climbs mountains, and dashes through rain before, finally, reuniting with his friend. A story alive with love and perseverance, brightened with vibrant art and Eric Carle's trademark fostering of imagination.

This deeply personal story for Eric is dedicated to his longtime wife, Bobbie, and it is their bond that inspired the book. For anyone who has ever scaled mountains to be with the one he loves, or for anyone who has simply known the love and joy of a great friendship, this book will strike a resonant chord.

"This story of love and determination is illustrated with Carle's extraordinary signature artwork. For anyone who would cross rivers and scale mountains for a beloved friend, this warmhearted story will create an emotional response. Young readers will learn the value of friendship and its many challenges." —School Library Journal
 
"Often dynamic and quite beautiful, these colorful illustrations of the river, the meadow, and so on are abstract in style and show up well from a distance. A picture-book tribute to the strength of childhood friendships." —Booklist
 
"The images are beautiful and evocative." —Publishers Weekly
About the Author
 Ever since he began innovating the look and function of children's stories in the late 1960s, Eric Carle has remained an author whose stories reliably hit the bestseller lists and remain on kids' bookshelves through generations.
 
While his best-known work is The Very Hungry Caterpillar, which has sold millions of copies the world over, he is also the creator of such classics as The Very Busy Spider, The Very Lonely Firefly, and The Very Quiet Cricket.
 
Mr. Carle lives in Northampton, Massachusetts. Visit the Eric Carle Museum of Picture Book Art in Amherst, Massachusetts.
 
Praise For Friends…
Praise for Friends:

"This story of love and determination is illustrated with Carle's extraordinary signature artwork. For anyone who would cross rivers and scale mountains for a beloved friend, this warmhearted story will create an emotional response. Young readers will learn the value of friendship and its many challenges." —School Library Journal
 
"Often dynamic and quite beautiful, these colorful illustrations of the river, the meadow, and so on are abstract in style and show up well from a distance. A picture-book tribute to the strength of childhood friendships." —Booklist
 
"The images are beautiful and evocative." —Publishers Weekly