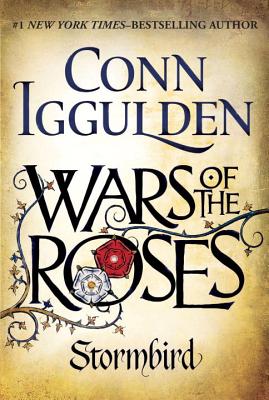 Wars of the Roses (Hardcover)
Stormbird
Putnam Adult, 9780399165368, 460pp.
Publication Date: July 8, 2014
* Individual store prices may vary.
Description
Capturing the violence and romance of medieval life, Iggulden makes real those grand characters who live in the collective memory. A page-turner sure to have readers eager for the next in the series.
"Kirkus"
"The first book in #1New York Times bestselling author Conn Iggulden's brilliant new historical series about two families who plunged England into a devastating, decades-long civil war."
In 1437, the Lancaster king Henry VI ascends the throne of England after years of semi-peaceful regency. Named The Lamb, Henry is famed more for his gentle and pious nature than his father's famous battlefield exploits; already, his dependence on his closest men has stirred whispers of weakness at court.
A secret truce negotiated with France to trade British territories for a royal bride Margaret of Anjou sparks revolts across English territory. The rival royal line, the House of York, sees the chaos brought on by Henry's weakness and with it not only opportunity in the monarch, but also their patriotic duty in ousting an ineffectual king. As storm clouds gather over England, King Henry and his supporters find themselves besieged abroad and at home. Who or what can save the kingdom before it is too late?
About the Author
Conn Igguldenis one of the most successful authors of historical fiction writing today. His previous series, on Julius Caesar and on the Mongol Khans of Central Asia, describe the founding of two of the greatest empires in history. Iggulden lives in Hertfordshire with his wife and children."
Praise For Wars of the Roses: Stormbird…
Praise for the novels of Conn Iggulden   "A triumph of historical fiction." — Publishers Weekly (starred review)   "A rip-roarin' read, and inspiration to go and sack a few cities on your own." — Kirkus Reviews    "What Robert Graves did for Claudius, Conn Iggulden now does for the most famous Roman emperor of them all — Julius Caesar."—William Bernhardt, author of Capitol Betrayal
  "A swashbuckling adventure story...Iggulden is a grand storyteller"—  USA Today   "Emperor is stunning.... Words like 'brilliant,' 'sumptuous,' and 'enchanting' jostle to be used, but scarcely convey the way Iggulden brings the tale to life." — Los Angeles Times   "A brilliant, tough-as-nails story. I wish I'd written it. It left me wanting more. A novel of vivid characters, stunning action and unrelenting pace." — Bernard Cornwell author of 1356
or
Not Currently Available for Direct Purchase