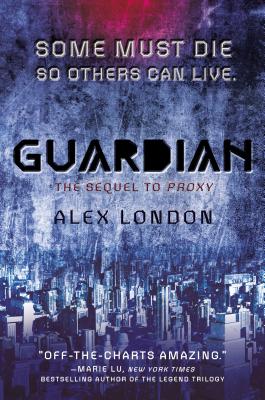 Guardian (Hardcover)
Philomel Books, 9780399165764, 352pp.
Publication Date: May 29, 2014
Other Editions of This Title:
Paperback (5/5/2015)
* Individual store prices may vary.
Description
The pulse-pounding sequel to Proxy! Inspired by The Whipping Boy and Feed, this adrenaline-fueled thriller will appeal to fans of The Hunger Games and Divergent.

In the new world led by the Rebooters, former Proxy Syd is the figurehead of the Revolution, beloved by some and hated by others. Liam, a seventeen-year-old Rebooter, is Syd's bodyguard and must protect him with his life. But armed Machinists aren't the only danger.

People are falling ill—their veins show through their skin, they find it hard to speak, and sores erupt all over their bodies. Guardians, the violent enforcers of the old system, are hit first, and the government does nothing to help. The old elites fall next, and in the face of an indifferent government, Syd decides it's up to him to find a cure . . . and what he discovers leaves him stunned.

This heart-stopping thriller is packed with action, adventure, and heroics. Guardian will leave you breathless until the final page.

A fast-paced, thrill-ride of novel full of non-stop action, heart-hammering suspense and true friendship—just as moving as it is exhilarating. Fans of Anthony Horowitz's Alex Rider series, James Dashner's Maze Runner, Patrick Ness's Chaos Walking series, and Marie Lu's Legend trilogy will be swept away by this story.

Praise for PROXY

"Put down what you're doing and read this book. Right now. The complex characters, intricate world, and blistering pace are off-the-charts amazing. I fell in love with this story from the first sentence to the final, epic page. London is a force to be reckoned with." —Marie Lu, author of the Legend trilogy

"Alex London is one of the most multi-dimensional writers out there. Proxy blew me away. It's deep, thrilling, thought-provoking, and at times simultaneously maddening and uplifting. I need to have more of Syd and Knox. Proxy is one stunning read!" —Andrew Smith, author of Winger and Grasshopper Jungle

Praise for GUARDIAN

"Corrupt powers, budding romance, an epidemic and grisly action synthesize to sate sci-fi fans."--Kirkus Reviews

"Nonstop action and breakneck pace characterize this exceptional thriller. London provides his audience with an intricate plot, enriched by fine world-building and believable characters....This thought-provoking and breathtaking novel belongs in all collections serving young adults."--VOYA
About the Author
Alex London writes books for adults, children and teens. At one time a journalist who traveled the world reporting from conflict zones and refugee camps, he now is a full time novelist living in Philadelphia. You can visit him at www.calexanderlondon.com or follow him on Twitter @ca_london.
Praise For Guardian…
Praise for PROXY:"Put down what you're doing and read this book. Right now. The complex characters, intricate world, and blistering pace are off-the-charts amazing. I fell in love with this story from the first sentence to the final, epic page. London is a force to be reckoned with." —Marie Lu, author of the Legend trilogy"Alex London is one of the most multi-dimensional writers out there. Proxy blew me away. It's deep, thrilling, thought-provoking, and at times simultaneously maddening and uplifting. I need to have more of Syd and Knox. Proxy is one stunning read!" —Andrew Smith, author of WINGER and GRASSHOPPER JUNGLE
Praise for GUARDIAN:

"Corrupt powers, budding romance, an epidemic and grisly action synthesize to sate sci-fi fans."--Kirkus Reviews

"Nonstop action and breakneck pace characterize this exceptional thriller. London provides his audience with an intricate plot, enriched by fine world-building and believable characters....This thought-provoking and breathtaking novel belongs in all collections serving young adults."--VOYA
or
Not Currently Available for Direct Purchase