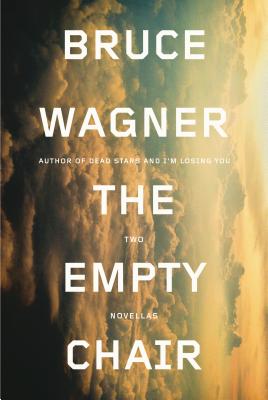 The Empty Chair (Hardcover)
Two Novellas
Blue Rider Press, 9780399165887, 285pp.
Publication Date: December 20, 2013
Other Editions of This Title:
Paperback (12/30/2014)
* Individual store prices may vary.
Description
Composed of two companion novellas, The Empty Chair is a profound, heart-wrenching piece of spiritual storytelling from Bruce Wagner, the internationally acclaimed author of such novels as Dead Stars, I'm Losing You and Force Majeure. In First Guru, a fictional Wagner narrates the tale of a Buddhist living in Big Sur, who achieves enlightenment in the horrific aftermath of his child's suicide. In Second Guru, Queenie, an aging wild child, returns to India to complete the spiritual journey of her youth. Told in ravaged, sensuous detail to the author-narrator by two strangers on opposite sides of the country, years apart from each other, both stories illuminate the random, chaotic nature of human suffering and the miraculous strength of the human spirit. A deeply affecting and meditative reading experience, The Empty Chair is an exquisitely rendered, thought-provoking, and humbling new work.
About the Author
Bruce Wagner is the author of "Dead Stars, Memorial, The Chrysanthemum Palace "(a PEN/Faulkner fiction award finalist), "Still Holding, I'll Let You Go, I'm""Losing You, "and "Force Majeure." He lives in Los Angeles.
Praise For The Empty Chair: Two Novellas…
Casting himself as a story collector, Wagner links two novellas, two narratives separated in time yet bound by a common motif: the empty chair, where loss, grief and death are seated. 
 
Known for his gorgeously acerbic dissections of SoCal and Tinseltown, Wagner (Dead Stars, 2012, etc.) turns his eyes toward the spiritual, examining the wreckage of two souls. A self-labeled gay Buddhist tries to tell the story of his son's suicide, looping back through memories and tangential details to avoid the final scene. Lushly embroidered with allusions to the Beat Generation, his tale takes on the rhythms of Gary Snyder's poetry, the patter of Jack Kerouac's prose. While awaiting the settlement of a lawsuit (he was one of the altar boys caught in the Catholic priest sex scandal), he joyously raised his son, Ryder, and watched his wife delve deeper into her practice, bringing Buddhism to schoolchildren and death row inmates alike. Ryder's death sends them reeling, as they try to make sense of it through spiritual beliefs or storytelling itself. In the second tale, aging hipster Queenie examines her relationship with Kura, the man who saved her life after her affair with a gangster turned deadly in a 1975 Chicago nightclub. A master criminal intent upon becoming a saint, Kura longs to experience satsana at the feet of the Great Guru. Their pilgrimage to Bombay, however, wrests Kura away from Queenie, setting him on a path toward disappointment rather than enlightenment.  Twenty-seven years later, a single call from him reunites the pair on a ruinous quest to find the guru who disappeared.
 
Wagner meditates on our fundamental cravings for connections—both human and divine—and meanings—both personal and cosmic—with wit, compassion and a sharp eye for the lies we tell ourselves.
—Kirkus Reviews, starred
 
In this new collection of two novellas by the author of Dead Stars, a fictionalized Wagner sits down with two disparate characters who have undergone traumatic spiritual journeys, interviewing them over the course of a few days. In "First Guru," a gay man explains his love of Jack Kerouac, and narrates the story of his life, from being molested in a Catholic church to marrying a woman and having a child with her, to finally ending up where Wagner finds him, sleeping in and operating his book-van lending library. "Second Guru" concerns a woman, Queenie, on a trip to India, as she reconnects with her old flame, Kura, after battling with depression and the aftermath of an abusive relationship, in search of his former spiritual guide. The collection is aptly named, as the metaphor of the empty chair comes to mean radically different things for each of the protagonists and their journeys toward and away from Buddhism. Throughout the interviews, Wagner interjects descriptions of his subjects, lending believability to the format, and the dialogue is spot-on—especially when Queenie ruminates on her fantasies of self-obliteration. Ultimately a quiet, brooding collection, Wagner's book deftly illustrates how the quest for spirituality and self-realization underscore one's understanding of the purpose of life.
—Publisher's Weekly

"[R]emarkable…[The Empty Chair] would make a fine fictional companion to the Trappist monk Thomas Merton's writings on spiritual outrage…The soul's cry beneath that rage is the gold Wagner has mined here, and he delivers it to us with a beneficent and magisterial touch."
—Dani Shapiro, The New York Times Book Review

"[The Empty Chair] demonstrates Mr. Wagner's range as a writer, reminding us…that he possesses a fluent ability to move back and forth between the satiric and the sympathetic, the scabrous and the tender….The strange and terrible connection between the two tales that is eventually revealed not only reminds us of Mr. Wagner's love of coincidence but also makes us ponder, as his characters do, big existential questions about fate (versus randomness), destiny (versus free will) and the patterning (or lack of patterning) in the universe."
—Michiko Kakutani, The New York Times

"The novellas are absorbing on their own, but what really makes The Empty Chair a gem is how two people from completely different backgrounds could tell two true stories that are extraordinarily intertwined."
—Esquire

"Few things make a story more difficult to tell than having a listener expecting to hear it….It's this contradiction, among so many others, that Bruce Wagner captures so elegantly in The Empty Chair. The book, split between two novellas, teems with gurus and neurotics, martyrs and perverts, but whatever their differences, nearly all of them are storytellers, too. What a shame for them, then, that someone is always listening—and what a joy for us to read."
—Colin Dwyer, NPR
 
"[The Empty Chair] dare[s] to enter a sanctuary that few contemporary authors are willing to set foot in….what seems like witty digression about his beatnik idols is really self-conscious delay…Wagner's real subject here is spiritual pride among the devout struggling toward Nothingness…His narrator has a wry sense of humor about this world of competitive enlightenment, but there's no smirking when he finally arrives at what it costs a child to be infected with his parents' metaphysical shtick."
—Ron Charles, The Washington Post Book World

"The sentences that run through [Wagner's] fiction—including the two novellas paired in The Empty Chair— are supercharged with exotic phrases, twisted puns, far-flung idiom, and endless name-checks from Beat literature to Wile E. Coyote to "Soul Train" to Mark Twain. He's got a crazy-brilliant command of language and culture….his verbal agility is mind-blowing….Wagner does a masterful job of letting his novellas harmonize with each other, one gaining resonance when compared to the other….And as much as The Empty Chair is about the impossibility of true and thorough enlightenment, it is also about the power of voice and storytelling."
—Matthew Gilbert, The Boston Globe


"These interwoven tales made me think, about Gurus, spirituality in the West, and the quest for enlightenment vs. nihilism, heady topics indeed, and well worth taking on. Ultimately, even the empty chair is full – full of all the life that has passed through it….I do recommend the book, particularly to anyone interested in Eastern spirituality and Buddhism."
—Ravi Chandra M.D., Psychology Today
or
Not Currently Available for Direct Purchase