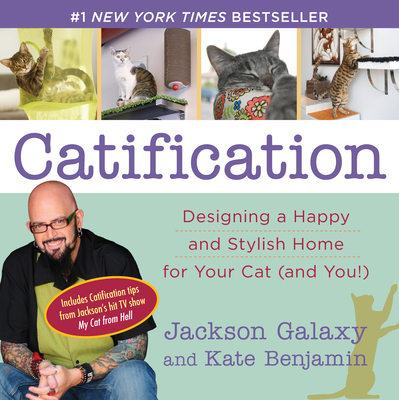 Catification (Paperback)
Designing a Happy and Stylish Home for Your Cat (and You!)
TarcherPerigee, 9780399166013, 304pp.
Publication Date: October 14, 2014
* Individual store prices may vary.
Description
A New York Times bestseller! The star of Animal Planet's hit television series My Cat from Hell, Jackson Galaxy, shows cat owners everywhere how to make their homes both cat-friendly and chic.

Cat owners know the struggles of creating living spaces that are both functional and stylish for owner and cat. Don't just go to your local pet shop and adorn your home with unattractive cat towers and kitty beds. In Catification, Jackson Galaxy, the star of Animal Planet's My Cat from Hell, and Kate Benjamin, founder of a popular cat design website, walk readers through a step-by-step process of designing an attractive home that is also an optimal environment for cats.

This gorgeously designed, full-color book includes more than twenty fun DIY projects, from kitty beds and litter boxes to catios (cat patios) that will be sure to make readers—and their cats—purr in approval.
About the Author
Jackson Galaxy is a cat behaviorist and the host of Animal Planet's hit show My Cat from Hell. He is also the author of Cat Daddy: What the World's Most Incorrigible Cat Taught Me About Life, Love, and Coming Clean.

Kate Benjamin is the founder of the popular cat design website Hauspanther.com. She makes frequent guest appearances on My Cat from Hell, helping Jackson Galaxy create stylish cat-friendly environments.
Praise For Catification: Designing a Happy and Stylish Home for Your Cat (and You!)…
"If you have cats, you need this book. Galaxy, star of the television series My Cat from Hell and author of Cat Daddy, along with Benjamin, founder of the cat design website ­hauspanther.com, show in over 400 color photographs myriad ways to make your home cat-friendly without looking like a crazy cat person. Best Interior Design Book of 2014."
—Library Journal

"Catification is user friendly, includes photos and diagrams and some truly inspirational ideas. Whether you share your home with one cat or ten, Catification: Designing a Happy and Stylish Home for Your Cat (and you!), is a must have. There are design ideas for every budget and every skill level. FIVE STARS (out of five)."
—Examiner.com

"Jackson Galaxy  and Kate Benjamin know just how to transform your pad into a kitty-friendly paradise without wrecking a room's aesthetic."
—New York Daily News
 
"Even if you are DIY challenged and on very tight budget, there's such a range of ideas for all types of people, cats, and homes."
—Adopt a Pet.com
 
"Full of DIY tutorials, tips for understanding your cat's specific needs, plenty of examples to draw inspiration from, and other essential ingredients you'll need to create a home that is suited for both your feline companion (or companions) and your sense of design. Due to its focus on filling the pages with large, high quality photos and easy-to-follow, illustrated DIY tutorials (drawn by local graphic designer Catherine Madrid), Catification is like no other book on the market."
—Phoenix New Times
 
"One of my favorite things about Catification is that is encourages pet parents and cat lovers to look through the eyes of a cat. It is a funny and informative book with lots of tips that will get you excited about how you can make your cat even happier about being in your forever home! Even if your cat seems pleased with their environment, I recommend taking a look at this book."
—Purrfect Cat Names


Praise for Cat Daddy:

"A joy. . . . Sometimes the biggest stories are actually the smallest ones—one man, one cat, and a quiet love that was large enough to save them both."
—Gwen Cooper, author of the New York Times bestseller Homer's Odyssey and Love Saves the Day

"This book is no ordinary cat memoir, nor is it an ordinary cat advice book. It is an inspirational tour de force that offers an intimate glimpse of Jackson, the man, and Jackson, the Cat Daddy."
—Ingrid King, publisher and founder, The Conscious Cat, and award-winning author of Buckley's Story: Lessons from a Feline Master Teacher

"Mr. Galaxy—shaved head, arms full of tattoos—seems physically at odds with his gentle voice and gentle approach to animals. . . . But though he may be dealing with humans who have been terrorized and even bloodied by their out-of-control pets, he's a model of consistency. The cats, not the people, are his No. 1 priority."
—The New York Times