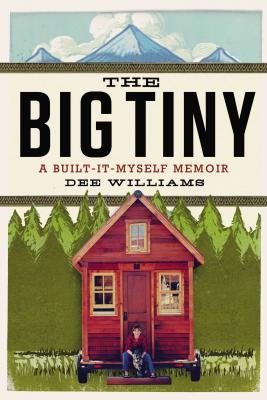 The Big Tiny
A Built-It-Myself Memoir
Hardcover

* Individual store prices may vary.
Other Editions of This Title:
Digital Audiobook (4/21/2014)
Paperback (4/28/2015)
Library Binding, Large Print (10/1/2014)
Compact Disc (4/22/2014)
MP3 CD (4/22/2014)
Compact Disc (4/22/2014)
Description
Dee Williams's life changed in an instant, with a near-death experience in the aisle of her local grocery store. Diagnosed with a heart condition at age forty-one, she was all too suddenly reminded that life is short, time is precious, and she wanted to be spending hers with the people and things she truly loved. That included the beautiful sprawling house in the Pacific Northwest she had painstakingly restored—but, increasingly, it did not include the mortgage payments, constant repairs, and general time-suck of home ownership. A new sense of clarity began to take hold: Just what was all this stuff for? Multiple extra rooms, a kitchen stocked with rarely used appliances, were things that couldn't compare with the financial freedom and the ultimate luxury—time—that would come with downsizing.

Deciding to build an eighty-four-square-foot house—on her own, from the ground up—was just the beginning of building a new life. Williams can now list everything she owns on one sheet of paper, her monthly housekeeping bills amount to about eight dollars, and it takes her approximately ten minutes to clean the entire house. It's left her with more time to spend with family and friends, and given her freedom to head out for adventure at a moment's notice, or watch the clouds and sunset while drinking a beer on her (yes, tiny) front porch.

The lessons Williams learned from her "aha" moment post-trauma apply to all of us, every day, regardless of whether or not we decide to discard all our worldly belongings. Part how-to, part personal memoir, The Big Tiny is an utterly seductive meditation on the benefits of slowing down, scaling back, and appreciating the truly important things in life.
Praise For The Big Tiny: A Built-It-Myself Memoir…
"Visitors to [Dee Williams'] property may be forgiven for thinking someone had taken up residence in a beautifully built pine-and-cedar toolshed out back….[an] affecting memoir…she writes in The Big Tiny of finding a centeredness and peace in her little house, of being less fearful, more alive. Some of the best passages are when she describes the sensory experience of being inside: smelling raw cedar and knotty pine; listening to the weather."
—Steven Kurutz, The New York Times

"[N]o one makes the idea of living in a home the size of an area rug more appealing than Dee Williams…Williams' inspiring memoir will resonate with anyone on a quest to downsize, de-stress, let go or feel at home…an endearing, funny writer…[The Big Tiny] is a book as intimate and draw-you-in-close as Williams' little abode. She reveals her fear and fearlessness, allowing readers to feel like visitors across her tiny table, knees touching, her dog by your side."
—Janet Eastman, The Oregonian

"[A] delightful encounter with the Tina Fey of the sustainability world, an empowered woman unafraid to admit she accidentally glued her hair to her house, as well as an incisive thinker on contemporary experience….a hilarious and poignant memoir…Williams does more than share the travails of building, moving into and living in her bitty abode. She writes a down-to-earth manifesto for living life with intention and for geeking out, diving in, caring too deeply and trying too hard in general."
—Mary Louise Schumacher, The Milwaukee Journal Sentinel

"In The Big Tiny, Dee Williams creates a portrait of humanity through her own compelling experience. That she has written about home and life with such humor and vulnerability, and in her own unique vernacular, makes her story all the more universal."—Jay Shafer, author of The Small House Book

"Williams has built an engaging and inspiring how-to/memoir that goes beyond the DIY perspective."
—Booklist
 
"The Big Tiny is irresistible. Dee Williams is as much fun on the page as she is in person. Comic, silly, and soulful, she takes us on her journey to simplify her life and along the way tunes in to our own inner desire to pare down to our nearly naked selves."—Jim Lynch, author of The Highest Tide and Truth Like the Sun
 
"The Big Tiny is a beautifully written narrative, one that goes beyond happiness and living simply. The power of Dee's words will touch your heart, make you laugh, cry, and change your life."—Tammy Strobel, author of You Can Buy Happiness (and It's Cheap)
 
"The Big Tiny is comedic, eloquent, and damn informative all at the same time. If Dee Williams' story hasn't inspired you to reevaluate your life already, this book just may be the swift kick in the pants you need—the final awakening blow all rolled into one biblio-burrito of bad-assness."—Derek "Deek" Diedricksen, HGTV host and honcho of Relaxshacks.com
 
"Dee Williams aims for happiness 85 percent of the time, but I think you'll be 100 percent happy with the wisdom she shares in this beautiful book."—Chris Guillebeau, author of The $100 Startup
Blue Rider Press, 9780399166174, 304pp.
Publication Date: April 22, 2014
About the Author
Dee Williams is a teacher and sustainability advocate. She is the co-owner of Portland Alternative Dwellings (www.padtinyhouses.com), where she leads workshops focused on tiny houses, green building, and community design. Her story has been featured on Good Morning America and NBC Nightly News, and on NPR, PBS, MSNBC, CNN, and CBC. She has also been profiled or featured in hundreds of online blogs and articles, and in print media including Time, The New York Times, and Der Spiegel. Williams lives in Olympia, Washington, with an overly ambitious Australian shepherd, in the shadow of the house of dear friends.
or
Not Currently Available for Direct Purchase