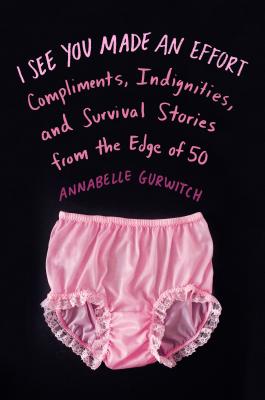 I See You Made an Effort
Compliments, Indignities, and Survival Stories from the Edge of 50
Hardcover

* Individual store prices may vary.
Other Editions of This Title:
Paperback (2/24/2015)
MP3 CD (3/6/2014)
Compact Disc (3/6/2014)
Compact Disc (2/24/2015)
Description
Actress and humorist Annabelle Gurwitch returns with "I See You Made an Effort, "a book of essays so wickedly funny it may make you forget your last birthday. Not one to shy away from the grisly realities of middle age, the slyly subversive ("O, The Oprah Magazine) "Gurwitch confronts the various indignities faced by "femmes d un certain age "with candor, wit, and a healthy dose of hilarious self-deprecation.
Whether falling in lust at the Genius bar, navigating the extensive and treacherously expensive anti aging offerings at a department-store beauty counter, coping with the assisted suicide of her best friend, negotiating the ins and outs of acceptable behavior with her teenage kid, or the thudding financial reality of the never-tirement generation that leads her to petty theft, Gurwitch's essays prove her a remarkably astute writer in her prime (in so many ways). Is this the beginning of the Eileen Fisher years? Where does one conduct an affair with a younger man? Is 50 the new 40? Or is 50 still just 50?
Scorchingly honest, surreally and riotously funny, "I See You Made an Effort" is the ultimate coming-of-middle-age story and a must-read for women of all ages. Reading glasses not included.
Praise For I See You Made an Effort: Compliments, Indignities, and Survival Stories from the Edge of 50…
"[A] rollicking collection of essays detailing the hazards encountered when a woman approaches 50…..Gurwitch tackles all of it all with aplomb. Her witty writing allows for deft exploration of even the most sensitive and intimate subjects while still finding the humor in her situation…These essays contain a devilish good dose of fun." –Publisher's Weekly

"A seriously funny collection of essays about teetering over the edge of 50…Gurwitch is squarely in Nora Ephron territory."—NPR

"Annabelle Gurwitch is a funny woman….At the center of the book is a serious question: How are we supposed to age? She convincingly argues that there is no longer a template."—Judith Newman, The New York Times
 
"Gurwitch confronts ageing the way we all should—with a healthy dose of hilarious self-deprecation."—Mrs. Robinson Magazine

"Annabelle Gurwitch takes us on a tour of the cruelest American punishment—female middle age—and along the way manages to highlight the existential questions that haunt every woman turning 50. Read, if you dare, I See You Made an Effort, and you will exit laughing at this rich display of Vintage Annabelle."—Caitlin Flanagan, author of Girl Land and Goodbye to All

"I so relate to this brilliant and wildly hilarious latest work by Annabelle Gurwitch that, sadly, I think there is a middle-aged woman's body trying to break out of my own."
 —Richard Lewis

"The stories in Annabelle Gurwitch's book are unexpected, imaginative and her observations just plain cracked me up. It's so great it should be required reading for everyone between the ages of 40 and death. Scratch that—even after death it's a must-read."
—Bill Maher

"In this heartfelt and hilarious book, Annabelle Gurwitch infuses her razor-sharp wit with uncommon vulnerability and grace. Gurwitch bravely shines a light into the darkest corners of her soul and somehow you still come away laughing. You will feel like you are curled up on her couch, sharing a glass of wine and doing that rare and wonderful thing: connecting."
—Jillian Lauren, author of the New York Times bestselling Some Girls
 
"Comedy! Tragedy! Laughter! Tears! To be clear—more laughter than tears! Be warned: I See You Made An Effort is a book about the worst thing a person can do in America: get older. Even worse: Annabelle is getting older in Hollywood of all places. A tragedy and a crime. But relax, the ego-wrenching tales in this book are funny because they happened to her, not you—yet."
—Bob Odenkirk
 
"I See You Made an Effort is so funny, humble, and nutty that you'll wish Annabelle Gurwitch lived next door. I laughed and commiserated with all the indignities of getting a wee bit older in a youth-obsessed world. I teared up at her on-going frustrations with her teenager, which mirror my own. I enjoyed her open hostility and deep love toward her husband, which also (don't tell anyone) mirrors my own. After reading this book, you won't feel alone in your secret thoughts anymore. And you'll laugh really hard—the frosting on the cake!"
—Julia Sweeney, author of If It's Not One Thing, It's Your Mother
 
"Smart, hilarious, and deeply moving, I See You Made an Effort captures the highs (few) and lows (more than a few) of not just turning fifty, but turning fifty in our time. From "having work done," to mothering a mortified teenage son, to revealing the truth about married sex, Gurwitch lays bare the harsh reality of hitting the half-century mark in a way that keeps you simultaneously laughing and turning pages."
—Cathi Hanauer, author of Gone and editor of The Bitch in the House

"Hooray for Annabelle Gurwitch, whose funny and clear-eyed book proves that the best way to face aging is with copious amounts of laughter. Peals not peels!"
—Henry Alford, author of Would It Kill You to Stop Doing That?
 
"Annabelle Gurwitch proves that fifty is the new funny! I See You Made an Effort is a hilarious romp through mid-life's ups and downs, sags and droops, younger men and rompers and the voices of our mothers."
—Lisa Bloom, author of Think and Swagger
 
"Annabelle Gurwitch was always one of my favorite actresses, and now she's become one of my favorite writers. Her riff on living at "the intersection of feminism and Feministing" stayed with me. With as much heart as social commentary, I See You Made an Effort is ultimately not about aging out of anything—it's about aging into a bigger and better version of yourself than your younger self ever imagined."
—Jill Soloway, director, producer of Grey's Anatomy and Six Feet Under, and author of Tiny Ladies in Shiny Pants

"Annabelle Gurwitch is the child prodigy of the literature on aging. At the youthful age of fifty, when most of us are stealthily burning our AARP magazines so the neighbors don't find them in the recycling, she has figured out how to make the humiliations of aging hilarious. The only downside of this book is that it is bound to deepen your laugh lines."
—Barbara Ehrenreich, author of Nickel and Dimed

"Annabelle Gurwitch's I See You Made An Effort is a little like going to get a mammogram with Lucille Ball."
—Jeanne Darst, author of Fiction Ruined My Family
 
"Annabelle Gurwitch stares into the maw of middle age and makes you laugh, cringe, hoot and holler. She turns fifty into a battle cry and a hallelujah."
—Felicity Huffman
 
"Whip smart and Ephron-funny, I See You Made an Effort is beautifully written and tender-hearted. It's a love letter in your pocket for the inevitable journey that lies ahead."
—Jane Kaczmarek

 
Blue Rider Press, 9780399166181, 240pp.
Publication Date: March 6, 2014
About the Author
Annabelle Gurwitch is an actress and author of" You SayTomato, I Say Shut Up," a self-hurt marital memoir co-written withher husband, Jeff Kahn, now a theatrical play in its third nationaltour; and "Fired! Tales of the Canned, Canceled, Downsized & Dismissed." Her "Fired!" documentary premiered as a Showtime Comedy Special and played film festivals around the world.Gurwitch gained a loyal comedicfollowing during her numerous years co-hostingthe cult favorite, "Dinner &a Movie"; her acting credits include "Dexter, Boston Legal, Seinfeld, Melvin Goes to Dinner, The Shaggy Dog "and"Not Necessarily The News on HBO." Most recently, she starred in the adaptation of Grace Paley s "A Coney Island Christmas" by Pulitzer Prize winning playwright Donald Margulies at The Geffen Playhouse. Live appearances include New York Comedy Festival, 92nd St Y, Upright Citizens Brigade and story salons in both New York and Los Angeles. She has served as a regular commentator on NPR andahumorist for TheNation.com. Her writing has appeared in More, Marie Claire, Men's Health, Los Angeles Times and elsewhere.Gurwitch is apassionateenvironmentalist, a reluctant atheist, and lives withher husband and son in Los Angeles."
Coverage from NPR
or
Not Currently Available for Direct Purchase