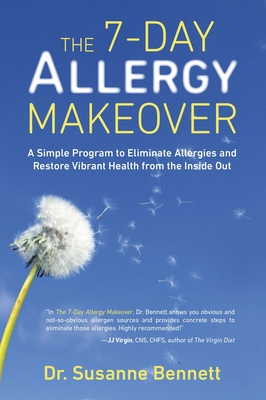 The 7-Day Allergy Makeover (Paperback)
A Simple Program to Eliminate Allergies and Restore Vibrant Health from the Inside Out
TarcherPerigee, 9780399166242, 288pp.
Publication Date: March 4, 2014
* Individual store prices may vary.
Description
A top allergy specialist provides a simple holistic program that helps a broad range of allergy sufferers heal themselves naturally.

THE 7 DAY ALLERGY MAKEOVER is written for people who want to take an active role in their own healing. The book lays out action-oriented, step-by-step instructions on uncovering the root cause of allergies, and makes simple but specific changes that can stop allergy symptoms from recurring.

What began as a mother's desperation to save her son has led to a comprehensive program that helps a broad range of allergy sufferers heal themselves naturally. As an allergy specialist, Dr. Susanne Bennett sees roughly 100 patients a week, from children to movie stars. They come to her after exhausting every resource: doctors, medicines, creams, shots, you name it. They suffer from hives, sneezing, headaches, asthma, muscle aches, swelling and digestive problems, and more. THE 7 DAY ALLERGY MAKEOVER, based on 23 years of Dr. Bennett's clinical experience, is an easy-to-implement and transformational plan for eliminating allergies from your life forever.

Each chapter in THE 7 DAY ALLERGY MAKEOVER focuses on a different aspect of health and environment for a person suffering from allergies--nutrition, air quality, living environment, water, body hygiene, and emotional and mental stresses.
About the Author
Dr. Susanne Bennett, D.C., is a holistic chiropractor specializing in allergies, clinical nutrition, environmental and lifestyle medicine, with an emphasis in pediatric and young adult health care. Combining Eastern, Western, and energetic techniques in her Los Angeles practice, she has earned nationwide recognition among physicians and patients for her pioneering efforts in treating chronic health problems that resist conventional medical treatment.
Praise For The 7-Day Allergy Makeover: A Simple Program to Eliminate Allergies and Restore Vibrant Health from the Inside Out…
"Allergies can manifest in everything, from the food you eat to what you keep in your bedroom closet. In her new book The 7 Day Allergy Makeover, Dr. Bennett shows you obvious and not-so-obvious allergen sources and provides concrete steps to eliminate those allergies. Highly recommended!"
 —JJ Virgin, CNS, CHFS, host and co-star of TLC's Freaky Eaters, author of The Virgin Diet

"Dr. Bennett has developed a foolproof method for reversing the serious problems encountered when someone suffers from allergies. I highly recommend her book and think it will change the lives of those that use it."
—Marcelle Pick, RNC, MSN, OB/GYN NP, co-founder of Women to Women, author of Are You Tired and Wired? and The Core Balance Diet

"If allergy symptoms have taken over your life or your child's life, you simply cannot afford to be without Dr. Bennett's groundbreaking program."
—Dr. Todd LePine, M.D., physician at Dr. Mark Hyman's Ultra Wellness Center, Lenox, MA, and Clinical Medical Director of Metametrix Laboratories

"The 7 Day Allergy Makeover is the first book that gives people the ability to control their own allergies.  Dr. Susanne Bennett has done a phenomenal job making this complex topic simple and laying out the easy steps that will reverse years of symptoms."
—Alan Christianson, NMD, author of The Complete Idiots' Guide to Thyroid Disease, http://www.integrativehealthcare.com

"The 7 Day Allergy Makeover is an easy-to-follow and complete road map to a healthier and allergy-free you. The quality of your life in all aspects is about to change once you read her book."
—Dr. Charles Sophy, D.O., celebrity psychiatrist and author of Side by Side: The Revolutionary Mother-Daughter Program for Conflict-Free Communication

"I have been a patient of Dr. Susanne Bennett for eight years. I am very grateful to her and see the results of all her work continuing to blossom in my life."
—Hallie Foote, award-winning Broadway and film actor
            
"Allergies are the key to many symptoms and conditions—ones that you may never even associate with an allergy! Dr. Susanne Bennett will help you uncover the underlying causes of your hard-to-treat, difficult and even disabling conditions, so you can remove the cause and move forward to enjoy full, vibrant health. This book holds the key: read it and live life as well as it can be!"
—Hyla Cass, M.D., author, Eight Weeks to Vibrant Health

"Dr. Susanne Bennett is one of the handful of health professionals I personally turn to when I want advice for myself or my family.  Even if you don't have allergies, you should read this book. It's a treasure trove of information about how exposures to common foods and substances can influence your health. The 7 Day Allergy Makeover is a must-read for everyone!"
—Jonny Bowden, Ph.D., CNS, author of The 150 Healthiest Foods on Earth and The Great Cholesterol Myth

"Dr. Susanne Bennett's 7 Day Allergy Makeover is a clear and powerful system by a seasoned and experienced expert.  You will not only feel better in seven days, but you will be on the road to lifelong health after reading this book."
—Dr. Nalini Chilkov, founder, Integrative Cancer Answers

"My family and I have been patients of Dr. Susanne Bennett for over seven years. If you follow her advice, diet and recommendations you will feel so much clearer, healthier and vibrant.  Highly recommended!"   
—Lavinia Errico, founder of Equinox