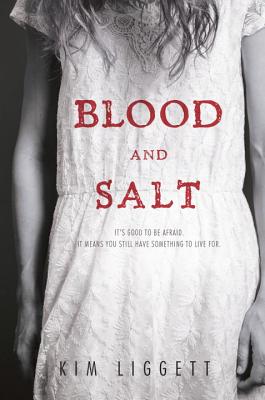 Blood and Salt (A Blood and Salt Novel #1) (Hardcover)
G.P. Putnam's Sons Books for Young Readers, 9780399166488, 352pp.
Publication Date: September 22, 2015
* Individual store prices may vary.
Description
The last words Ash hears her mother say are, "When you fall in love, you will carve out your heart and throw it into the deepest ocean. You will be all in—blood and salt."
 
Determined to find her mother when she disappears, Ash follows her to Quivara, Kansas, the spiritual commune she escaped long ago. But something sinister and ancient waits among the rustling cornstalks of this village lost to time.
 
Her mother is nowhere to be found, but Ash is plagued by memories of her ancestor, Katia, which harken back to the town's history of unrequited love, murder, alchemy, and immortality. Charming traditions give way to a string of deaths. And Ash feels herself drawn to Dane, a mysterious, forbidden boy with secrets of his own.
 
As the community prepares for a ceremony five hundred years in the making, Ash fights to save her mother, her lover, and herself. She must discover the truth about Quivara before it's too late. Before she's all in—blood and salt.
About the Author
At sixteen, Kim Liggett left her rural midwestern town for New York City, where she pursued a career in  music and acting. While attending the American Academy of Dramatic Arts, Kim sang backup for some of the biggest rock bands of the 80's. After settling down to have a family, she became an entrepreneur, creating a children's art education program and a travel company specializing in tours for musicians. She has two beautiful children.
Praise For Blood and Salt (A Blood and Salt Novel #1)…
"Absolutely irresistible. Blood and Salt drew me in from the very first line."
—Carrie Ryan, New York Times bestselling author of The Forest of Hands and Teeth
 
"An intense, exhilarating debut brimming with darkness, passion, and impending doom. Kim Liggett's twisted imagination and gutsy storytelling seduced and thrilled me with each gorgeous, blood-spattered page. This is a book to devour as soon as it comes out."
—Nova Ren Suma, author of Imaginary Girls and The Walls Around Us
 
"Kim Liggett's Blood and Salt hits some delightfully dark notes. Bloodline curses, post-mortem messages from a girl strung up by a rope, and a cult in the middle of a sea of sinister corn? Count me in. This one is eerie, and full of doom."
—Kendare Blake, author of Anna Dressed in Blood and Antigoddess

"Vengeful ghosts, dead bodies in cornfields, and a centuries-old secret kept me flipping the pages until the thrilling end."
—Megan Shepherd, author of The Madman's Daughter
 
"Eerie, bloody, and beautiful."
—April Genevieve Tucholke, author of Between the Devil and the Deep Blue Sea
 
"Deliciously creepy, sweepingly romantic, Blood and Salt will hook you and won't let go."
—Gretchen McNeil, author of Ten and the Don't Get Mad series

"A sweeping, scary, and entertaining paranormal read."—School Library Journal