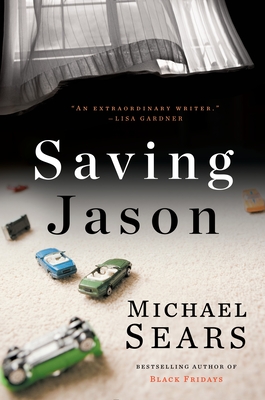 Saving Jason (A Jason Stafford Novel #4) (Hardcover)
G.P. Putnam's Sons, 9780399166723, 368pp.
Publication Date: February 2, 2016
* Individual store prices may vary.
Description
The latest Jason Stafford novel from Michael Sears, author of the highly acclaimed Long Way Down and Black Fridays.                                                                                                          
 
Jason Stafford used to be a hot Wall Street trader, went too far, and paid for it in prison. Now a financial investigator, he's been asked to look into rumors of a hostile takeover of his firm, but he has no idea it will turn his whole life upside down. Suddenly embroiled in a grand jury investigation of Mob-related activities on Wall Street, and threatened by some very serious men, he is thrust into witness protection with his young autistic son. And then his son disappears. Has he been kidnapped, or worse? With no choice but to act, Stafford has no choice but to come out of hiding and risk everything to save his son, his firm, his pregnant girlfriend—and himself.
About the Author
Michael Sears was sixty-one when his first novel, Black Fridays, was published. After nine years as a professional actor, he got an MBA from Columbia University and spent more than twenty years on Wall Street, rising to become the managing director in the bond trade and underwriting divisions of Paine Webber and, later, Jefferies & Co., before heeding his father's advice: "When it stops being fun, get out." He did so in 2005, and returned to what had always given him the greatest joy—writing—studying at NYU and the New School.
 
The temptations that drag down some of his characters are well known to him, as are the insider-trading perils that form the core of the new novel. The autism is known to him, too, from his extended family, and he has seen the struggles and the rewards.
 
Sears holds an undergraduate degree from the University of Maryland, and he lives in Sea Cliff, New York, with his wife, artist Barbara Segal. They have two sons.
Praise For Saving Jason (A Jason Stafford Novel #4)…
Praise for Michael Sears's Saving Jason

"Michael Sears takes you on a non-stop, action-packed ride through the grim realities of selfish brokers making back-alley trades with undesirables… Sears does an amazing job of not inundating you with bond and stock jargon, but neatly fills the pages with stock market garble that assists the story but does not overpower it… An immediate bond is felt between Jason and his son that carries through the book… The plot will keep you guessing and your brain churning with ideas. This financial mystery leaves you thinking with our character about advanced number sequences of stock buys while also craving water as Jason walks through the hot, Santa Fe desert." — East Valley Tribune

"Sears infuses his complex plots with enough background about the stock market and money managing that anyone can understand. And he never dumbs down his stories for those readers savvy about the intricacies of Wall Street…. These high standards excel in "Saving Jason," Sears' compelling fourth novel in which Jason's investigation of shady stocks trading leads to a whirlwind of a plot…. The chase that ensues should win an award as one of the best all-time chase scenes…. The briskly plotted "Saving Jason" gives an insiders' view of high finance. But the main pleasure in this series is how Sears finds new depth in Jason…. Jason's vulnerability and his financial acumen add layers to his personality and to this intriguing series." –– Florida Sun-Sentinel

"Through four novels, Sears has shown he'll go to astonishing lengths to avoid making his hero, Jason Stafford, one more cookie-cutter PI. He's an ex-con redeeming himself by advising good guys. But he's also raising, by himself, a young autistic son, and it's a tribute to the author's skill that the scenes with the Kid augment, rather than scuttle, the thriller plot….Sears delicately intertwines three distinct plot strands here. The first has him clashing with the Mob. In the second, he and the Kid are dealing with life under witness protection in New Mexico. Finally, a possible kidnapping leads to a tense, beautifully written search across the scorched desert. Wait a minute: let's not forget the high-speed chase. Just another chase? Hardly. Sears outdoes himself." –– Booklist

"Stafford is a flawed protagonist who is resourceful and touchingly vulnerable."––Publishers Weekly

"Sophisticated sleuth Jason Stafford gets drawn into a mysterious corporate takeover plot [with] high-stakes action sequences."––Kirkus

Michael Sears is a marvel. His books...balance the cold and calculating digits and zeroes that are the hallmark of financial trading with the very emotional and human. I don't know how he does it, but he pulls it off, and very well...Saving Jason is the best installment of this fine series to date... balancing high finance, action, and cyberspace derring-do in a rich mix that will keep you reading well into the night. —Bookreporter.com


Praise for Michael Sears's Long Way Down

"It is not a stretch to say that Long Way Down will be one of the best thrillers of 2015. The story has a touch of kindness and love, as well as twists and turns based on absolute greed and corruption, making this a thriller that will be unforgettable for suspense fans everywhere."
—Suspense Magazine
 
"As soon as Stafford tears into his new assignment, a buzz starts that won't let go. The tension and suspense are genuine and gripping." —Booklist (starred review)
 
"If someone had told me one of my favorite new series would be about a disgraced Wall Street trader turned financial wrongdoings investigator, I would not have put money on it. But Michael Sears' Jason Stafford series is so compelling you'll be turning pages even if all you balance is your checkbook." —Cleveland Plain Dealer
 
"Exceptional . . . Financial mysteries are only part of what make these books so compelling. Sears infuses them with a startling amount of humanity and warmth." —The Arizona Republic
 
"Michael Sears has a golden touch with words. With a compelling plot and the authenticity of Jason's professional and personal worlds, this is a solid reader investment." —Shelf Awareness