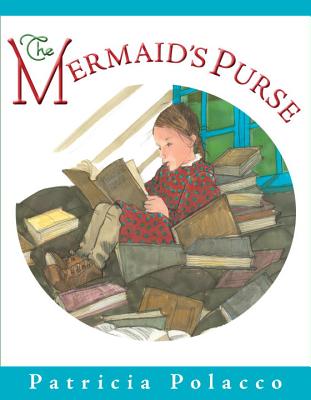 The Mermaid's Purse (Hardcover)
G.P. Putnam's Sons Books for Young Readers, 9780399166921, 48pp.
Publication Date: October 4, 2016
* Individual store prices may vary.
Description
Based on the life of beloved author-illustrator Patricia Polacco's own amazing grandmother, this wonderful celebration of reading and community is as exhilarating as it is heartwarming.
 
Young Stella loves books so much, her books begin to take over the farmhouse. "Why, Stell, you need your own library to hold those books," her pa tells her, so he and the neighbors build her one! She calls it "the Mermaid's Purse," since the midwife said Stella was born in one. Stella opens the Purse to her neighbors and travels around the countryside, sharing her books door-to-door. Not everyone gives them a chance at first, like grouchy Pig Ears Lonsberry. But farmer Dunkle sure changes his mind when information in a book saves his sick sheep. Eventually, everybody comes to love the Mermaid's Purse—so when a tornado destroys it, scattering Stella's precious books far and wide, the whole community rallies to help.
About the Author
Patricia Polacco (www.patriciapolacco.com) is the New York Times bestselling author and illustrator of over sixty picture books. She visits as many as two hundred classrooms in a single year, not only speaking but listening to the hundreds of children she meets. Grateful for what teachers have done for her, she is also a popular keynote speaker celebrating teachers everywhere. Patricia lives in Union City, Michigan, where she enjoys speaking to the myriad children who come to visit her and the famous meteor, the object of one of her best-known stories.
Praise For The Mermaid's Purse…
"Once again, Polacco brings forth a new family story, this time about her grandmother. . . . Polacco's signature textual and illustrative styles blend to depict a folksy, bygone past. The pencil-and-marker artwork lovingly evokes the poignant memory, making this one of her most personal-feeling books. Three photos of her grandmother on the back page add backbone to the tale. Heartwarming."—Kirkus Reviews

"Through lyrical writing and expressive images, Polacco returns to recurring themes from her books: the importance of family, community, and reading. Polacco again draws on her family history—basing her heroine, Estella, on her own grandmother—while also giving this down-home tale a mystical undertone. . . . The community again unites to bring about a satisfying finale. . . . Robust pencil-and-marker illustrations bridge the narrative's fluctuating moods, portraying Estella's triumph and heartbreak with assurance."—Publishers Weekly

"This is the type of family tale that the author/illustrator is known for. The story is lovely, with the message that books can teach anyone about everything. The title also features pictures and tidbits about the real Stella's life after the narrative is over, which is a nice touch. A terrific library read-aloud that is also suitable for one-on-one and small group sharing."—School Library Journal