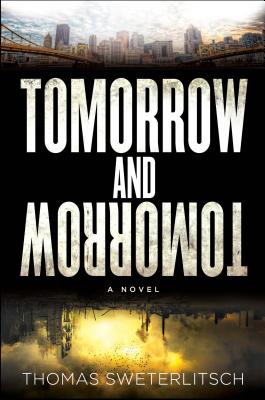 Tomorrow and Tomorrow (Hardcover)
G.P. Putnam's Sons, 9780399167492, 352pp.
Publication Date: July 10, 2014
Other Editions of This Title:
Digital Audiobook (7/9/2014)
Paperback (5/5/2015)
* Individual store prices may vary.
Description
Thomas Sweterlitsch is a superstar. ...Tomorrow and Tomorrowis a brutal, beautiful book. Read it. Jesse Kellerman, internationally bestselling author ofTrouble
Tomorrow and Tomorrowis a rich, absorbing, relentlessly inventive mindfuck, a smart, dark noir a wild mash-up of Raymond Chandler, Philip K. Dick, and William S. Burroughs and, like their work, utterly visionary." Stewart O Nan, author ofThe Odds
Yesterday Can't Last Forever...
A decadehas passed since the city of Pittsburgh was reduced to ash.
While therest of the world has moved on, losing itself inthe noise of a media-glutted future, survivor John DominicBlaxtonremains obsessed with the past. Grieving for his wife and unborn child who perished in the blast, Dominicrelives hislost life by immersing inthe Archive a fully interactive digitalreconstruction of Pittsburgh, accessible to anyonewho wants to visit the places they remember and the people they loved.
Dominic investigates deaths recorded in the Archive to help close cases long since grown cold, but when he discovers glitches in the code surrounding a crime scene the body of a beautiful woman abandoned in a muddy park that he's convinced someone tried to delete from the Archive his cycle of grief is shattered.
With nothingleft to lose, Dominic tracks the murder through a web of deceit that takes himfrom the darkest corners of the Archive to theruins of the city itself, leading him into the heart of a nightmare more horrific than anything he couldhave imagined.
About the Author
Thomas Sweterlitschis the author ofTomorrow and Tomorrow, which has been sold in four countries and optioned for film by Sony. He hasa master s degree in literary and cultural theory from Carnegie MellonUniversity. He lives in Pittsburgh withhis wife anddaughter."
Praise For Tomorrow and Tomorrow…
Early Praise for Tomorrow and Tomorrow
"Simultaneously trippy and hard-boiled, Tomorrow and Tomorrow is a rich, absorbing, relentlessly inventive mindfuck, a smart, dark noir…Sweterlitsch's debut is a wild mash-up of Raymond Chandler, Philip K. Dick, and William S. Burroughs and, like their work, utterly visionary."
                        —Stewart O'Nan, author of The Odds
 
"A brilliantly disturbing tale of deceit, and the tangled griefs of murder and conspiracy that haunt a virtual world. Thomas Sweterlitsch writes with deft and uncanny prescience about a future that seems all-too-likely. A must-read for lovers of tech noir."
— Yangsze Choo, internationally bestselling author of The Ghost Bride
 
"Tomorrow & Tomorrow is weird, hypnotic, and lovely.  Sweterlitsch's future is close enough to be plausible, and strange enough to be fascinating."
                        — Django Wexler, author of The Thousand Names
 
"A mesmerizing, genre-mixing sci-fi, noir mystery that inhabits its influences rather than merely wearing them knowingly on its sleeve. I could not put it down."
                        —Wayne Gladstone, author of Notes from the Internet Apocalypse 
or
Not Currently Available for Direct Purchase