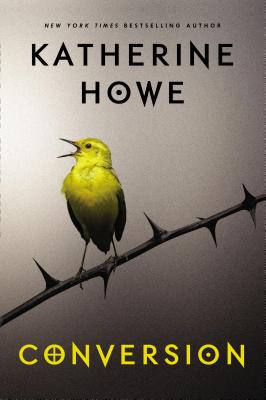 Conversion (Hardcover)
G.P. Putnam's Sons Books for Young Readers, 9780399167775, 432pp.
Publication Date: July 1, 2014
Other Editions of This Title:
Digital Audiobook (6/30/2014)
Paperback (6/16/2015)
* Individual store prices may vary.
Description
From the New York Times bestselling author of The Physick Book of Deliverance Dane comes a chilling mystery—Prep meets The Crucible.
 
It's senior year at St. Joan's Academy, and school is a pressure cooker. College applications, the battle for valedictorian, deciphering boys' texts: Through it all, Colleen Rowley and her friends are expected to keep it together. Until they can't.
 
First it's the school's queen bee, Clara Rutherford, who suddenly falls into uncontrollable tics in the middle of class. Her mystery illness quickly spreads to her closest clique of friends, then more students and symptoms follow: seizures, hair loss, violent coughing fits. St. Joan's buzzes with rumor; rumor blossoms into full-blown panic.
 
Soon the media descends on Danvers, Massachusetts, as everyone scrambles to find something, or someone, to blame. Pollution? Stress? Or are the girls faking? Only Colleen—who's been reading The Crucible for extra credit—comes to realize what nobody else has: Danvers was once Salem Village, where another group of girls suffered from a similarly bizarre epidemic three centuries ago . . .
 
Inspired by true events—from seventeenth-century colonial life to the halls of a modern-day high school—Conversion casts a spell. With her signature wit and passion, New York Times bestselling author Katherine Howe delivers an exciting and suspenseful novel, a chilling mystery that raises the question, what's really happening to the girls at St. Joan's?
About the Author
Katherine Howe is the author of the New York Times bestseller The Physick Book of Deliverance Dane and The House of Velvet and Glass. She is a lecturer in American Studies at Cornell University. She is also a direct descendant of three of the women accused of witchcraft during the Salem Witch trials, one who was hanged and two who survived. Her books have been published around the world in 23 languages to date. Visit her at www.katherinehowe.com and follow her on twitter @KatherineBHowe.
Praise For Conversion…
Praise for Katherine Howe's Conversion:
 
#4 on the Top Ten Summer 2014 Kids' Indie Next List! 
 
"Howe is a formidable researcher and writer, and this creepy, gripping novel is intimately layered, shedding light on the challenges teenage girls have faced throughout history."—The New York Times Book Review

 
"A chilling guessing game of a novel that will leave readers thinking about the power (and powerlessness) of young women in the past and present alike."—Publishers Weekly, starred review            
 
 
"A simmering blend of relatable high-school drama with a persistent pinprick of unearthliness in the background." —Booklist
 
 
"Howe's writing is suspenseful and effortlessly draws the reader in."—VOYA, starred review
 
 
"The author has a gift for capturing the teenage mind-set that nears the level of John Green (The Fault in Our Stars), with the bonus of a strong sense of history with the Salem-set melodrama." —USA Today
 
 
"How is it possible for a novel to be funny, suspenseful, tender, wickedly satiric, and terrifying all at once? When it's written by the bewitchingly talented Katherine Howe."—Julia Glass, National Book Award–winning author of And the Dark Sacred Night and Three Junes
 
 
"Smart, compelling, exciting, and completely absorbing. Katherine Howe is stunningly deft at blurring the lines between the emotional and the supernatural.  I recommend clearing your calendar before you start reading this novel."—David Liss, bestselling author of The Twelfth Enchantment
 
 
"Brilliant, scary, and impossible to put down, Conversion weaves together the Salem witch trials with a mysterious present-day illness that sweeps through an all-girls high school. It's the perfect storm of suspense, history, romance, and teen angst. A five-star read!"—Nancy Ohlin, author of Beauty and Always, Forever
or
Not Currently Available for Direct Purchase