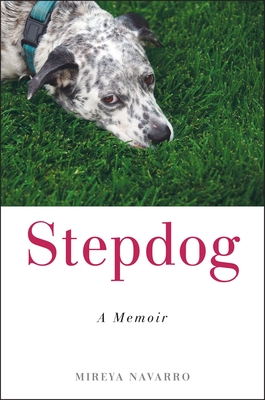 Stepdog (Hardcover)
A Memoir
G.P. Putnam's Sons, 9780399167799, 256pp.
Publication Date: April 21, 2015
* Individual store prices may vary.
Description
Stepdog is the hilarious and heartwarming tale of a woman who has finally met the man of her dreams—and the dog of her nightmares. 

Winner of the June 2015 Elle Readers Prize

Lots of dogs eat shoes, bite people, destroy furniture . . . but Eddie tried to destroy a marriage.

After more than three decades of happy single womanhood, Mia Navarro wasn't really looking to change her relationship status. The idea of being a step-anything to anyone was foreign to her, something she never thought about. . . . Until she fell in love with Jim and agreed to marry him. As it turns out, the marriage is pretty wonderful, the stepkids were, well, typical pre-teens, the weather in Los Angeles perfect. But life is not spotless. The spots belong to Jim's mutt, Eddie. Possessive and jealous, Eddie behaves like Jim's mistress—if a mistress could bark and compete for space on his beloved's lap. As time goes on, a full-on war ensues. Mia slams the door in Eddie's face, cordons off the house into dog- and wife-territories, and leaves the back door open . . . by, er, accident, of course. She even tries to leave Eddie behind in California when she and Jim abruptly relocate to New York.  But in the end, it's clear that not even a wife can come between man and dog. As Eddie ages, Mia softens, and as with any new family struggling to blend, the two must make peace with each other. Ultimately, Stepdog is a triumphant story about finding love at an unexpected stage in life and the many unforeseen obstacles—not only of the four-legged variety—that can get in the way on the road to happily ever after.
About the Author
Mireya Navarro is a housing reporter for The New York Times. She has also taught journalism at Columbia University, the City University of New York, and the Maynard Institute for Journalism Education. She was born in San Juan, Puerto Rico, and currently lives in New York City and Montclair, New Jersey, with her husband, Jim, and stepdog, Eddie.
Praise For Stepdog: A Memoir…
Winner of the June 2015 Elle Readers Prize

"Mireya Navarro offers a funny and honest tale of her journey to figure out where she fits in among husband, stepchildren and Eddie." –The Los Angeles Times

"…far more than amusing anecdotes about a dog. It's a memoir of a terrific journalist…It's an honest account of being a journalist as the sand shifts under us, and about finding the right man…Navarro's penultimate advice is brilliant….a great read." —The Newark Star-Ledger

"Navarro's story is ostensibly about the dog, but go beyond that and you'll find a layered tale of family love… Stepdog is fun and often funny, but it will be of special interest to anyone with a blended family life. It's a powerful reminder that all you need is love, and possibly kibble." —Bookpage

"I adore this book.  Alternately hilarious and heart-wrenching, Stepdog is an extraordinary chronicle of romance, marriage, blended families, career juggling, and an obstreperous dog, written with a journalists' eye for detail, and a novelists' insight for character.  Mireya Navarro is a wonderful writer who reminds us that in the end, love and compassion conquers all – even a cantankerous canine."                      — Bruce Feirstein, bestselling author and contributing editor, Vanity Fair
 
"In STEPDOG, Navarro reminds us that our companions (human and animal) challenge our assumptions,  force us to compromise and give us plenty of opportunities for hard lessons.  A charming, funny, poignant memoir about love, life and family."                                           — Esmeralda Santiago, author of When I Was Puerto Rican and Conquistadora