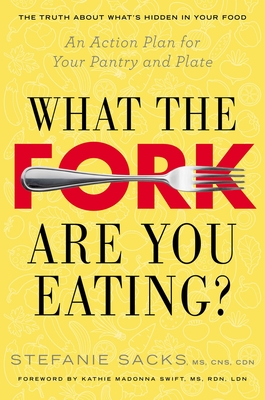 What the Fork Are You Eating? (Paperback)
An Action Plan for Your Pantry and Plate
Tarcherperigee, 9780399167966, 400pp.
Publication Date: December 26, 2014
Description
It's labeled "natural," "grass-fed," or "free-roaming;" yet it might be anything but. It's time to find out what you're actually eating...
When yourgroceries are labeled low-fat, sugar-free, and even natural and "antibiotic-free," it's easy to assume that you re making healthy choices. Yet even some of those seemingly wholesome offerings contain chemical preservatives, pesticides, and artificial flavors and coloring that negatively affect your health. In What the Fork Are You Eating?, a practical guide written by certified chef and nutritionist Stefanie Sacks, MS, CNS, CDN, we learn exactly what the most offensive ingredients in our food are and how we can remove (or at least minimize)them in our diets. Sacks gives usan aisle-by-aisle rundown of how to shop for healthieritemsand create simple, nutritious, and delicious meals, including fifty original recipes.
About the Author
Stefanie Sacks, MS, CNS, CDN, is a culinary nutritionist a certified chef with a master of science in nutrition from Columbia University. She is also an educator, speaker, consultant, and host of the radio show Stirring the Pot. Sacks is passionate about promoting wellness through food. After asthma, allergies, recurring bronchitis, and pneumonia shaped much of her childhood, she discovered how food could help her heal. She lives in Montauk, New York, with her husband, two active boys, and a yellow Lab."
Praise For What the Fork Are You Eating?: An Action Plan for Your Pantry and Plate…
"Food is medicine, and Stefanie teaches people how to use food to prevent illness and manage health."
--Molly Price, actress (Third Watch, Law & Order, The Good Wife)
Advertisement