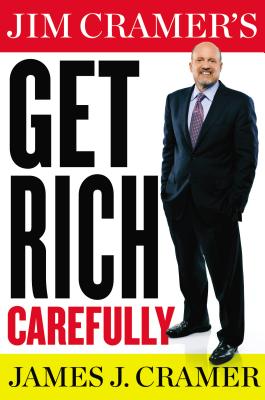 Jim Cramer's Get Rich Carefully (Hardcover)
Blue Rider Press, 9780399168185, 448pp.
Publication Date: December 31, 2013
Other Editions of This Title:
Digital Audiobook (12/30/2013)
Paperback (12/30/2014)
CD-Audio (12/31/2013)
Hardcover, Large Print (8/6/2014)
* Individual store prices may vary.
Description
Tired of phony promises about getting rich quickly, promises that lead to reckless decisions (the stepping stones to the poor house)? How about trying something different? How about going for lasting wealth and doing it the cautious way? In Get Rich Carefully, Jim Cramer uses his thirty-five years of experience as a Wall Street veteran and host of CNBC's Mad Money to create a guide to high-yield, low-risk investing. In our recovering economy, this is the plan you need to make big money without taking big risks.
Drawing on his unparalleled knowledge of the stock market and on the mistakes and successes he's made on the way to his own fortune, Cramer explains in plain English why you can get rich in a prudent, methodical way, as long as you start now. In his own inimitable style, Cramer lays it on the line, no waffling, no on-the-one-hand-or-the-other hedging, just the straight stuff you need to accumulate wealth. This is a book of wisdom as well as specifics. Cramer names names, highlights individual and sector plays, and identifies the best long-term investing themes and shows you how to develop the disciplines you need to exploit them.
The personal finance book of the year, Get Rich Carefully is the invaluable guide to turning your savings into real, lasting wealth in a practical, and yes because this is, after all, a book by Jim Cramer highly readable and entertaining way.
About the Author
JAMES J. CRAMER is the host of CNBC s Mad Money with Jim Cramer and co-host of Squawk on The Street. He serves on TheStreet, Inc., board of directors, is a columnist and contributor for TheStreet s RealMoney and ActionAlerts PLUS, and participates in various video segments for TheStreet TV."
Praise For Jim Cramer's Get Rich Carefully…
*The New York Times and Wall Street Journal bestseller*

"Look to this book for guiding principles rather than specific stock tips … Forget about getting rich quick: The new investment climate, writes Mad Money host Cramer, is "treacherous…bizarre stock movements have become the staple, if not the hallmark, of this era." Cramer, formerly known for his exuberant approach … has since taken a visibly more deliberate approach to the matter. This new book reflects his caution ... Cramer's long list of dos and don'ts (Relative valuations don't justify a purchase"; "Stop falling in love with your stocks") is worth the price of the book."—Kirkus

"In highly accessible language, Cramer explains how the stock market is influenced by economic data, Fed policy, world events, the actions of hedge funds, and the trend toward sector funds even when the underlying fundamentals of a stock remain stable. Drawing on his long experience, both mistakes and successes, Cramer demystifies the stock market and offers sound investing advice and an insightful overview of the market for cautious investors." — Booklist

"Jim is a whirlwind, a true force of nature. He embodies not only the strongest work ethic extant (something Omega Advisors' Lee Cooperman taught me is at the epicenter of investment success) but in my decades in the investment business I know of no other person that possesses the breadth of knowledge about individual stocks. He is a reservoir of information…And that is why Jim Cramer's Get Rich Carefully … is a must-read…My advice? Run, don't walk, to read Jim Cramer's Get Rich Carefully. Booyah!"—Doug Kass, TheStreet.com
 
"Who wouldn't want to "Get Rich Carefully," as the title of Jim Cramer's new book promises? The stock market may seem scary, but Cramer says you can make money with research, logic and prudence….Whether Cramer's advice will make you a boatload of money or not, his rational explanations make stocks seem less intimidating."—Jessica Gresko, Associated Press
 
"Careful isn't the word that usually comes to mind when investors think of Jim Cramer…[b]ut Cramer says his show has changed, and his newest book reflects this epiphany. Cramer is now professing a different, more traditional, approach to the stock picking."—USA Today

 
or
Not Currently Available for Direct Purchase