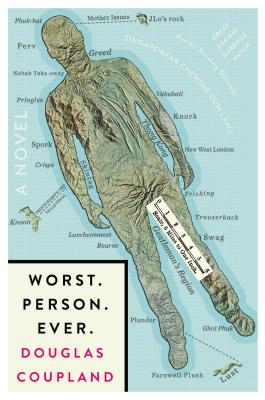 Worst. Person. Ever. (Hardcover)
Blue Rider Press, 9780399168437, 301pp.
Publication Date: April 3, 2014
Other Editions of This Title:
Paperback (3/31/2015)
MP3 CD (3/31/2015)
Compact Disc (3/31/2015)
Compact Disc (4/3/2014)
MP3 CD (4/3/2014)
Compact Disc (4/3/2014)
* Individual store prices may vary.
Description
Raymond Gunt likes to think of himself as a pretty decent guy he believes in karma, and helping his fellow man, and all that other good stuff. Sure, he can be foulmouthed, occasionally misogynistic, and can just generally rub people the wrong way through no fault of his own So with all the positive energy he's creating, it's a little perplexing to consider the recent downward spiral his life has taken Could the universe be trying to tell him something?
A B-unit cameraman with no immediate employment prospects, Gunt decides to accept his ex-wife Fiona's offer to shoot a "Survivor-"style reality show on an obscure island in the Pacific. With his upwardly failing sidekick, Neal, in tow, Gunt somehow suffers multiple comas and unjust imprisonment, is forced to reenact the Angry Dance from the movie "Billy Elliot, "and finds himself at the center of a nuclear war among other tribulations and humiliations.
A razor-sharp portrait of a morally bankrupt, gleefully wicked modern man, "Worst. Person. Ever. "is a side-splittingly funny and gloriously filthy new novel from acclaimed author Douglas Coupland. A deeply unworthy book about a dreadful human being with absolutely no redeeming social value, it's guaranteed to brighten up your day.
About the Author
DOUGLAS COUPLAND was born on a NATO base in Germany in 1961. He is the author of the international bestsellers "Generation A "and "JPod," and nine other novels, including "The Gum Thief," "Hey Nostradamus!," "All Families Are Psychotic," "Microserfs," and "Generation X," along with nonfiction works, including a recent short biography of Marshall McLuhan. His work has been translated into thirty-five languages and published in most countries around the world. He is also a visual artist, furniture and fashion designer, and screenwriter. He lives and works in Vancouver.
Praise For Worst. Person. Ever.…
"The plot is an unbridled romp. Absurd scenarios (Gunt is forced, at one point, to perform a Billy Elliott dance sequence on a US military base) are juggled with ludicrous stock characters — including a fabulously naive homeless man, Neal, who is recruited as Gunt's sidekick. The whole roiling mishmash eventually falls neatly into place for the novel's Armageddon in the Pacific.

In its picaresque extravagance, the novel resembles a globetrotting, 21st-century version of Voltaire's Candide — Neal, in fact, is an uncanny double of ­Voltaire's wide-eyed protagonist. And in place of the 1755 Lisbon earthquake (to which Voltaire's Pangloss responds with renewed optimism about the rightness of everything in the world), we have, instead, the US military merrily ­detonating an atomic weapon over the Pacific to clear the ocean's mass of plastic debris. "I know nuclear warheads have a bum rap in our ­culture," remarks Gunt. "But to watch one exploding in real life is insanely f****** awesome."

It is hard to describe, out of context, quite how funny Coupland's novel can be. A lot of its humour springs from the relentless hideousness of Gunt. And yet, increasingly, it is the very fact that Gunt — in Voltairean fashion — is the only character in Coupland's menagerie who can see the awfulness of the human apocalypse around him that makes the book so compelling. Coupland's eye for the strange, mesmerising wonder of modernity is being put, more than ever, to extremely dark use here. The fact that it is all so demented — and so frequently, belly-achingly hilarious — only makes that darkness all the more impressive."
—The Sunday Times
 
"Provocative and entertaining."—The Daily Mail
 
"Riotous, frequently very funny."—The Independent
 
"Filthy and funny."—TimeOut London
 
"Clever bits of observational humour … his best book in recent years."—The Toronto Star
 
"An entry – a fun one – in a personal, pop-cult canon of its own."—Toronto Globe and Mail

"[Raymond Gunt] is a fabulous monster, with nothing and no one safe from his vitriol. Raymond torments the obese, faces multiple incarcerations, makes leering advances at every woman crossing his path, and plays a role in a potentially globe-threatening nuclear event… Coupland skewers a pop world's growing insensibilities, and his protagonist is a charming villain whom readers will likely root for, even as he's insulting them."—Publisher's Weekly (starred)

"It's hard to imagine Hitchhiker's Guide to the Galaxy fans wouldn't feel at home in this absurdist British-flavored comedy."—Erin McReynolds, American Short Fiction
 
"In Gunt, Coupland has created one of his most memorable characters to date, memorable for all the wrong reasons. He's ignorant, crass, self-absorbed, and you're going to love him."—Joshua Chaplinsky, LitReactor
 
"This evil amalgam of Larry David and Mr. Bean endures misfortunes hilarious, disgusting, and well-deserved."—Boris Kachka, New York Magazine

 
Coverage from NPR
or
Not Currently Available for Direct Purchase