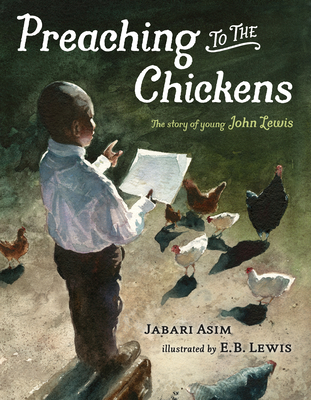 Preaching to the Chickens
The Story of Young John Lewis
Hardcover

* Individual store prices may vary.
Description
A New York Times Best Illustrated Book

Critically acclaimed author Jabari Asim and Caldecott Honor-winning illustrator E. B. Lewis give readers a fascinating glimpse into the boyhood of Civil Rights leader John Lewis.
 
John wants to be a preacher when he grows up—a leader whose words stir hearts to change, minds to think, and bodies to take action. But why wait? When John is put in charge of the family farm's flock of chickens, he discovers that they make a wonderful congregation! So he preaches to his flock, and they listen, content under his watchful care, riveted by the rhythm of his voice.
 
Celebrating ingenuity and dreaming big, this inspirational story, featuring Jabari Asim's stirring prose and E. B. Lewis's stunning, light-filled impressionistic watercolor paintings, includes an author's note about John Lewis, who grew up to be a member of the Freedom Riders, chairman of the Student Nonviolent Coordinating Committee, and demonstrator on the Edmund Pettus Bridge in Selma, Alabama. John Lewis is now a Georgia congressman, who is still an activist today, recently holding a sit-in on the House floor of the U.S. Capitol to try to force a vote on gun violence. His March: Book Three recently won the National Book Award, as well as the American Library Association's Coretta Scott King Author Award, Printz Award, and Sibert Award.
Praise For Preaching to the Chickens: The Story of Young John Lewis…
"The poignant, observant watercolors . . . are bathed in subtly changing light, making homespun scenes of country life seem celestial and exalted."—The New York Times Book Review

* "A glimpse into the childhood whimsy of an important African-American congressman who has become famous for his words. . . . Illustrator Lewis' signature watercolors paint a lively picture of John Lewis' life growing up on a farm with a close and hardworking Christian family. The liveliness of the chickens as well as John's concern and care for them shine in the light-dappled images. Given the seriousness of what Lewis faced on the march from Selma to Montgomery and the gravity of the issues he has dealt with throughout his career, this joy-inducing back story reveals an entertaining facet to the congressman's life that young readers will appreciate. After absorbing this must-read bit of personal history about John Lewis, young readers will never see this serious-faced congressman in quite the same way."—Kirkus Reviews, starred review

* "E.B. Lewis stages the scenes under the bright springtime light of Alabama mornings, giving a full sense of John Lewis's world, from the dusty henhouse to the sturdy wooden pews of his family's church, while always emphasizing the tender care he devoted to the chickens. It's a moving portrait of the power of small actions and 'learn[ing] to speak up for those who can't speak for themselves.'"—Publishers Weekly, starred review

* "Luminous artwork and stirring text shed light on the childhood of one of America's most respected civil rights leaders. . . . Lewis's strong faith and his deep connection to his family and community shine through in Asim's straightforward text and illustrator E.B. Lewis's full-page, light-dappled watercolors. An author's note briefly discusses Lewis's leadership in the March on Washington and other key events of the civil rights movement and explains that Asim based the story on Lewis's own recollections. A quietly powerful and joyful look at the childhood of a living legend and a superb introduction to studying heroes of the civil rights era."—School Library Journal, starred review

"Asim and Lewis' words and images convey their respect and admiration for John Lewis, and readers will feel the same way. A tender narrative, paired with watercolors filled with light and movement, captures the heat of a Georgia day and the unmistakable bond John formed with his feathery followers. Young readers will appreciate the gentle messages about the importance of hard work, persistence, and patience that lay the foundations for John Lewis' activism as an adult, which is detailed in a final author's note."—Booklist

"Bucolic-looking watercolor and gouache landscapes take modern readers back to a time when the entire Lewis family was busy on the farm from dawn to dusk. . . . A fine introduction to the life of an American icon."—The Horn Book
Nancy Paulsen Books, 9780399168567, 32pp.
Publication Date: October 11, 2016
About the Author
Jabari Asim (www.facebook.com/jabariasimwriter) is the author of several adult and children's books, including Fifty Cents and a Dream—an NAACP Image Award Nominee, CCBC Choice, School Library Journal Editor's Choice, and Kirkus Best Book. He is an associate professor at Emerson College in Boston and executive editor of The Crisis, the magazine of the NAACP. He recently was honored with a Guggenheim Fellowship. He lives in Newton, Massachusetts.
 
E. B. Lewis (www.eblewis.com) is the acclaimed illustrator of more than seventy books for children, including the Caldecott Honor Book Coming On Home Soon and the Coretta Scott King Honor Book Each Kindness (both by Jacqueline Woodson). He teaches at the University of the Arts in Philadelphia. He lives in Folsom, New Jersey.