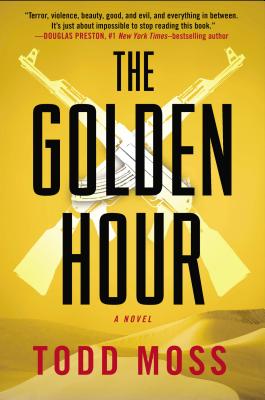 The Golden Hour
Hardcover

* Individual store prices may vary.
Other Editions of This Title:
Digital Audiobook (9/3/2014)
Paperback (7/28/2015)
Hardcover, Large Print (2/11/2015)
Description
NATIONAL BESTSELLER
A novel that makes your heart race . . . a thriller that weaves diplomacy and national security together with espionage, terrorism and Washington infighting. "Washington Post"
An extraordinary thriller debut of twenty-first-century espionage, by a former deputy assistant secretary of state who knows where all the bodies are buried literally (W. E. B. Griffin).
"The Golden Hour: In international politics, the hundred hours following a coup, when there is still a chance that diplomacy, a secret back channel, military action something might reverse the chain of events."
As the top American diplomat for West Africa, Todd Moss saw a great deal about how diplomacy and politics actually work. But as he shows us, the results aren t always pretty.
When Judd Ryker is appointed director of the new State Department Crisis Reaction Unit, he figures he has a mandate to help the United States respond more quickly to foreign crises, but he hasn t reckoned with the intense State, Defense, Pentagon, White House, and CIA infighting and turf battles he would face. Then comes the coup in Mali. It is his chance to prove that his theory of the Golden Hour actually works but in the real world, those hours move very, very quickly indeed, and include things he d never even imagined.
As Ryker races from Washington across Europe to the Sahara Desert, he finds that personalities, loyalties, everything he thought he knew, begin to shift and change beneath his feet and that friends and enemies come in many forms.
Praise For The Golden Hour…
Praise for The Golden Hour
 
"A superbly realistic, high-powered thriller about a bloody coup in Africa and the desperate efforts of the State Department, CIA, and U.S. military to counter it. The novel introduces the unforgettable character of Judd Ryker, an international crisis fixer. It's all here: spectacular and exotic settings, terror, violence, beauty, good and evil and everything in between. It is just about impossible to stop reading this book."--Douglas Preston, #1 New York Times-bestselling author
 
"A tough, realistic, well-written tale of American diplomats scrambling to reverse an African coup amidst intense turf battles – State, Defense, White House, Congress, and CIA – and ever-shifting facts on the ground. Moss is an insider who knows how these things are really done – and how thin the line is between triumph and disaster."--John Sandford
 
"Written by an insider with intimate knowledge of Washington and Africa, The Golden Hour leaps out of today's headlines, a riveting thriller that mixes diplomacy, terrorism, and international intrigue at the highest levels in equal measures.'--Francis Fukuyama, Author of The End of History and the Last Man
 
"An extraordinary international thriller debut from a writer who has lived and breathed every inch of it. Moss knows where all the bodies are buried – literally."--W.E.B. Griffin
 
"In the real world of high-level international intrigue, those who know usually don't tell much and those who tell usually don't know much. Todd Moss is the exception. He combines an insider's knowledge with the storytelling skills of a master. Just read a few pages – you won't be able to stop."--Moises Naim, Author of The End of Power and former editor in chief of Foreign Policy magazine
 
"The Golden Hour combines the virtues of a spy-and-diplomacy thriller with a realistic inside look at the workings of America's worldwide crisis-response system. The next time you hear about coups or turmoil in a troubled corner of the world, and the debate about whether and how the United States should intervene, think of the characters in this book. Tom Clancy used fiction to illuminate the world of the military; Todd Moss is using it to reveal the world of diplomacy."--James Fallows, national correspondent, The Atlantic
 
"I spent years watching national security crises from the inside, and Todd Moss has got it scarily right. The Golden Hour is a novel of extraordinary thrills – and extraordinary truth."--Tony Fratto, Former White House Deputy Press Secretary to President George W. Bush

"A terrific, fast-paced tale of adventure and political intrigue set in the utterly believable context of contemporary instability in Mali. Moss has built a true-to-life story of intelligence maneuvers, covert ops, Sahelian ghosts, American bureaucratic stove-pipes, and African coup plotters. The Golden Hour would make a exciting movie, complete with danger, romance, cerebral scheming and surprises to keep us focused."--Dr. Chester Crocker, U.S Assistant Secretary of State for Africa, 1981-1989; James M. Schlesinger professor of strategic studies, Georgetown University's Walsh School of Foreign Service
Putnam Adult, 9780399168604, 322pp.
Publication Date: September 4, 2014
About the Author
Todd Moss is Chief Operating Officer and Senior Fellow at the Washington think tank the Center for Global Development, and an adjunct professor at Georgetown University. From 2007 to 2008, he served as deputy assistant secretary of state in the Bureau of African Affairs, where he was responsible for diplomatic relations with sixteen West African countries. Moss lives in Maryland."
or
Not Currently Available for Direct Purchase