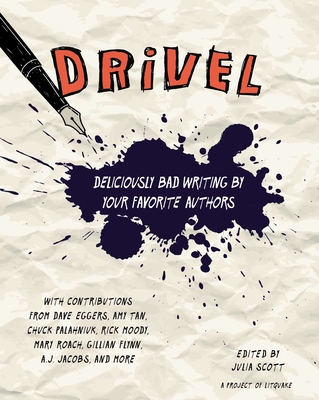 Drivel (Paperback)
Deliciously Bad Writing by Your Favorite Authors
Tarcherperigee, 9780399168888, 194pp.
Publication Date: September 2, 2014
* Individual store prices may vary.
Description
The writing in this book is so bad, it deserves its own taxonomy of suckitude. Gillian Flynn, Mary Roach, Dave Eggers, Rick Moody, Chuck Palahniuk, Amy Tan, A.J. Jacobs, Daniel Clowes, Jeff Greenwald, Po Bronson...the list goes on. They all sucked once, and they all have the guts to share some of their crappiest early work in Drivel: an uplifting bit of voyeurism, based on the sold-out "Regreturature" stage shows in San Francisco, and brought to you by Litquake and the San Francisco Writers' Grotto. Within these pages you'll find abstruse and esoteric poetry (bad); incoherent and illogical short stories (worse); bumfuzzling proto-journalism (shameful); and pretentious, overwrought journal entries (we'll not speak of this again). Thanks to these courageous but foolhardy writers, the world now knows the real meaning of a work-in-progress.
About the Author
Editor Julia Scott produces radio documentaries and news features for the BBC World Service and nationally syndicated programs, and writes for newspapers and magazines including The New York Times. Her work has been featured in Best American Science Writing.
or
Not Currently Available for Direct Purchase