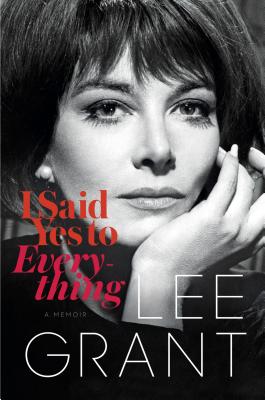 I Said Yes to Everything: A Memoir (Hardcover)
A Memoir
Blue Rider Press, 9780399169304, 463pp.
Publication Date: July 8, 2014
* Individual store prices may vary.
or
Not Currently Available for Direct Purchase
Description
Born Lyova Haskell Rosenthal in New York City, actress Lee Grant spent her youth accumulating more experiences than most people have in a lifetime: from student at the famed Neighborhood Playhouse to member of the legendary Actors Studio; from celebrated Broadway star to "Vogue " It Girl. At age twenty-four, she was nominated for an Academy Award for "Detective Story," and a year later found herself married and a mother for the first time, her career on the rise.
And then she lost it all.
Her name landed on the Hollywood blacklist, her offers for film and television roles ground to a halt, and her marriage fell apart.
Finding reserves of strength she didn t know she had, Grant took action against anti-Communist witch hunts in the arts. She threw herself into work, accepting every theater or teaching job that came her way. She met a man ten years her junior and began a wild, liberating fling that she never expected would last a lifetime. And after twelve years of fighting the blacklist, she was finally exonerated. With courage and style, Grant rebuilt her life on her own terms: first stop, a starring role on "Peyton Place," and then leads in "Valley of the Dolls," "In the Heat of the Night," and "Shampoo, "for which she won her first Oscar.
Set amid the New York theater scene of the fifties and the star-studded parties of Malibu in the seventies, "I Said Yes to Everything "evokes a world of political passion and movie-star glamour. Grant tells endlessly delightful tales of costars and friends such as Warren Beatty, Elizabeth Taylor, Grace Kelly, and Sidney Poitier, and writes with the verve and candor befitting such a seductive and beloved star.
About the Author
Lee Grant is an Emmy and Academy Award winning actress and director. In 1989, Women in Film honored Grant with their first-ever Lifetime Achievement Award. Grant founded the production company Feury/Grant with her husband and is an adjunct professor at Tisch School of the Arts. She lives in New York City."
Praise For I Said Yes to Everything: A Memoir…
"Having had the privilege to work with Lee Grant on the motion picture screen was truly a delight. Now, out of nowhere, she has written a most wonderful book about her family and herself.  It's warm, it's touching and it's a book that speaks of the human experience—the wonders of it, the magic of it, the difficulties of it, the history of a life's unfolding, beautifully and brilliantly with purpose and with guts."
—Sidney Poitier
 
"Read this book—every juicy page! Lee has lived her life and practiced her craft with reckless abandon, bravery, honesty and ultimately brutal clarity. You will want to be her friend, lover, child or student, and you will finish the final pages her ardent admirer. A ferocious and fragile woman who unapologetically states: For better or for worse, I'm right here!"
—Frank Langella
 
"If there is any adventure, from love to politics, that you feel you've missed in life, Lee Grant has had it for you—and describes it here with wit, honesty and all five senses. No one, but no one, has better explained, say, the difference between the theater and Hollywood, between love and romance, or between families born and chosen.  Go ahead, live a little. Say yes to Lee Grant."
—Gloria Steinem
 
"Lee Grant's I Said Yes to Everything is heart-stopping. More than just a show business memoir or chronicle of the Hollywood blacklist era, it is a terrifying account of a gifted artist's tumultuous journey—both personal and professional.  You will feel every jolt of terror that Grant endured, wondering if you would have been as brave. Her triumph becomes our own. Readers of this gripping book will surely reach the final page shouting a victorious 'Yes!' to everything that is Lee Grant."
—Marlo Thomas
 
"Lee Grant—I have worked with her—is a great actress.  Lee Grant is also my friend—a great conversationalist.  I never knew about her writing talent.  She has written a wonderful book.  It made me laugh, it made me cry.  Read it!"—Kirk Douglas
 
"Lee knows how to tell a good story with passion, honesty and a good sense of humor."—Michael Douglas

"It's so easy to say 'Yes'! I loved Lee Grant's memoir—everything about it! She is direct, honest, witty and compelling!"
—Dyan Cannon

 
Coverage from NPR
Advertisement