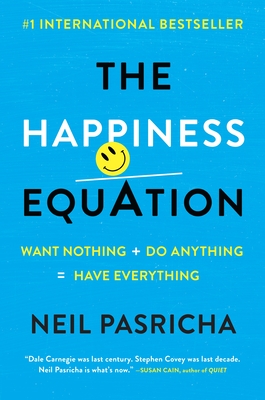 The Happiness Equation
Want Nothing + Do Anything = Have Everything
Hardcover

* Individual store prices may vary.
Other Editions of This Title:
Digital Audiobook (3/7/2016)
Paperback (12/27/2016)
Description
The #1 international bestseller from the author of The Book of Awesome that "reveals how all of us can live happier lives" (Gretchen Rubin).
 
What is the formula for a happy life? Neil Pasricha is a Harvard MBA, a New York Times–bestselling author, a Walmart executive, a father, a husband. After selling more than a million copies of the Book of Awesome series, wherein he observed the everyday things he thought were awesome, he now shifts his focus to the practicalities of living an awesome life.

In his new book The Happiness Equation, Pasricha illustrates how to want nothing and do anything in order to have everything. If that sounds like a contradiction in terms, you simply have yet to unlock the 9 Secrets to Happiness. Each secret takes a piece out of the core of common sense, turns it on its head to present it in a completely new light, and then provides practical and specific guidelines for how to apply this new outlook to lead a fulfilling life.

Once you've unlocked Pasricha's 9 Secrets, you will understand counter intuitive concepts such as: Success Does Not Lead to Happiness, Never Take Advice, and Retirement Is a Broken Theory. You will learn and then master three brand-new fundamental life tests: the Saturday Morning Test, The Bench Test, and the Five People Test. You will know the difference between external goals and internal goals and how to make more money than a Harvard MBA (hint: it has nothing to do with your annual salary). You will discover that true wealth has nothing to do with money, multitasking is a myth, and the elimination of options leads to more choice.

The Happiness Equation is a book that will change how you think about pretty much everything—your time, your career, your relationships, your family, and, ultimately, of course, your happiness.
Praise For The Happiness Equation: Want Nothing + Do Anything = Have Everything…
Praise for The Happiness Equation

"Dale Carnegie was last century. Steven Covey was last decade. Neil Pasricha is what's now. The Happiness Equation is a two-hour ticket to changing your life!"—SUSAN CAIN, author of Quiet: The Power of Introverts in a World That Can't Stop Talking

"The Happiness Equation will lead to tremendous changes in both your professional and personal life!"—TONY HSIEH, author of Delivering Happiness and CEO of Zappos.com, Inc.

"Clear, practical, and thought-provoking, The Happiness Equation reveals how all of us can live happier lives."—GRETCHEN RUBIN, author of Better Than Before and The Happiness Project

"I'm blown away by The Happiness Equation. Neil's nine secrets will improve how you think, how you feel, and how you act!"—KEN BLANCHARD, coauthor of The New One Minute Manager and Refire! Don't Retire
 
"When Neil Pasricha talks, leaders of all levels and backgrounds stop what they're doing... and listen."—HOWARD BEHAR, Former President of Starbucks Coffee
 
"While everyone else implies that happiness is 'out there', Neil points out that it is really 'in here'!"—MARSHALL GOLDSMITH, author of Triggers and What Got You Here Won't Get You There
 
"Nobody has hacked happiness like this before!"—FRANK WARREN, author of PostSecret
 
"Neil Pasricha is a life coach for the next generation! He makes happiness attainable by using scientifically proven habits that require low time investment and reap massive rewards!"—SHAWN ACHOR, author of The Happiness Advantage
 
"With simple effortlessness, Neil renders complex ideas easily memorably and everyday practical. Disarmingly written, memorably fun, and unstoppingly useful."—COL. CHRIS HADFIELD, Former Commander of the International Space Station and author of The Astronaut's Guide to Life on Earth
 
"Be happy first. These three words are so counterintuitive that most of us don't know what to do with them. Neil does."—SETH GODIN, author of What To Do When It's Your Turn
 
"How is it possible for subtle, non-judgmental lessons to hit you on the head like the proverbial ton of bricks? I'm not sure how he did it, but Neil Pasricha is the modern-day master of what it means to live intentionally. I loved this book!"—CHRIS GUILLEBEAU, author of The Happiness of Pursuit and The $100 Startup
 
"This lighted hearted and compelling book presents common sense suggestions for achieving happiness that will most definitely motivate new rituals and change habits in your life."—STEVE REINEMUND, Former Chairman and CEO, PepsiCo and Former Dean, Wake Forest University School of Business
 
"Neil joined the Audi Executive Team across the United States and his happiness lessons were the highlight of the show. His is always on point, thought provoking, and receives near perfect ratings. Listen to him!"—PETER DONNELLAN, Director of After Sales, Audi of America
 
"The Four-Hour Work Week meets The Happiness Project in The Happiness Equation—an incredible book that gave me time-saving tips in the first few minutes and a genuinely happier life by the end. Neil is the master of happiness. Buy this book!"—BILL MARSHALL, Co-Founder of TIFF, one of the world's largest film festivals
 
"The Happiness Equation shows you how to live life on your own terms. A dazzling and highly useful action book I'll be giving to everyone I know!"—DUNCAN MAC NAUGHTON, former Chief Merchandising Officer of Walmart
 
"Want to get happy? Steal everything you can from this book."—AUSTIN KLEON, author of Steal Like An Artist

"Pasricha, counterintuitively, opens by saying that the trick is not to do great things and achieve great success that will lead to happiness but instead to be happy, which will yield great works and achieve all the success a person might want. Counterintuitive, yes, but not if you consider deeply his observation that happiness is 'based on how we see the world' and, moreover, that there are plenty of specific things a person can do to adjust his or her attitude northward…. Very good and well worth a look."—Kirkus Reviews
 
"Empathetically, [Pasricha] shows how to gain self-acceptance, feel passionate, and master important relationships...supply[ing] a great recipe for a contented life."—Library Journal 

"If you want to find your authentic self then read The Happiness Equation."—Glamour
G.P. Putnam's Sons, 9780399169472, 320pp.
Publication Date: March 8, 2016
About the Author
Neil Pasricha is the New York Times–bestselling author of The Happiness Equation and the Book of Awesome series, which has been published in ten countries, spent more than five years on bestsellers lists, and sold more than a million copies. Pasricha is a Harvard MBA, one of the most popular TED speakers of all time, and founder of the Institute for Global Happiness. He has dedicated the past fifteen years of his life to developing leaders—creating global programs inside the world's largest companies and speaking to hundreds of thousands of people around the world. He lives in Toronto with his wife and son.