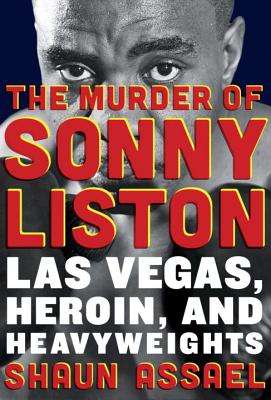 The Murder of Sonny Liston
Las Vegas, Heroin, and Heavyweights
Hardcover

* Individual store prices may vary.
Other Editions of This Title:
Compact Disc (10/18/2016)
MP3 CD (10/18/2016)
Description
A daring investigation into the mysterious death of Heavyweight Champion Sonny Liston, set against the dawn of the 1970s, when the mob was fighting to keep control of the Las Vegas Strip, Richard Nixon was launching America's first war on heroin, and boxing was in its glory days.

On January 5, 1971, Sonny Liston was found dead in his home—of an apparent heroin overdose. But no one close to Liston believed that his death was acci­dental. Digging deep into a life that Liston tried hard to hide, investigative journalist Shaun Assael treats the boxer's death as a cold case. The result is a page-turning who­dunit that evokes a glorious and grimy era of Las Vegas.
 
Elvis Presley was playing two shows a night at the International. Howard Hughes was running his empire from the penthouse suite of the Desert Inn. And middle America was flocking to the Strip, transforming it from an exclusive playground for the mob to a mecca for corporate dollars. But the city was also rotting from within. Heroin was pouring over the border from Mexico, and the segregated Westside was on the cusp of a race war. The cops, brutally violent, were barely holding it together.
 
Driving through town with the top of his pink Cadillac down, Sonny Liston was the one celebrity who was unafraid to bridge the two sides of Las Vegas. Cashing in on his fading notoriety in the casinos, he was dealing drugs, working for a crime syndicate, and trying to break into Hollywood—all with a boxer's faith that he could duck any threat, slip any punch. Heroin addiction was the only knockout blow he didn't see coming.
 
The Murder of Sonny Liston takes a fresh look at the legendary boxer, the town he called home, and one of America's most enduring mysteries.
Praise For The Murder of Sonny Liston: Las Vegas, Heroin, and Heavyweights…
Selected among the Best Books of 2016: "Assael's account of Liston's life in a city full of racial tensions, mob connections, and heroin is illuminating, though not conclusive, regarding the heavyweight champ's last days and mysterious overdose death." —Bill Littlefield, The Boston Globe

"Shaun Assael delves into Las Vegas at the turn of the '70s and uncovers a thrilling mystery. Leave it to Sonny Liston to emerge as its larger-than-life antihero." —Nicholas Pileggi, author of Wiseguy and Casino 

"As tough and pounding as its subject, this is the send-off Sonny Liston deserved. Read it only if you're interested in crime, Vegas, and boxing, or the complications of being human." —Robert Lipsyte, author of The Contender and An Accidental Sportswriter 

"A classic of the genre . . . a fast-paced thriller rich in drama and intrigue." —London's Daily Mail 

"A hard-boiled portrait of Las Vegas in the 1960s. It is a story of bent cops and compromised lowlife, illuminated at the edges by stars such as Frank Sinatra, Howard Hughes and J. Edgar Hoover. Readers of James Ellroy's Underworld USA Trilogy will feel very much at home." —Dan Jones, The Sunday Times of London

"The reporting Assael weaves together takes us back into the windowless rooms that smell of Vaseline, sweat and leather where fighters hands are taped before gloves are pulled over their fists." —Frank Miniter, Forbes

"Absolutely compelling . . . a crime thriller laced with stories of corruption, mountains of cash, extreme violence, illegal gambling, the FBI, Hollywood, organised crime and tons of heroin. At times, it reads like the perfect follow-up to the Sopranos." —The Leader

"Shaun Assael has written the book I've been waiting for . . . a masterpiece of research. He took all the known facts and dug up unknown facts. This is the first book where you can sort of understand who Liston was and the world he inhabited. . . . Assael's book will hook you in and leave you wanting more." —Dave Wahlman, Crimespree Magazine
 
"Drugs, booze, gambling, fixed fights. Casino moguls, crooked cops, mob bosses. The Murder of Sonny Liston has it all. . . . It's part The Wire, part Chinatown, part The Professional—but unlike those works of fiction, it's all remarkably true." —Stefan Fatsis, author of Word Freak and A Few Seconds of Panic

"Shaun Assael has delved deeper into Liston's mysterious death than any­body and come up with sensational results. Investigative reporting at its finest." —Nigel Collins, former editor in chief of The Ring magazine, and 2015 inductee into the International Boxing Hall of Fame

"A compelling new book . . . Assael has re-opened the case, [and] pieced together the most forensic investigation yet . . . like an Elmore Leonard novel." —Dave Hannigan, The Irish Times

"Writing with the flair of a mystery writer and the attention to detail of an investigative journalist . . . Assael dissects the suspicious death of former heavyweight boxing champion Sonny Liston. . . . The engrossing depiction of Sin City's corrupt cops, malevolent mobsters, and drug dens follows in the footsteps of Nick Tosches's The Devil and Sonny Liston. . . . Assael's journey into the seedy underworld of Las Vegas's past is worth the ride." —Publishers Weekly

"The value in this book, and it is very well worth reading, is in tracing Sonny Liston's final days. . . . Sonny's life is like a mystery novel with the final page torn out." —Bobby Franklin, Boston Post-Gazette 

"[Shaun Assael] offers a vivid look at America's adults-only playground in the later 20th century, creating an engaging read for fans of boxing history." —Library Journal

"[Shaun] Assael isn't the first to raise the specter of foul play in the mysterious 1970 death of former heavyweight boxing champion Sonny Liston; nor is he the first to explore the seamy, Mob-driven underside of Las Vegas in which Liston circulated, but [he] is the first to assert unambiguously that Liston was murdered. . . . [Assael] discourses authoritatively on Vegas politics (perhaps a factor in Liston's death), on local crime and cops (another possibility), and, especially, on the fight game . . . there is much here that will appeal to anyone interested in the intersection of crime and boxing." —Booklist

"Assael has pulled back the glamorous veneer of Las Vegas to reveal its sordid, seamier side. It's a fascinating read." —Bob D'Angelo, The Sports Bookie

"Assael's racy chronicle, fueled by the dubious palaver of seedy interviewees, is  a wildly entertaining look at a crass underworld, piling up intrigue, information, and even pathos about an enduring whodunit of the fight world." —David Curcio, The Arts Fuse
Blue Rider Press, 9780399169755, 320pp.
Publication Date: October 18, 2016
About the Author
Shaun Assael, who has been with ESPN The Magazine since its launch in 1998, is a member of ESPN's investigations unit and a regular contributor to the show Outside the Lines.  He is also the author of three books: Wide Open: Days and Nights on the NASCAR Tour; Sex, Lies, and Headlocks, a New York Times best seller; and Steroid Nation, a definitive account of the steroid era.
or
Not Currently Available for Direct Purchase