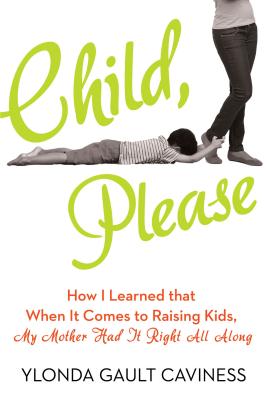 Child, Please
How Mama's Old-School Lessons Helped Me Check Myself Before I Wrecked Myself
Hardcover

* Individual store prices may vary.
Description
In this wise and funny memoir, Ylonda Gault Caviness describes her journey to the realization that all the parenting advice she was obsessively devouring as a new parent (and sharing with the world as a parenting expert and journalist) didn't mean scratch compared to her mama's old-school wisdom as a strong black woman and mother.
 
With child number one, Caviness set her course: to give her children everything she had. Child number two came along and she patiently persisted. But when her third child arrived, Caviness was so exhausted that she decided to listen to what her mother had been saying all along: Give them everything they want, and there'll be nothing left of you. In Child, Please, Caviness describes the road back to embracing a more sane--not to mention loving--way of raising children. Her mother had it right all along.
Praise For Child, Please: How Mama's Old-School Lessons Helped Me Check Myself Before I Wrecked Myself…
"A seriously funny skewering of our modern parenting culture (particularly white parenting) through the lens of an African-American journalist and mom of three."
—Heidi Stevens, The Chicago Tribune

"I loved this book, which—in the lightest, funniest way—acknowledges hard truths about race and parenting. In telling her story, and her mother's, Ylonda Gault Caviness brings an important, and charming, new voice to the parenting conversation. Her mama should be proud."
—Claire Dederer, author of Poser
 
"A bold and ballsy, yet deeply honest, take on trying to raise kids in today's world of 'mothering as an extreme sport.' Ylonda was brought up by a no-nonsense, tough-love mama who, it turns out, got more than a few things right. Whether you're black or white, whether your kids are babies or adults, you're bound to find this book as fun to read as it is thought-provoking." 
—Cathi Hanauer, author of Gone and Sweet Ruin and editor of The Bitch in the House
 
"Ylonda's mama didn't raise no fool. Smart enough to see the wisdom in her mother's old-school parenting ways, the author suggests that newfangled approaches aren't necessarily what they're cracked up to be. Got your hands full raising children? Put yourself on 'time out' and read this insightful, often hilarious, book!"
—Monique Greenwood, former editor in chief of Essence, author of Having What Matters, and owner of Akwaaba Bed & Breakfast Inns
 
"Mothers of every color will laugh out loud and relate to Ylonda Gault Caviness's raw voice. Hilarious, moving, and blisteringly honest—you'll end the book feeling less alone than when you started!"
—Jill Smokler, author Confessions of a Scary Mommy
 
"In this ever busier and more complex world, Ylonda Gault Caviness has invited us to take a breath with her, a moment to assess not only who we are, but how we became the women we are. Ultimately, this book is the story of the right to claim not only motherhood and mother wit, but the full expanse of what it means to be a woman—including the right to roll your eyes and say, 'Child, please!'"
—asha bandele, author of The Prisoner's Wife
 
"A poignant and rich celebration of the spectrum of black motherhood—from our old-school mamas to modern-day sensibility—that harks back to the cherished wisdom of a bygone era."
—Kuae Kelch Mattox, national president of Mocha Moms, Inc.

"A real treasure. . . Ylonda is an engaging voice with smart, timely advice. She's informative and credible—but never boring or stuffy. I love her point of view."
—Celeste Headlee, host of NPR's "The Takeaway"

"Wise and entertaining, Child, Please combines the keen insights of a journalist and the humor of a good girlfriend. . . A must read."
—Michele Borba, author of 12 Simple Secrets Real Moms Know and TODAY contributor

"Ylonda Caviness is a mom who has been-there-and-done-that and knows how to convert that wisdom into words. Her entertaining, yet comforting voice is just what today's moms need to help put parenthood into perspective."
—Dr. Ari Brown, pediatrician and author of the Baby 411 book series
TarcherPerigee, 9780399169960, 320pp.
Publication Date: May 5, 2015
About the Author
Ylonda Gault Caviness, former senior producer at www.iVillage.com's Pregnancy and Parenting section—the largest women's website with 37 million monthly views—has been a parenting journalist for more than a decade. She has written for Redbook, Health, Parenting, Pregnancy, and other magazines and websites.
or
Not Currently Available for Direct Purchase