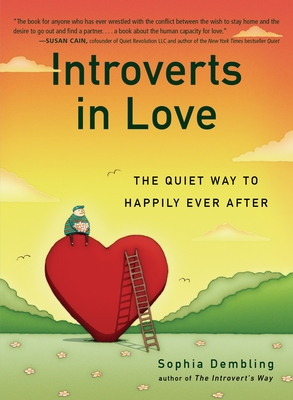 Introverts in Love (Paperback)
The Quiet Way to Happily Ever After
TarcherPerigee, 9780399170614, 208pp.
Publication Date: January 6, 2015
* Individual store prices may vary.
Description
From the author of The Introvert's Way, a friendly and accessible guide to dating and relationships for introverts.

Love is tricky for everyone--and different personality types can face their own unique problems. Now the author of The Introvert's Way offers a guide to romance that takes you through the frequently outgoing world of dating, courting, and relationships, helping you navigate issues that are particular to introverts, from making conversation at parties to the challenges of dating an extrovert.
About the Author
Sophia Dembling is the author of The Introvert's Way and is a prolific blogger at Psychology Today (The Introvert's Corner) and PsychCentral.com (Real World Research), among others. She has won two Lowell Thomas gold medals for her travel writing. She lives in Dallas, Texas.
Praise For Introverts in Love: The Quiet Way to Happily Ever After…
"This book is for anyone who has ever wrestled with the conflict between the wish to stay home and the desire to go out and find a partner… a book about the human capacity for love."
—Susan Cain, author of the New York Times bestseller Quiet

"A terrific, affirming treatise on the many gifts an introvert brings to a relationship and how best to let them glow."
—Library Journal

"Dembling (The Introvert's Way) tackles the pitfalls of dating and relationships for the introspective and sometimes socially awkward. With introversion reaching buzzword status, this book may attract an audience."
—Publishers Weekly


Praise for The Introvert's Way

"In this thought-provoking treatise on the quieter types, Dembling, the blogger behind Psychology Today's "The Introvert's Corner," proposes a wholesale rethinking of what it means to be an introvert…. Dembling's account is refreshingly candid and straightforward—"I am an introvert," she writes, "And there's not a damn thing wrong with me."
—Publishers Weekly
 
"Unlike Quiet, it not only provides scientific and cultural background but also practical tips and a thorough-note of complete understanding of the introvert's nature. An introvert myself, I have never read a book that I have so truly felt myself in." 
-—Psych Central
 
"Dembling urges introverts to embrace their need for solitude, reflection, and regeneration with no apologies. It's what makes us who we are."
—Cleveland Plain Dealer