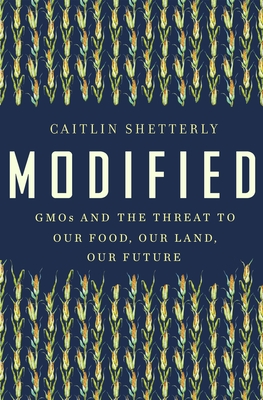 Modified (Hardcover)
GMOs and the Threat to Our Food, Our Land, Our Future
G.P. Putnam's Sons, 9780399170676, 352pp.
Publication Date: September 20, 2016
Other Editions of This Title:
Digital Audiobook (9/19/2016)
Hardcover, Large Print (1/18/2017)
* Individual store prices may vary.
Description
A disquieting and meditative look at the issue that started the biggest food fight of our time--GMOs. From a journalist and mother who learned that genetically modified corn was the culprit behind what was making her and her child sick, a must-read book for anyone trying to parse the incendiary discussion about genetically modified foods.

*One of Publishers Weekly's Best Books 2016*

"More so than definitive answers, the questions that Shetterly advances are a persuasive reminder of how important the continued fight for true transparency in the food industry is." --Goop

GMO products are among the most consumed and the least understood substances in the United States today. They appear not only in the food we eat, but in everything from the interior coating of paper coffee cups and medicines to diapers and toothpaste. We are often completely unaware of their presence.

Caitlin Shetterly discovered the importance of GMOs the hard way. Shortly after she learned that her son had an alarming sensitivity to GMO corn, she was told that she had the same condition, and her family's daily existence changed forever. An expansion of Shetterly's viral Elle article "The Bad Seed," Modified delves deep into the heart of the matter—from the cornfields of Nebraska to the beekeeping conventions in Brussels—to shine a light on the people, the science, and the corporations behind the food we serve ourselves and our families every day. Deeper than an exposé, and written by a mother and journalist whose journey had no agenda other than to understand the nuance and confusion behind GMOs, Modified is a rare breed of book that will at once make you weep at the majestic beauty of our Great Plains and force you to harvest deep seeds of doubt about the invisible monsters currently infiltrating our food and our land and threatening our future.
About the Author
Caitlin Shetterly is the author of Made for You and Me: Going West, Going Broke, Finding Home and the bestselling Fault Lines: Stories of Divorce. Her work has been featured in The New York Times Magazine, Elle, and Self, and on Oprah.com and Medium.com, as well as on "This American Life" and various other public radio shows. She lives with her family in Maine.
Praise For Modified: GMOs and the Threat to Our Food, Our Land, Our Future…
Praise for Modified

"Caitlin Shetterly has written a passionate, provocative book that undoubtedly will be studied and scrutinized for the history it presents, and the stand it takes. It offers us Shetterly's own intimate journey, sparked by personal desperation and real curiosity. And like the best of books, it mixes the domestic with the global, the scientific with the quixotic in an attempt to understand the dangers of the food we eat. Intrepid, urgent, prescriptive, and ultimately revelatory, Modified is important for our times."
—Michael Paterniti, author of The Telling Room and Love and Other Ways of Dying
 
"Caitlin Shetterly's powerful new book, Modified, through dogged research and with the fierce determination of a mother, exposes, in elegant prose, the wholesale genetic modification of our food supply. Her personal odyssey pursuing the truth, colored with clear scientific and historical context, is a clarion call about the dangers of corporate control of our food supply and, importantly, what people can do about it."
—Amy Goodman, host and executive producer, Democracy Now!
 
Modified is the intriguing and compelling story of one woman's brave pursuit of her own health—and the facts about the food we eat. A thoroughly consuming read."—Lily King, author of Euphoria

"Riveting from beginning to end, Modified reads like a hard-hitting investigative thriller. Shetterly is a thorough, even-handed journalist and a clear, persuasive writer. Ground-breaking and explosive, this is a book for everyone who wants to understand what they are feeding themselves and their families. Reading it has opened my eyes and changed the way I buy food."
—Kate Christensen, author of The Great Man and Blue Plate Special

"Sometimes people ask me why activists oppose GMO crops. This book by Caitlin Shetterly, both personal and provocative, provides as clear and detailed an answer as I've seen. No matter your take on this issue, you'll want to read and consider Modified."
—Bill McKibben, author of Eaarth and Deep Economy

"Intensely personal…a compelling case that consumers worldwide need more education on this important issue." –Publisher's Weekly, Most Anticipated Book for Fall 2016

"Shetterly's accessible, well-researched, and damning work brings clarity to an often fuzzy debate."–Publisher's Weekly, starred review

"[Shetterly's] passionate advocacy, combined with descriptions of multiple research studies and interviews with scientists, doctors, and farmers, makes a compelling case that consumers worldwide need more education on this important issue."—Library Journal, starred review

"[E]ye-opening…. Modified is [Shetterly's] passionate and rather horrifying account of what is happening in the heartland and to our food supply."—Vogue


Praise for Shetterly's Made for You and Me 
 
 
"[A] beautiful, moving, haunting, and funny memoir about what really counts . . . a sublime gift of a book." —Scott Simon, host of NPR's "Weekend Edition Saturday"
 
"Resonant and richly detailed." —Kai Ryssdal, host of NPR's "Marketplace"