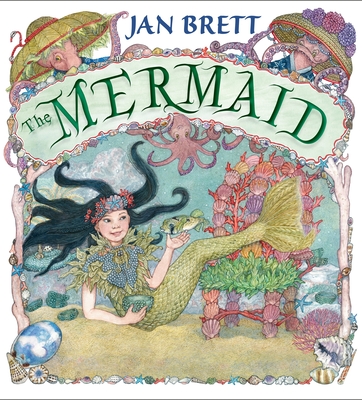 The Mermaid
Hardcover

* Individual store prices may vary.
Description
A New York Times bestselling striking under-the-sea version of Goldilocks with bonus storytelling in the borders, as only Jan Brett could create.

When Kiniro, a young mermaid, comes upon a gorgeous house made of seashells and coral, she is so curious that she goes inside. She's thrilled to find a just-right breakfast, pretty little chair, and, best of all, a comfy bed that rocks in the current.
 
But when the Octopus family returns home, they are not happy to find that someone has been eating their food and breaking their things. Baby has the biggest shock when she finds the mermaid asleep in her bed!

Luckily, shock turns to happiness when Kiniro gives her a thoughtful gift before escaping from the twenty-four arms coming her way.
 
Vibrant, intricate scenes of an underwater paradise transport this classic fairy tale to a magical setting inspired by the seas off the coast of Okinawa, Japan. Along with fun details that enrich the storytelling in Jan Brett's trademark borders, this visual treat will enchant readers of all ages.
Praise For The Mermaid…
★ "In this dazzling remix, Brett sets 'Goldilocks and the Three Bears' under the sea. The bears turn into octopuses, dressed in the straw hats and indigo-dyed coats of rural Japan, and Goldilocks becomes Kiniro, a mermaid with black hair and golden scales ("kin-iro" is Japanese for gold). . . Brett's brightly colored, highly detailed art shines in this aquatic setting as she embellishes the octopuses' dwelling with shells, coral, and tropical fish that swim in and out of the windows. . .  Brett's fans will rejoice, and she'll make new ones, too."—Publishers Weekly, starred review

"In an aquatic version of 'Goldilocks and the Three Bears,' Kiniro, the beautiful mermaid, is intrigued by the mystique and beauty of [a] little seashell house. . . Not only is this fractured fairy tale a delight to read, there is also an adorable side story skillfully told in the border art as only Brett can. Set in the waters off of the coast of Okinawa, this colorful picture book is exquisite."—School Library Journal

"Sure to please Brett's fans."—Kirkus Reviews
G.P. Putnam's Sons Books for Young Readers, 9780399170720, 32pp.
Publication Date: August 22, 2017
About the Author
"A baby octopus waved its little arms at me when I glimpsed it on some coral while in the ocean off the island of Okinawa when I was visiting my daughter and her husband. It wasn't until I returned home and was musing over what creatures would take the place of the three bears in my under-the-sea Goldilocks story that it dawned on me that octopuses, intelligent and mischievous, would be just right. I admired the Okinawan houses and made the Octopus house like the island ones. When I worried out loud that the octopuses looked alien, my young friend Alma suggested they wear hats. Now the setting and the clothes were Japanese.

"Back in Boston, the New England Aquarium's cold-water aquarist introduced me to Sy, their famous giant Pacific octopus. I had an 'arms on' experience with her. From then on, my characters seemed to take shape by themselves.

"Alice went down a rabbit hole to find another world. For me, I stepped off the beach in Okinawa." —Jan Brett