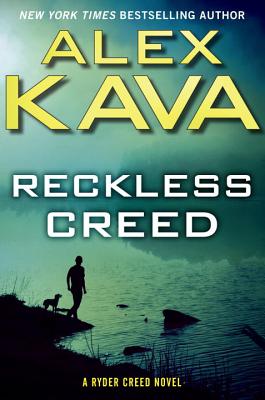 Reckless Creed (A Ryder Creed Novel #3) (Hardcover)
G.P. Putnam's Sons, 9780399170782, 336pp.
Publication Date: September 27, 2016
Other Editions of This Title:
Paperback (10/3/2017)
Hardcover, Large Print (10/5/2016)
* Individual store prices may vary.
Description
In the new edge-of-your-seat thriller from New York Times–bestselling author Alex Kava, Ryder Creed, his K-9 search-and-rescue dogs, and FBI agent Maggie O'Dell find themselves at the center of a dire and mysterious case.
 
In Chicago, a young man jumps from his thirtieth-story hotel room; along the Missouri river, a hunter and his son stumble upon a lake whose surface is littered with snow geese, all of them dead; and in southern Alabama, Ryder Creed and his search-and-rescue dog Grace find the body of a young woman who went missing in the Conecuh National Forest...and it appears she filled her pockets with rocks and walked into the river. Before long Ryder Creed and FBI profiler Maggie O'Dell will discover the ominous connection among these mysterious deaths. What they find may be the most prolific killer the United States has ever known.
About the Author
Alex Kava is the New York Times–bestselling author of thirteen novels, including Breaking Creed and Silent Creed, as well as the internationally best-selling mystery series featuring FBI profiler Maggie O'Dell. Her novels have been published in more than twenty countries around the world. She is a member of International Thriller Writers and divides her time between Omaha, Nebraska, and Pensacola, Florida.
Praise For Reckless Creed (A Ryder Creed Novel #3)…
Praise for Reckless Creed

"[An] unusually suspenseful and provocative thriller detailing the chilling possibilities we face in today's unpredictable and dangerous world."—Huffington Post

"Kava's highly original Ryder Creed series gets better and better. . . . Kava masterfully employs the alternation of terse, vivid scenes to build a plot as much spiritual as it is temporal. . . . The author once again allows us to enjoy the canine-human relationships her series has already put stage center. Creed's training of and partnership with Grace and his other dogs provides readers with the privilege of entering a special world of unexpected feeling and understanding. . . . Reckless Creed is another winner from a writer whose savvy thriller-craft goes from strength to strength."—Florida Weekly

"Amazing . . . The Ryder Creed books are absolutely phenomenal. . . . Engaging, action-packed writing with every page."—Suspense Magazine

"[A] finely crafted tale… Kava expertly weaves a complicated yet gripping thriller. Nothing is as simple as it seems . . . The body count increases as the book progresses, but it never devolves into a bloodfest. Each death has its own story, and the author never forgets the importance of keeping the reader engaged, interested . . . [The dogs] . . . play a role that increases as the tension racks up, and they feature most extensively in the climax, which will make your toes curl and blood run cold as any good thriller should actually do. . . I am impressed with the depth of the characters, the intricacy of the story, and, of course, remain absolutely in awe of any living thing that can wiggle their nostrils independently."—CriminalElement.com

"It's always a bonus to gain new information while reading fiction for fun. In Reckless Creed, the author shares her research of rescue dogs, K-9 military, as well as the effects of PTSD (post-traumatic stress disorder) on soldiers returning from the Middle East. She also raises some thought-provoking ethical questions about the use of dogs and humans in developing anti-virus vaccines and in virus detection. . . Alex Kava skillfully combines the best elements of good writing through memorable characters and plot lines that converge to make a great read."—BookReporter.com

"Combines an intense mystery with characters that are relatable and likeable. The added bonus of these stories is that readers get a glimpse into the responsibilities and duties of search dogs and their handlers. . . A riveting story of what can happen in a biological terrorist attack. Anyone who loves dogs will enjoy these characters, but beyond that everyone can see the importance of dogs in people's lives."—BlackFive.net


Acclaim for the Creed novels by Alex Kava

"Exciting . . . . Creed is a multifaceted character whose hidden depths are only barely revealed in this intense thriller, which builds to an explosive conclusion."—Publishers Weekly

"Producing an engrossing, suspense-filled, completely original mystery entwining dozens of trustworthy and dishonest characters in three separate locations could be messy, but Alex Kava's dexterity as an accomplished thriller writer shines upon the pages of her latest novel... After finishing Kava's latest addictive installment, you'll immediately want to dive into another adventure starring O'Dell, Creed and the dogs."—Lincoln Journal Star

"Thrill lovers, prepare to be taken on a ride! . . . With twists, turns, and suspense galore, Breaking Creed and Silent Creed are near impossible to put down. Guaranteed to keep you up all night!"—Modern Dog

"If the reader loves mystery and danger with a cast of characters that range from the brave to the beautiful, this is the summer book of all summer books. This may be only the second tale of Ryder Creed, but it is a guarantee readers will be screaming for more. The plotline is all about intrigue and action, and the connection between Ryder and Bolo is one that all true animal lovers will understand. 5 Stars!"—Suspense Magazine
 
"Combines a riveting mystery, a backstory of military dog handlers, and rescue dogs. . . Silent Creed has an intense storyline along with details about rescue operations, the difficulties faced by returning military personnel, and the importance of dogs in people's lives. Anyone who loves dogs should read these books."—Crimespree Magazine

"Bristling with unrelenting suspense, Breaking Creed by Alex Kava hurls retired Marine Ryder Creed on a harrowing search for smugglers who've been using children as drug mules.  Creed is special, a memorable character  – he trains homeless dogs to sniff out contraband and hunt criminals.  When he teams up with Kava's iconic FBI forensics specialist Maggie O'Dell, you'll discover the most exciting crime-solving duo of the year."—Gayle Lynds, New York Times best-selling author of The Assassins

"I'm always first in line for the next Maggie O'Dell novel, but Alex Kava's latest, BREAKING CREED, simply blew me away, mostly with the introduction of a character who can finally and truly stand toe-to-toe with O'Dell. Ryder Creed—along with his dogs!— is a true inspiration:  tough, smart, dynamic.  The pairing of Creed and O'Dell elevates this thriller to the next level.  It left me both breathless and awed.  For any dog lover, it's a must-read.  For any lover of nail-biting suspense, it's a book you'll not be able to put down. Get it now!"—James Rollins, New York Times best-selling author of The Sixth Extinction
or
Not Currently Available for Direct Purchase