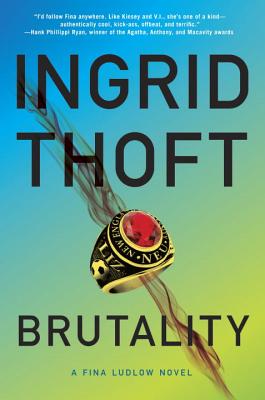 Brutality (A Fina Ludlow Novel #3) (Hardcover)
G.P. Putnam's Sons, 9780399171185, 464pp.
Publication Date: June 23, 2015
Other Editions of This Title:
Paperback (12/6/2016)
* Individual store prices may vary.
Description
Gutsy, relentless, wisecracking Boston P.I. Fina Ludlow is back with her most hard-hitting case yet in the critically acclaimed series by Ingrid Thoft.

When soccer mom Liz Barone is attacked in her kitchen and left with a life-threatening injury, Fina Ludlow is hired by Liz's mother to identify her attacker. It's unusual for Fina to take a case that isn't connected to the family firm, Ludlow and Associates, but Liz was in the process of suing her alma mater, New England University—a suit that could be a legal gold mine.
 
Twenty years earlier, Liz was an NEU soccer star known for her physical toughness; however, a serious cognitive decline has soured her soccer memories. She's convinced that her aggressive style of play—and the university's willingness to ignore head injuries in favor of a win—has put her health and her future in jeopardy, and someone needs to be held responsible.
 
Was Liz attacked to stop her lawsuit, or were there other secrets in the seemingly innocent woman's life? Fina convinces her father and boss, Carl, to take the case, and discovers that wading into the financially lucrative and emotionally charged world of collegiate sports requires nerves of steel. As the list of suspects grows and hidden agendas are revealed, Fina wonders if any game is worth the price.
About the Author
Ingrid Thoft, author of the critically acclaimed novels Identity and Loyalty, was born in Boston, Massachusetts, and is a graduate of Wellesley College. Her interest in the P.I. life and her desire to create a believable P.I. character led her to the certificate program in private investigation at the University of Washington. She lives in Seattle with her husband.
Praise For Brutality (A Fina Ludlow Novel #3)…
"Exciting…The multilayered plot of Brutality excels with believable twists and realistic characters. One could imagine Fina becoming fast friends and colleagues with Sara Paretsky's V.I. Warshawski, Sue Grafton's Kinsey Millhone and Laura Lippman's Tess Monaghan."—Associated Press

"Mercurial, dogged, and undeniably cool, Thoft's Fina Ludlow is a star in the next-gen PI line-up."—Mystery Scene

"Not only do readers have a bird's-eye view of Fina's sleuthing activities, but they also are given carte blanche access to the relationships with the dysfunctional family that nurtured Fina. This scrappy and outspoken young woman fights her own battles and unabashedly stands up to her father and older brothers when the need arises. Thoft's latest title is worthy of the acclaim its predecessors have garnered."—Library Journal (starred)

"In her third outing, Fina's firecracker bravado evolves into true confidence, and she attacks her roles as investigator and heavy within her dysfunctional family with delightfully readable vigor."—Booklist

"Thoft is an entertaining storyteller, and her quirky protagonist's the equal of any male gumshoe."—Kirkus

"Captivating…satisfying."—Publishers Weekly

"Ingrid Thoft continues her absorbing series about Boston P.I. Fina Ludlow. Fina is a terrific character, a failed lawyer who works for a top-drawer law firm led by her stern father and including her irrepressible brothers…Thoft expertly balances her all-too-real theme with her protagonist's wry narration — especially when Fina is discussing fast food or the opposite sex."—Seattle Times

"Straight-talking P.I. Fina Ludlow returns in this third installment of Thoft's engaging suspense series. With her brash directness tempered by her compassion for others, Fina operates based on her own moral compass."—RT Book Reviews

"From the very first paragraph in "Brutality," you will know that you're in the hands of an exceptionally assured writer…the author expertly wrangles a large cast of beautifully developed characters…Fina Ludlow can't come back soon enough!"—The Bellingham Herald

"I've been a fan of Ingrid Thoft since her terrific debut, Loyalty, but Brutality is her best yet. I love the Boston setting, the complex family dynamics, and her kickass heroine, Fina Ludlow.  If you don't know Ingrid Thoft, you're really missing out on what's great in today's crime fiction."
—Ace Atkins, New York Times bestselling author of The Redeemers and Robert B. Parker's Kickback 

"There's only one private eye I'd want working my case, and that's Fina Ludlow. Tough, tenacious, and quick thinking, Fina is a woman who isn't afraid to get her hands dirty."
—Chevy Stevens, New York Times bestselling author of Still Missing and That Night
"In Thoft's engrossing and deftly written Brutality, Fina Ludlow takes her place among the short list of the coolest literary PIs."
—Reed Farrel Coleman, New York Times-bestselling author of Robert B. Parker's Blind Spot

"I'll follow Fina anywhere. Like Kinsey, V.I. and Rizzoli, she's one of a kind--authentically cool, kick-ass, off-beat and terrific. The talented Ingrid Thoft knows how to craft a compelling story--and this one is page-turner!"
—Hank Phillippi Ryan, winner of the Agatha, Anthony, Macavity, and Mary Higgins Clark awards
or
Not Currently Available for Direct Purchase