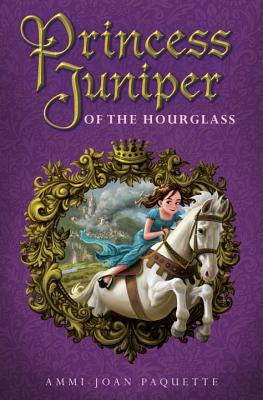 Princess Juniper of the Hourglass (Hardcover)
Philomel Books, 9780399171512, 288pp.
Publication Date: July 21, 2015
Description
In this royal adventure, Princess Juniper learns what it means to rule a kingdom-at least for the summer. For her thirteenth nameday all Princess Juniper wants is a country of her own. So when rumblings of unrest start in his kingdom, Juniper's father decides to grant his daughter's wish and sends her to a small, idyllic corner of the Hourglass Mountains until trouble blows over. Once there, Juniper discovers that ruling a small country-even just for the summer-is a bit harder than she'd expected, especially when cousin Cyril challenges her rule. Still, the most difficult part is to come. Juniper and her friends discover that her father's kingdom is at war. The only way to stay safe is to remain in the Hourglass Mountains much longer than planned. Juniper may have her own country after all . . . but what will that mean for the kingdom of Torr? This book is perfect for fans of Frozen and Brave, who like their princess strong and smart as well as sparkly.

Praise for Princess Juniper of the Hourglass "I absolutely loved Princess Juniper of the Hourglass It's fantastically delightful, delicious, and satisfying. You'll want to follow Juniper to her kingdom -- or even better, start your own "--Sarah Beth Durst, author of Enchanted Ivy and Ice

"I adored Princess Juniper Readers will cheer as she leads and defends her hidden kingdom in this deliciously charming fantasy."--Julie Berry, author of Secondhand Charm and The Amaranth Enchantment "Princess Juniper proves that you can love your silk dresses and still be a hero. This is a smart, feisty kid with a thirst for experiences, and I loved watching her learn to lead. A fun and insightful coming-of-age tale."--Ellen Booraem, author of Small Persons with Wings "A gently adventurous and luxuriously detailed romp."--Kirkus Reviews "With elements from William Golding's The Lord of the Flies and Paul Fleischman's Weslandia, this story can be enjoyed by those who love princess stories and adventure tales....A rollicking tale that will please a wide range of readers."--School Library Journal "This...dramatic and humorous novel...involves some entertaining twists and paves the way for more lighthearted intrigue ahead."--Publishers Weekly "Paquette takes young readers gently by the hand into the adult world of responsibility, danger, and the unknown. The fully developed cast of characters is engaging, and readers will cheer the conclusion and happily await Juniper's further adventures."--Booklist
Ammi-Joan Paquette Awards and Reviews: Ghost in the House
A Huffington Post "Best Halloween Books of 2013," School Library Journal "Great Books for Halloween" pick; and Canadian Children's Book Centre "Best Books for Kids & Teens" 2014 pick Petey & Pru and the Hullabaloo
Starred review, Kirkus The Tiptoe Guide to Tracking Fairies
A "Best Books for Children 2009" choice by the Association of Booksellers for Children
Featured in Scholastic: Parent & Child magazine's "Fun Finds"

About the Author
Ammi-Joan Paquette (www.ajpaquette.com) is the author of many picture books including The Tiptoe Guide to Tracking Fairies and The Tiptoe Guide to Tracking Mermaids. She lives in Boston with her family, but often wishes of a country of her own. @joanpaq
Advertisement