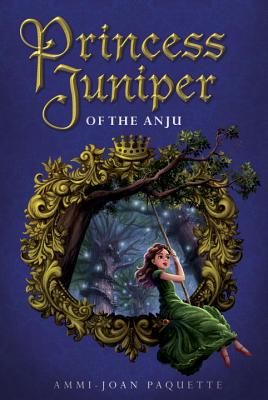 Princess Juniper of the Anju (Hardcover)
Philomel Books, 9780399171529, 272pp.
Publication Date: May 24, 2016
Description
Juniper may have secured her kingdom, but danger and adventure are far from over.
The land known as Queen's Basin is securely under Juniper's rule, and the time has come to focus on saving her father's kingdom. But before she can return to Torr, Juniper must find her subjects' missing horses, which were taken by a tribe of the Anju who live in the Hourglass Mountains the very tribe her mother once belonged to.
Juniper arrives at the Anju settlement just as the tribe members are about to begin ritual trials to select their next leader. Juniper, whose mother had been next in line for the Anju throne, throws her own hat in the ring. As she competes, however, she must answer the question that's been tugging at her heart: Does she want to rule the Anju because they are her mother's people, or does she have less noble intentions in mind?
Juniper must prove to everyone especially herself that she is a brave and strong ruler who puts all her subjects first.
This book series is for girls who love climbing trees in their party dresses and running races in their Mary Janes. It's for girls who know that wearing hair ribbons doesn't stop someone from being strong, and liking perfume and jewelry doesn't mean you can't be smart. Girls who don't even know they're looking for role models will find one in Juniper.
Praise for Princess Juniper of the Anju

"Full of princesses and dragons, the latest volume in this series offers adventure that will set readers hearts racing and put smiles on their faces."--School Library Journal

Praise forPrincess Juniper of the Hourglass
"I absolutely lovedPrincess Juniper of the Hourglass It's fantastically delightful, delicious, and satisfying. You'll want to follow Juniper to her kingdom or even better, start your own " Sarah Beth Durst, author ofEnchanted IvyandIce

I adored Princess Juniper Readers will cheer as she leads and defends her hidden kingdom in this deliciously charming fantasy. Julie Berry, author ofSecondhand CharmandThe Amaranth Enchantment
Princess Juniper proves that you can love your silk dresses and still be a hero. This is a smart, feisty kid with a thirst for experiences, and I loved watching her learn to lead. A fun and insightful coming-of-age tale. Ellen Booraem, author ofSmall Persons with Wings
"A gently adventurous and luxuriously detailed romp." Kirkus Reviews
"With elements from William Golding sThe Lord of the Fliesand Paul Fleischman sWeslandia, this story can be enjoyed by those who love princess stories and adventure tales....A rollicking tale that will please a wide range of readers." School Library Journal
"This...dramatic and humorous novel...involves some entertaining twists and paves the way for more lighthearted intrigue ahead." Publishers Weekly
"Paquette takes young readers gently by the hand into the adult world of responsibility, danger, and the unknown. The fully developed cast of characters is engaging, and readers will cheer theconclusion and happily await Juniper's further adventures." Booklist
About the Author
Ammi-Joan Paquette (www.ajpaquette.com) is the author of Princess Juniper of the Hourglass, as well as many picture books and novels, includingThe Tiptoe Guide to Tracking FairiesandThe Tiptoe Guide to Tracking Mermaids. She lives in Boston with her family, but often wishes of a country of her own.@joanpaq"
Advertisement