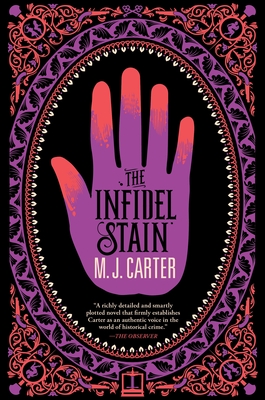 The Infidel Stain (A Blake and Avery Novel #2) (Hardcover)
G.P. Putnam's Sons, 9780399171680, 432pp.
Publication Date: March 29, 2016
Other Editions of This Title:
CD-Audio (3/29/2016)
* Individual store prices may vary.
Description
Blake and Avery investigate a serial killer stalking the streets of London in this stunning sequel to M. J. Carter's lauded fiction debut, The Strangler Vine.

London, 1841. Returned from their adventures in India, Jeremiah Blake and William Avery have both had their difficulties adapting to life in Victorian England. Moreover, time and distance have weakened the close bond between them, forged in the jungles of India. Then a shocking series of murders in the world of London's gutter press forces them back together.

The police seem mysteriously unwilling to investigate, then connections emerge between the murdered men and the growing and unpredictable movement demanding the right to vote for all. In the back streets of Drury Lane, among criminals, whores, pornographers, and missionaries, Blake and Avery must race against time to find the culprit before he kills again.

But what if the murderer is being protected by some of the highest powers in the land?
About the Author
M.J. Carter is the author of the Blake and Avery novels, including The Devil's Feast, The Infidel Stain, and The Strangler Vine.  A former journalist, she is also the author of two acclaimed works of nonfiction, Anthony Blunt: His Lives and George, Nicholas and Wilhelm: Three Royal Cousins and the Road to World War I. She is married with two sons and lives in London.
Praise For The Infidel Stain (A Blake and Avery Novel #2)…
Praise for The Infidel Stain
 
"Dazzling...It is all such fun and so richly detailed that one is drawn down London's crooked lanes and rookeries without a backwards glance....Carter does a remarkable job making London come alive in all its dreadful glory. Yes, there is an intricate puzzle to solve and two engaging sleuths to lead us to its surprising denouement, but the real strength of the novel is Carter's deeper inquiry into historical questions that resonate to this day. At its heart, The Infidel Stain reckons with the gulf between the classes, between the well-intentioned and the struggling, the haves and have-nots."—The Washington Post

"Rich with nuance....a ripping good story that keeps the pages turning."—Fort Worth Star-Telegram

"Meticulously researched and quickly paced....Carter's novel is both informative and entertaining. Reading it is a bit like time traveling to the noisy, dirty London of Victoria's early years on the throne."—Shelf Awareness

"Outstanding...Carter excels at incorporating the volatile politics of the time into her cleverly constructed plot, which repeatedly confounds readers' expectations while presenting moving scenes of the plight of London's poor reminiscent of Dickens."—Publishers Weekly (starred review)
 
"Evocative...[The] history is rich, the murders gruesome, and the dynamic between Blake and Avery will warm the hearts of Sherlock fans."—Library Journal

"It is a testament to Carter's skill as both a storyteller and historian that she marshals [immensely] complex material and incorporates it into a murder mystery without allowing the pace to flag....a richly detailed and smartly plotted novel that firmly establishes Carter as an authentic voice in the world of historical crime."—The Guardian

"Carter gives us historical fiction which works on multiple levels, illuminating while entertaining...pleasurable and impressive to read."—The Independent
 
"[A] witty and unfailingly readable novel."—The Spectator

"The second outing for [Blake and Avery] is even more fun, with the same blend of derring-do and elegant writing....Delicious stuff."—The Financial Times
 
"While the relationship between the dynamic duo evolves in a nuanced, tender way, the real star of the show in this complex, clever novel is London itself.  Against a backdrop of [the] grimy, vibrant metropolis, Carter [offers] readers some valiable history lessons about the politics of the day."—London Evening Standard
 
"Blackmail and pornographers, ramshackle rookeries and Chartist radicalism, and, of course, ritualistic murder.  These are the rich ingredients of The Infidel Stain."—The Times
 
Praise for The Strangler Vine
 
"Thoroughly researched...entertaining...This tale of two ill-yoked companions involved in conspiracy and betrayal is a welcome addition to the surprisingly thin body of novels about the great and at times appalling imperial adventure."—The Wall Street Journal
 
"Wonderful reading, I just couldn't put it down."—Nancy Pearl
 
"[A] yarn reminiscent of adventures by Sir Arthur Conan Doyle."—The New York Post
 
"The Strangler Vine is a splendid novel with an enthralling story, a wonderfully drawn atmosphere, and an exotic mystery that captivated me."—Bernard Cornwell