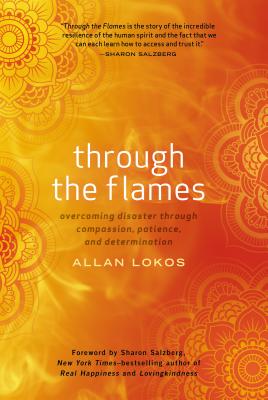 Through the Flames
Overcoming Disaster Through Compassion, Patience, and Determination
Hardcover

* Individual store prices may vary.
Description
After miraculously surviving a plane crash in Myanmar, Allan Lokos shares what his long and painful recovery process is teaching him about humanity's ability to survive—and even thrive—in the face of suffering.
 
In Through the Flames, Allan Lokos tells the terrifying story of being on board a plane on Christmas Day with his wife, Susanna, when it crashed and exploded in flames. Lokos was severely burned in the accident, and in the days and weeks following the crash, Susanna was told by the many doctors who examined Lokos that he would not survive.

As founder and guiding teacher of the Community Meditation Center in New York City, Lokos had spent decades cultivating compassion and non-attachment. Since the plane crash, his Buddhist practice has been mightily tested. In this inspiring account of his against-all-odds recovery, Lokos uses his experience as a window through which to examine the challenge of human suffering in general and addresses the question of how we can thrive in the midst of pain and uncertainty.
Praise For Through the Flames: Overcoming Disaster Through Compassion, Patience, and Determination…
"There is a statue of Buddha from a thousand years ago that has no eyes and no hands, and yet the truth and love of the Universe seem to glow where it's eyes and hands once were, as if the statue had endured and weathered time solely to reveal that truth and love. Allan Lokos has suffered and been worn like this, and truth and love glow from his person and his words. Through the Flames will make you feel what is tender and listen to what is lasting, and make you want to carry what matters through everything."
 —Mark Nepo, author of The Book of Awakening, The Endless Practice and Reduced to Joy

"Through the Flames is the story of the incredible resilience of the human spirit, and the fact that we can each learn how to access it and to trust it."
—from the foreword by Sharon Salzberg, New York Times bestselling author of Real Happiness and Lovingkindness 
 
"Through the Flames illustrates how we can awaken our hearts through whatever events unfold through our lives. With deep wisdom, honesty and humanity, author and Buddhist teacher Allan Lokos shares the inside story of not just surviving a deadly plane crash, but being profoundly spiritually transformed through the harrowing aftermath. Whether your crash is a divorce, death of a dear one, loss of financial security or serious illness, this beautifully written story will guide you in finding the blessings of love, peace and freedom in the midst."
—Tara Brach, Ph.D., author of Radical Acceptance and True Refuge

"As founder and guiding teacher of the Community Meditation Center in New York, Allan Lokos has an arsenal of tools for coping with stressful situations."
—Rachel Lee Harris, New York Times

 
TarcherPerigee, 9780399171802, 272pp.
Publication Date: February 5, 2015
About the Author
Allan Lokos is the founder and guiding teacher of the Community Meditation Center located on New York City's Upper West Side. He is the author of Patience: The Art of Peaceful Living and Pocket Peace: Effective Practices for Enlightened Living. His writing has appeared in The New York Times, Tricycle Magazine, The Huffington Post, and www.Beliefnet.com.
or
Not Currently Available for Direct Purchase